Meizu
, once a well regarded DAP maker in China, is now perhaps most well known for their M series of Android smartphone and their previous little 'incident' with Apple. While headset isn't exactly their core business, they did however have release a few models in the past, mainly as accessories to go along with their smartphone. The EP-40 on the other hand seems to be more of an independent product.
Spec
Driver: 8mm Dynamic driver with 7μm ultra-thin composite diaphragm
Frequency Response: 20Hz – 20kHz
Impedance: 16 ohm
Sensitivity: 101dB SPL
Max Input Power: 10mW
Cable: 1.2m OFC with 3.5mm stereo plug
Cellphone mic supported with High-speed Response Technology
Price: $42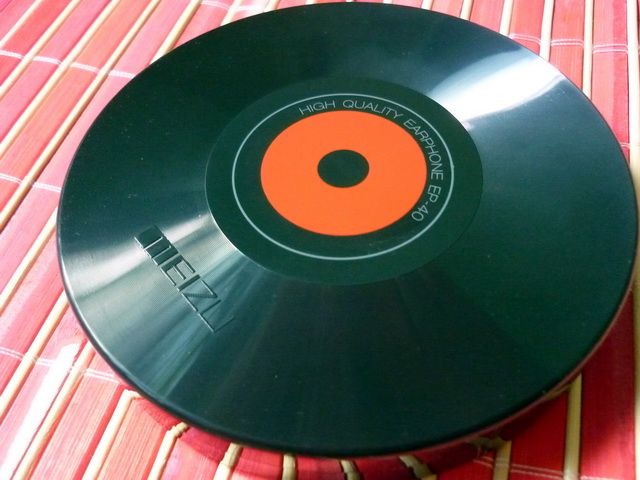 Packaging, Accessories and Build Quality
For something that is generally this inexpensive, Meizu does go outside of the box on packaging – or should I say, not using a 'box' on packaging, but a vinyl record lookalike circular case. Inside the case, everything is held in place with foam inlay. Beside the headset itself, there isn't any accessory except for the three pair of bi-flanges eartips. The case itself can make for a good long term storage solution if the foam is removed, but obviously you won't want to bring it out on the street. Would have been nice if they have included a soft pouch as well.
Build quality is decent and nothing spectacular to speak of. The earpiece themselves are very small, barely larger than the 8mm dynamic driver. You can actually see the dynamic driver through the housing as it is semi-transparent with smoky grey in color. Perhaps it is due to its small size, the EP-40 is quite comfortable to use and almost disappear as fast as I can put it on. Isolation on the other hand is sub-par. The mic and call button are really small and light as well. Overall the IEM looks okay. But as headset, which will see a lot more action beside just purely for music listening, I'll prefer a stronger build over lightness and comfort- perhaps a thicker cable with actual strain relief will be more beneficial in the long run.
On a side note, though the included bi-flanges fit me quite well and in fact very comfortable, it does create a lot of suction when removing. Not a complete turn off per se, but certainly annoying from time to time when I forgot to remove it slowly.
The mic and single button remote
SQ
The headset has been burnt-in for over 50 hours before the review.
The overall sound signature of EP-40 is bass heavy with a slightly cold to almost analytical mid to treble presentation, yet it is not quite a U-shaped frequency response. Bass is strong and deep with fairly good speed and texture, but it also extends up to mid bass and can be intruding form time to time. The mid to treble is however much more neutral, to almost analytical like and can be compared to Etymotic MC5 in the regard, just not quite as extended or dry. They do sound a little thin next to the strong bass response and can be overwhelmed in bass heavy music. The upper vocal, especially female, is edgy with bright music as well, but not permanently sibilant. Soundstage is above average but hindered by the sheer amount of bass so imaging is only okay.
One of the albums I listened with the EP-40 is The Piano Guys's self titled debut (go and listen to them on youtube if you haven't), which of course has a lot of piano and cello pieces. About 80% of the songs actually rendered excellently with EP-40, with a strong sense of PRaT, a lot of fun and well presented texture, especially on the cello. But the other 20%, which already has a good amount of bass, the EP-40 can sound a bit too boomy. This can pretty much be said to how EP-40 reacts to different music. Some time it hits the spot and can be very easy going, but other time it is too boomy for my taste. To EP-40 defense though, I am never quite a basshead. Still, EP-40 will be a bass oriented IEM that can compare to CKS70 for overall SQ – not nearly as muddy, but also lack the thickness in the mid. I would think EP-40 should make for a good upgrade over Klipsch S4 in sound.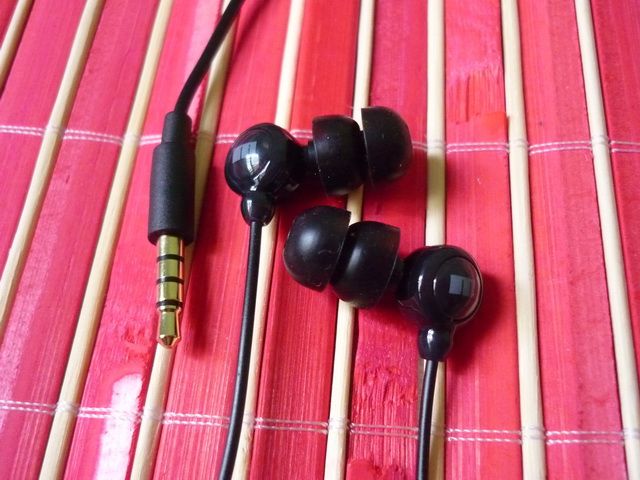 Verdict
For SQ alone, EP-40 is quite decent for the asking price even though it has its hits and misses. For build quality however, I'll prefer it to be stronger even if it means less comfortable. It is a good attempt by Meizu and probably a good pairing to smartphone with weak bass - but as far as IEM goes, EP-40 isn't earth shattering by any measure.
A thanks to
Meizu
for the sample.
Check out
The List
for rating.