It seems the Apple's focus these days is more on iPhone and iPod Touch, but much less so on the other iPod line. I have been looking for a decent small DAP for a while now as my Fuze and C30 have started to show some age. The new Nano comes in just the right time as it has pretty much all the features I am looking for, particularly the support of Bluetooth since I am spending quite some time on BT headset these days. Anyway, I have been playing around with the new Nano 7 for a couple of weeks now so I thought I'll post a quick impression in case anyone is interested.
Not my first choice of color, but beats pink or a week of waiting.
Spec
Screen: 2.5inch wide-screen multi-touch LCD
Resolution: 432 x 240
Connection: Headphone-out and Lightning connector
Buttons: Volume control, Play/Pause, On/Off (sleep/wake), Home
Frequency Response: 20Hz to 20kHz
Audio Format: AAC, Protected AAC, HE-AAC, MP3, Audible, Apple Lossless, AIFF, and WAV
Video Format: H.264 and MPEG-4
FM Radio: Region selectable and Live Pause
Max volume limit selectable
Battery Life: 30hrs music or 3.5hrs video
Accelerometer supported
VoiceOver supported
Headphone: Earpods, no mic+remote version
Size: 76.5 x 39.6 x 5.4mm
Weight: 31g
Capacity: 16G
Nike+ Supported
Bluetooth 4 supported
Packaging, Accessories and Build Quality
It is from Apple, so packaging is, as always, minimalistic in a good way. Build quality is of course excellent as well. Though it is almost twice as wide as Nano 6, it still feels incredibly small and light in the hand. Getting more physical buttons is definitely a plus in my book. The shirt clip is gone, but slim case with clip can be found easily from eBay so that it is not a big deal.
Accessories wise, there are the earpods and the new Lightning sync and charge USB cable. As always, I don't understand why Apple won't just include the normal mic+remote version of earpods (which you will need for voice memo), but instead always pack Nano with the mic+remote-less version of the stock earphone. The sound quality of earpods isn't too shabby, but not exactly top-end either (see my review
here
). The new Lightning connector has Apple's own MFi chip inside for authentication, but it has been cracked (partially) so you can use aftermarket Lightning cable from eBay as well.
From left: headphone jack, BT antenna (under white plastic cover) and Lightning dock. Home button on the top.
Volume control and play/pause button
Sleep / power button
Navigation and Features
Most of the navigation is touch screen based, the addition of physical buttons is quite beneficial, especially when you have to play / pause music with the DAP in the pocket. However, you can also control all these function using the touch screen alone.
The screen is absolutely sharp and the viewable angle is very wide as well. It is almost twice as big as Nano 6 and about 20~30% larger than Nano 4/5, making video an overall better experience. The accelerometer help to flip the screen around, but unfortunately that seems to be its only real function besides using it to shuffle songs. Would have been nice if it supports some basic games like the Nano 4.
I was able to connect the Nano 7 to Sony MW1 (reviewed
here
) as a BT wireless setup and control playback and volume using the BT headset. SQ is almost as good as wired earphone. Though I haven't tried to pair it with car stereo, I would think it should work just as well.
Nano 7 paired with MW1
Sound Quality
Measurement wise, frequency response looks very flat on the RMAA with only a very minor 0.5dB roll-off from 10kHz to 20kHz. Noise and dynamic range looks excellent as well. While stereo crosstalk does worsen with a 16ohm load (which is normal), it is still very respectable at under -60db. Power into a 47ohm fixed (1kHs test tone, same procedure that I used for
amp testing
) looks good, and power drop (also from amp testing) from 47ohm to 23.5ohm is a mere 6%, showing a good sign of current supply. Output impedance is measured and calculated at 1.1ohm, lower than Nano 4/5/6. Maximum headphone-out voltage is measured at almost 1.9Vrms – high enough to even clip the O2's input and almost 0.9V higher than Nano 4. Overall, all the basic measurement points to a fairly capable DAP.
As far as subjective listening goes, I have to say Nano 7 is a noticeable improvement from old Nano 4. After A/Bing with Sansa Fuze, my conclusion is, for most parts, Nano 7 sounds as good as Fuze (and Clip+ as well). The only time when Nano 7 doesn't sound quite as tight is with very low impedance IEM such as the 8ohm XBA-4, where Fuze still maintains very tight bass impact and speed while Nano 7 starts to show sign of sloppy bass hit. For the majority of IEM I have used for the A/Bing however, it is really hard pressed to tell any difference between Nano 7 and Fuze on the same music. The one area where Nano 7 really shines is on raw volume output, where Fuze is max out at only 0.55Vrms.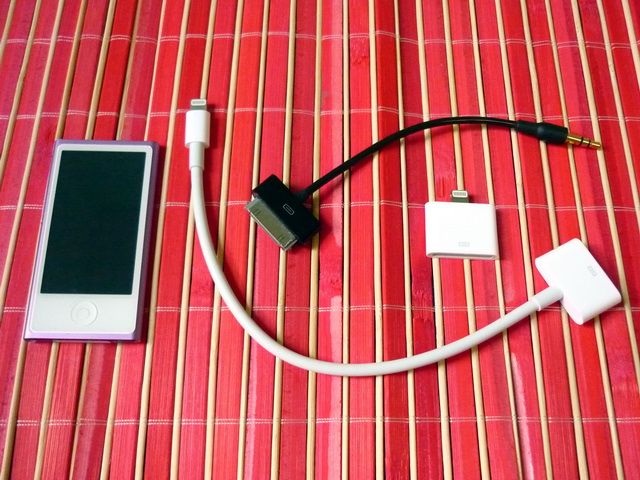 Two versions of Lightning to 30 pins adapter next to FiiO's L1 and Nano 7.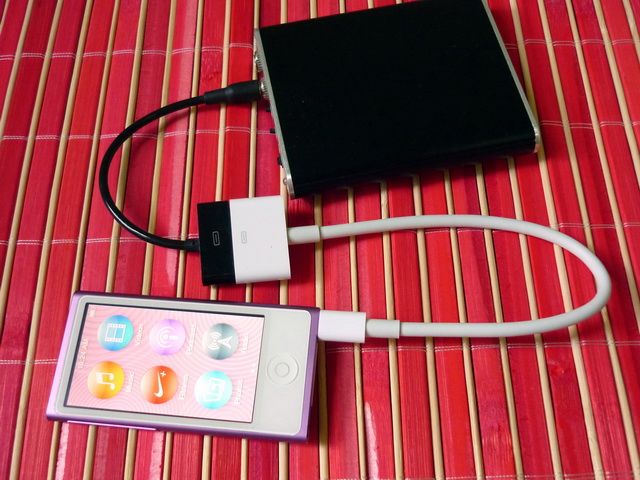 Getting the LO signal with Lightning adapter and FiiO L1.
Lightning to 30-pin Adapter
With the new all digital Lightning connector, there is no longer any analog line-out on the dock connection anymore. I do however acquire both the cable and the dock version of the 'Lightning to 30 pin adapter' for use with my older iPod dock accessories as well as to investigate whether it will be beneficial to use the line-out signal generated in the Lightning adapter or not – this is mainly to determine whether a 'Nano 7 – adapter – LOD –amp' setup is sensible or not, or whether I should just double amp Nano 7 when more power is needed.
First of, both versions of the adapter measured identically in RMAA, and pretty much sounds identical as well. So the assumption is that both have the same hardware, especially the DAC (a Wolfson WM8533). The line-out is measured at 0.95Vrms, which is slightly higher than the Nano 4's 0.82Vrms.
The RMAA result on the adapter looks very clean and rather good, indicating that the Wolfson DAC inside the adapter is as good as the Nano 7 internal DAC. But the catch is that it isn't much better when compared to Nano 7 headphone-out without load (as used in double amping). In fact, Nano 7 headphone-out offers better channel separation. Further A/Bing also confirms that the line-out really doesn't sound audibly better than just double amp the headphone-out. So the conclusion is, there is really no need to use the adapter for its line-out on a portable setup. You will be just as good with double amping. To do so, just adjust the volume to max then drop to three steps lower, which should give you almost the same voltage (0.94Vrms) as line-out and shouldn't clip your portable amp.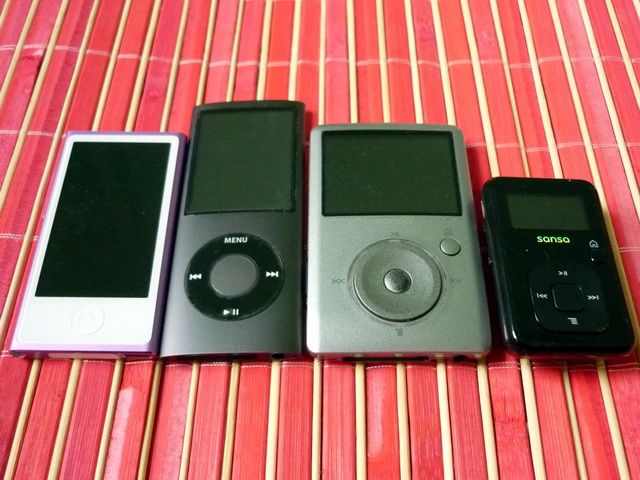 Size comparison (from left): Nano 7, Nano 4, Sansa Fuze and Sansa Clip+
Verdict
Despite my deep hate for iTune, I have to say Nano 7 has fulfilled my quest for a small, good sounding DAP as a Fuze's replacement. I have the latest beta version of MediaMonkey (4.0.7) installed so I don't have to deal with iTune anymore, and the Bluetooth support is a big plus on my own application. But even as a basic, on-the-go music player, I can say I am more than happy with its overall performance. Unlike Nano 4 that is decent but nothing spectacular, the new Nano 7 is a keeper in my book.