When it comes to Bluetooth, the preconception of its sound quality is generally on the negative side, even from those who have never used a BT headset before – This is no doubt the result of reading too many a horror story over the internet. The idea of a BT headset for music seems more like a mix of compromise and convenience rather than serious audiophiles gear. We have seen claims of superior SQ from BT headset manufacturers for years, but most have failed to impress and some can be actually downright awful.
Back in the days, I used to own a Sony Walkman cellphone and one of Sony better BT headsets of the time (DRC-BT15, pictured at the later section of this review). The SQ of the BT headset isn't anywhere great. At most, it might be comparable to a rather low entry level wired IEM these days. To be frank, I was more interested in the 'smart' part of the MW1 as an android user rather than the SQ part as an audiophile when I was asked to review it. As long as it sounds good enough, I would have been satisfied – but MW1 turns out to be a rather pleasant surprise.
Spec
Audio Features
• Headphone Type : Bluetooth stereo headset for calls and audio
• FM Radio : FM radio tuner with RDS display
• Multipoint : Connects up to two phones
• Others : Standalone MP3 player - MP3 and WAV playback
Earpiece
• Driver Unit: 6mm LiveSound MH1
• Frequency Response : 10-20000hz
• Sensitivity : Max 115dB @ 1kHz,
• THD @ 1khz: <0 .3=".3" br="br"> Display:
• OLED, two rows
• Show: time, local FM radio incl. RDS, Media Title & Caller ID Caller name, Call list & SMS – only for Android phones
Inputs and Outputs
• Connector Type : 3.5mm connector for headphones, USB 2.0
Weights and Measurements
• Dimensions (Approx.) : 6mm x 25mm x 8mm (12mm including the clip)
• Weight (Approx.) : Main unit: 18g, Earphones: 10g
Bluetooth Technology: Bluetooth 3.0
Remote Control: Full Media control: Call/Play/Pause/Back/Forward
Power
• Battery Life (Approx) : Talk time: 11 hours, Standby time: 22 days, Streaming audio: 9 hours, Offline music (MP3): 11 hours, FM listening: 11 hours
• Charging Connector : Charging and updates via standard micro USB cable
TF Slot: Support up to 32GB (2GB TF card included)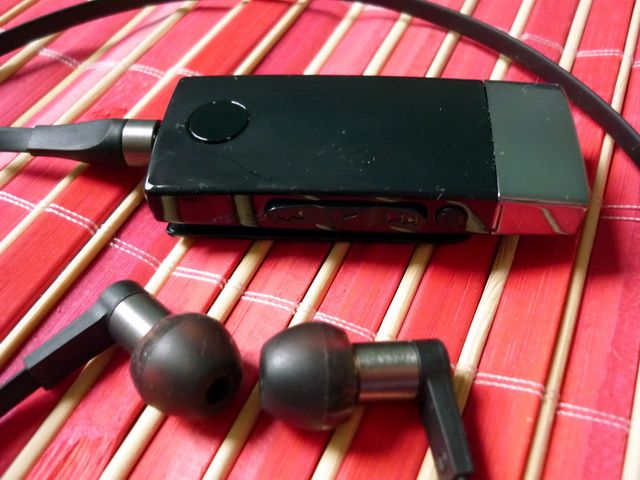 Play / forward / backward / back key on this side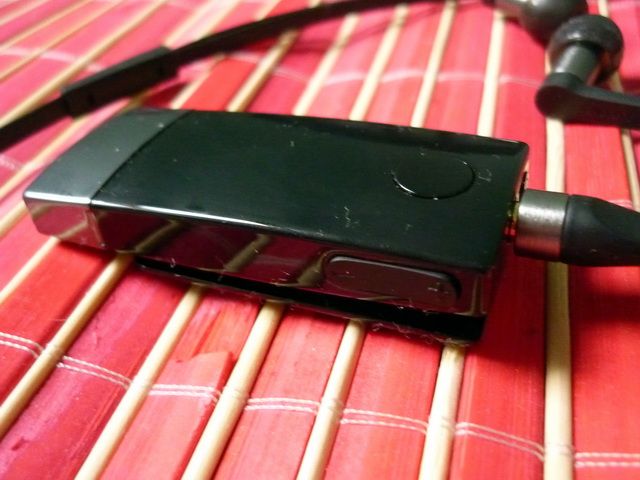 Volume keys on this side
TF slot and microUSB port. The big clip is on the back.
Accessories and Build Quality
Since the MW1 I received is not in full retail package, we will skip the usually discussion over packaging. I didn't receive all the accessories as my unit is a pre-retail, fully functional sample, but I do have the BT unit itself, the shorten MH1 'LiveSound' IEM with its eartips and a 2GB TF card. What are missing, which you will get from full retail package, are the microUSB charger, a short microUSB-to-USB cable, a TF card reader, a shirt clip as well as the manual.
The BT unit has a glossy finish so it is a bit of a finger print magnet. Hidden inside the silver cap are the microUSB port and the TF card slot. A 2GB TF card is included and it has all the software inside, so don't go rushing to format it without first backing up the content. The small OLED screen is underneath the glossy front panel with white letters over black back ground. It is perfectly visible even under the sun. The BT unit has a large clip on the back, much like a Sansa Clip in design. The call/hangoff button is right next to the OLED screen. The Forward, Previous, Play/Select, and Return keys are on one of the side, while the volume control is on the other side. Opposite side to the silver cap are the 3.5mm jack, the power button and the mic.
The MH1 earphone included in the package is a shorten version of the original MH1 I review previously. Same sound, but without the mic and remote as these functions have been integrated into the BT unit already.
Overall the build quality is excellent. The placement of the buttons might need some getting used to for the first few days of use but single hand navigation is pretty easy once you figure out all the functions out.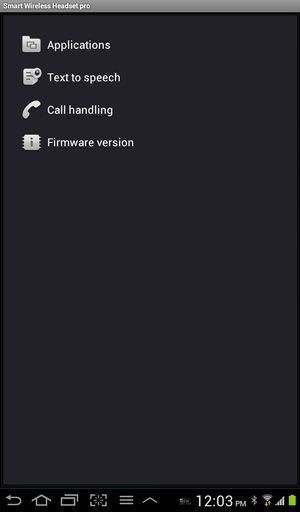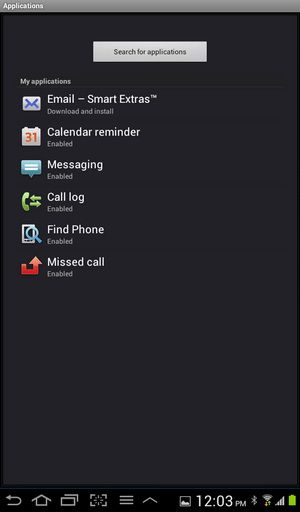 Inside the Smart Connect app, which allow you to add extra functions by installing these app
Navigation and Functions
MW1 will function as a normal (*not 'smart') BT headset on any Bluetooth supporting device that can handle the basic headset (HSP), hand-free (HFP) and remote control (AVRCP) profile as well as A2DP profile for music streaming. It supports multi-points connection as well, meaning you can connect it to two devices at the same time. I have tried different combination of connection including two cellphones as well as a cellphone and a PC. Of course, it will only work with one device at any given time – so if you are listening music on PC and receive a call, once you pick up the call, the music streaming will stop till you switch it back (well, that's only logical).
I don't want to spend too much time on how to navigate the BT headset since that's what the manual is for. Besides, anyone who knows how to use an mp3 player should be able to figure out all of its functions very quickly. I do however want to discuss some of the less obvious features and functions. Skip the following points and go straight to the end of this section if you are not interest in operational detail.
First, if you are using an Android smarphone, you will need to download both the 'Smart Connect' and 'Smart Wireless Headset Pro' apps from the Google Play before pairing the MW1 to your smartphone. Once the setup and pairing is completed, the MW1 will show the time on the OLED screen – that means MW1 is in the 'smart' mode where it will supports extra functions by installing more apps. You can find these apps listed inside the Smart Connect apps, under the 'Device' tab. These apps will give the MW1 the ability to look up call log, read SMS, display music title and such.
Second, once you have the MW1 setup correctly, do update the firmware. There are two ways to do this: either via the Smart Connect apps, or install a program called
Sony Update Service
(*SUS, you can find it here) on your PC and do a manual update. I'll suggest the later since its update speed is faster. Launch SUS first, and then set MW1 into update mode by holding the 'back' button when connecting it to the PC via microUSB cable.
Third, MW1 has independent music player built in. You can play back mp3 and wave files stored on the TF card. It also has an FM radio as well. Listening to music stored on the TF card will save you a bit of battery life on the smartphone so it isn't a bad idea at all. However I do hope that it could have more codec support, such as AAC and FLAC.
Fourth, be sure to keep the 'font.bin' file on the root of the TF card. It will add font support to non-English music title decoding when streaming music from the smartphone. However, music stored on the TF card doesn't have the same benefit and non-English words might still show up as random character. You can find the updated font.bin file
here
(click on the first grey bar)
Fifth, you can use Sony's
Media Go
to manage and sync music. I use WMP11 and it is just fine. For (much) faster music transfer, try using the TF card reader instead of MW1. Going back to the fourth point – if you use Media Go, it will keep an updated copy of font.bin for you.
Sixth, connect the MW1 to PC when: (1) Holding the 'back' button will enter update mode. (2) Already powered up will give you selection for either mass storage or charging mode. (3) When powered down will enter charging mode.
Seventh, you can use other IEM with the BT unit as well, but it doesn't have the output for anything difficult-to-drive. Best keep the load between 10 and 32 ohm.
All and all, MW1 is both a very powerful BT headset and a slightly primitive mp3 player. It might take you some effort to totally figure out all the functions but it is worth the time to get everything right. If you are the lazy type, it will still work perfectly fine, but without the extra bits of course
The clock is the indication of smart mode
Menu for FM radio, music, extra functions and setting
Inside the music functions, you get to choose music from the TF card or two other paired device. In this case, a Nano 7G
Sound Quality
If you haven't read my
MH1 review
, at this point, you really should. If you have, then you'll know just how good I think the included IEM is. But as a whole, the sound quality of a BT headset depends not just on the included earphone, but also on two other factors as well: (1) The transmission, mainly whether the compression / codec of the BT technology will affect the SQ or not, and (2) The hardware on the BT unit, from the DAC to the amp section.
For the first part, I listened to the same mp3 file on two configurations – streaming from my Galaxy Tab 7+ 3G (playing via Neutron Music Player) as well as playing straight from the BT unit (as a standalone mp3 player). There was time I thought I have detected some SQ degradation when streaming music, but then I became much less certain when revisiting the same music passage. After a few back and forth comparison, I concluded that I can't really tell the difference. If there is any lost of quality due to BT compression, it is too subtle for me to notice. While it seems too common to assume BT compression must degrade SQ - at least in the case of MW1, I can't say I have detected any.
For the second part, I did some basic RMAA measurements. Using MH1 as load, the result is actually pretty good. The frequency response is absolutely flat from 15Hz to 20kHz. In comparison, my Nokia BH-111 BT headset, which is decent sounding, has a big -6dB roll-off at above and below 10Khz and 100Hz. While everything seems good, the only result that doesn't look particularly great is the stereo crosstalk – it matches the performance ofGT7+ headphone-out, but comes out 10dB higher than Clip+ or Fuze under similar load.
From what I have been told, MW1 actually pack a Wolfson DAC inside and the output circuit has been optimized for the MH1 to perform at its best – and I can really agree. As far as actual SQ of the BT unit itself, I'll say it is pretty much on par with Sansa Fuze (or Clip+) and the new iPod Nano 7G when used with MH1. In direct comparison, both Fuze and Nano 7G have a slightly bigger soundstage, but otherwise all three are extremely similar sounding. If I have to make up a number to explain the difference in soundstage, I'll say MW1's soundstage is, maybe 10~20% smaller than the other two – and I don't consider this a deal breaker at all.
So MW1 might not be an actual 'audiophile level' BT headset if you were to compare it to top-end audiophile digital audio player, but it is by far the best sounding BT headset I ever heard with performance matching the ever popular Clip+. While it might not appeal to those who already carry around a Clip+ (or Fuze) as part of their day-to-day listening gears, its true usefulness lies on turning any Android smartphone into a competent source, or just creating a wireless setup that actually sounds good. In my case, I have my MW1 connected to both GT7+ and Nano 7G for a true minimum cable rig.
Size comparison: (from left) Cube C30, MW1, Clip+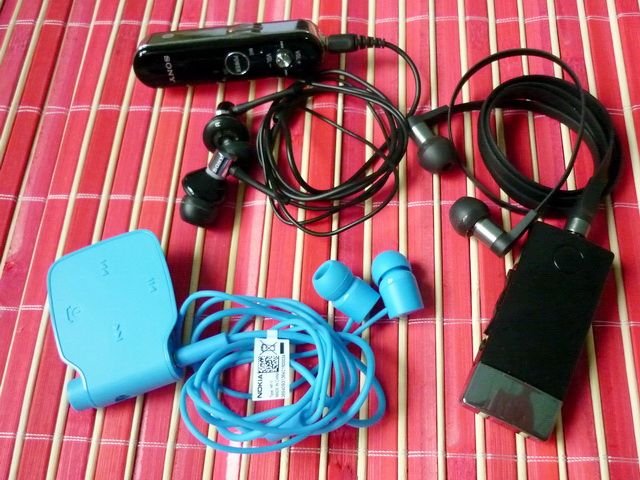 Sony DRC-BT15 (top), Nokia BH-111 (left) and MW1 (right)
Verdict
As a phoblet user, I find MW1 to be a really great accessory to have. In a way, it is almost like a Clip+ with BT function build in. However, with official price tag at US$150, this isn't exactly an cheap gadget either. The good news is, MW1 can now be found on eBay for around $105. It is still almost double the price of my Nokia BH-111 - but very much worth the money for those who are looking for a quality BT headset.0>