I have had this pair of headphone for a couple of months now but the process of reviewing is quite a slow going, mainly because I was trying to find a really good setup to bring out the best of HP100. As the first pair of full size from
SoundMAGIC
, they have chosen to go for a more neutral and analytical sound. Though I personally consider myself a neutral and analytical lover with IEM, I tend to opt for something more warm with supra-aural and circumaural to compensate for the lack of isolation. After flittering with different setup, I think I have found my favourite combination and it is time to give HP100 its long delayed review.
Spec
Driver: Dynamic 53mm Neodymium Drivers
Frequency range: 10Hz~30KHz
Impedance: 32Ω (±10%)
Sensitivity: 95dB/mW @ 1KHz (±3dB)
Maximum input power: 100mW
Cable length: 1.2m (3.5ft) coiled
Connection: 3.5mm gold plated plug
Weight: 288g
Price: $200
The hard case looks like a turtle shell.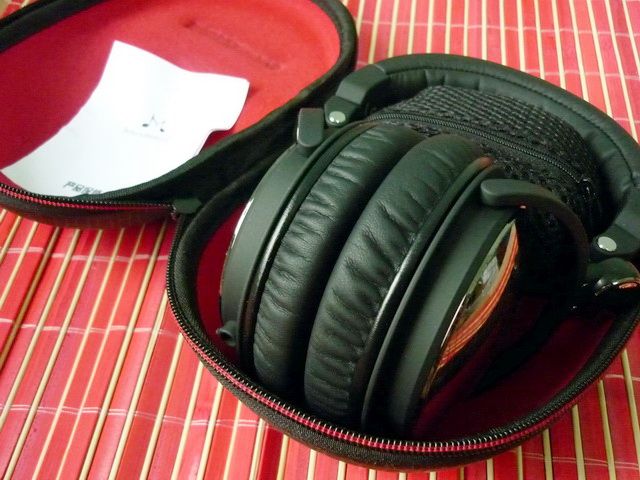 Packaging, Accessories and Build Quality
From the outside, HP100's box sure doesn't look like much. Open it up and the only thing inside is the odd looking hard case – but don't let it fools you. It was designed so well that it has all the space for the headphone and its accessories. It is really nice for SoundMAGIC to include the hard case as most other only comes with soft pouch, if anything at all. The mesh pouch in the hard case contains the detachable curly main cable, an airplane adapter, a screw-on 3.5mm-to-6.3mm converter and a carabiner clip for the hard case.
The build quality isn't top-of-the-line, but still really good. The construction is mainly plastic based with metal parts here and there. The back of the ear cup looks to be steel or iron based alloy. The only thing I dislike is the detachable cable – not on the cable itself, but where the input jack is located. It is on the right side of the headphone instead of the more common left side. [UPDATE] I learned that they have switched the side from right to left in the production model, so it practically renders this a non issue. The input is a 3.5mm stereo jack with an extra lock on the outside so the cable will not get unplugged easily. However, the locking mechanism won't allow for other 3.5mm plug to be used, so the stock cable is the only option. It would have been nice if they had included a headset cable as well. The ear pad are quite soft and HP100 doesn't have a lot of clamping force, so overall it is quite comfortable to wear even in long hours.
Overall, the build quality of the H100 is easily above Fischer Audio FA-002/FA-003, but not quite as delicate as big brands like Audio-Technica or Sennheiser.
Sound Quality
Well over 100 hours of burn-in was given to the headphone though I didn't notice any noticeable change.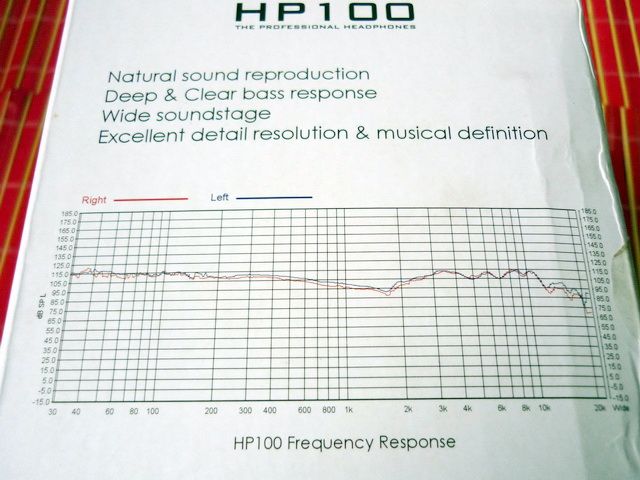 The officially published FR curve, printed on the box.
HP-100 is easily one of the most linear sounding headphones I have heard, from bass to treble. It is bright for sure, and on the leaner, colder side of the presentation. Treble extends as far as I can heard, very crisp and sparkly, but doesn't have any harshness. Then the frequency response extends downward in a fairly neutral fashion from mid to bass. It is precise and clean, and in a way perhaps too clean to a point of almost sterile. I'll rather it is a bit warmer so to add back a bit of fun to the sound. It would be the equivalent of Etymotic ER4S in a full size form factor with soundstage – or rather good soundstage in that matter, open and transparent.
In term of overall texture and detail, HP100 doesn't lacking any. If you are an analytical listener, HP100 will pretty much do everything right out if the box. But if you are like me who prefers a bit of warm in full size, HP100 might be a bit too clean and lean for your taste. So what is my solution to this? Bass boost. More specifically, a digiZoid ZO2.3. I pretty much paired HP100 to all the warm sounding amps I own, and quite a few of them has bass boost as well. SoundMAGIC's own A10 actually work very well with HP100, so are FiiO E11 and JDS Labs C421. But the one that really hits the spot is ZO2.3, at maximum level of bass boost no less. Maybe it is just synergy, but it is with the warm of ZO2.3 that I find HP100 to have the best balance between being analytical and musical, especially the lower end body and rumble that only ZO2.3 can bring to HP100. It is almost a total transformation to me, not just a small scale-up.
As for how HP-100 compares to other full size – I don't really have an extensive collection of full size to compared to - but with ZO2.3, I'll say HP100 is nothing less compared to the Fischer Audio FA-002 and FA-003, and easily above Grado SR-325i.
The 53mm dynamic driver.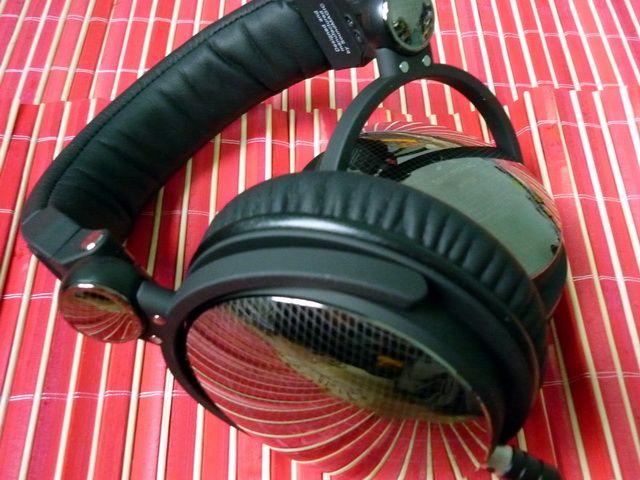 Verdict
HP100 reminds me of the time I listened to K701 and DT1350, which are sort of belong to the same sound signature if I remember them correctly. For its first full size début, SoundMAGIC has done a really good job. Though I think the analytical nature of HP100 might not be the best choice as a consumer product, which SoundMAGIC's usual market is, the headphone itself does have plenty of room for tweaking around. With the right tweaking, a ZO2.3 in my case, it really becomes one of the most enjoyable headphones I have listened in recent time, right after DT1350.
A thank to
SoundMAGIC
for the sample.