It has been a year and a half since
DUNU
comes back to the IEM market and they are still busy bolstering their line-up. DN-17 Crater, DN-18 Hawkeye, DN-19 Tai Chi, and I 3C-S are the latest models to hit the market and we will take a quick look over them.
Spec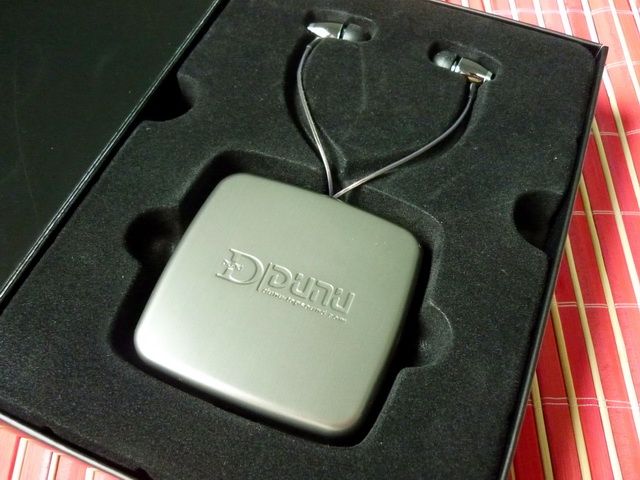 DN-17 Crater
Driver: 10mm HQ dynamic driver
Frequency Response: 16Hz – 22kHz
Sensitivity: 102 +/- 2dB
Impedance: 16 ohm
Noise Attenuation: -26dB
Cable: 1.2m silver wire with Gold Plated 3.5mm stereo Plug
Weight: 20g
Price: US$80
DN-18 Hawkeye
Driver: 10mm HQ dynamic driver
Frequency Response: 20Hz – 20kHz
Sensitivity: 100 +/- 2dB
Impedance: 16 ohm
Noise Attenuation: -26dB
Cable: 1.2m silver wire with Gold Plated 3.5mm stereo Plug
Weight: 20g
Price: US$70
DN-19 Tai Chi
Driver: 10mm HQ dynamic driver
Frequency Response: 16Hz – 26kHz
Sensitivity: 100 +/- 2dB
Impedance: 16 ohm
Noise Attenuation: -26dB
Cable: 1.2m silver wire with Gold Plated 3.5mm stereo Plug
Weight: 18g
Price: US$133
I 3C-S
Driver: Single Balanced Armature
Frequency Response: 16Hz – 22kHz
Sensitivity: 105 +/- 2dB
Impedance: 10 ohm
Noise Attenuation: -26dB
Cable: 1.2m silver wire with Gold Plated 3.5mm stereo Plug
Weight: 16g
Price: US$110
Packaging, Accessories and Build Quality
The quality of packaging on the new models is pretty much the same as their previous offering. Not the greatest per se, but well above average. Accessories wise, DUNU is still packing a lot of them with every model. With Crater, there is a synthetic leather soft pouch, an aluminum hard case, shirt clip, airplane adapter, 3.5mm-to-6.3mm adapter, a cleaning cloth and 8 pair of eartips with various sizes. Of course, there is also the very useful cable warp that built onto the cable of every pair of DUNU. Hawkeye comes with almost the same set of accessories, except that it is a nylon hard case instead of the aluminum case and a pair of tri-flange eartips in the mix instead of a pair of bi-flanges. Tai Chi, as the current flagship, gets a bit more: the same soft pouch and hard case as Crater, shirt clip, airplane and 3.5mm-to-6.3mm adapter, cleaning cloth, two pairs of DUNU own ear guide (for over-the-ear wearing), 4 pairs of Hybrid-like eartips and 3 pairs of grey eartips, as well as a small bag full of spare 'damper' that are used to tuned the bass (more on that later). I 3C-S also has the same accessories as Crater, but with an extra impedance adapter and a pair of ear guide.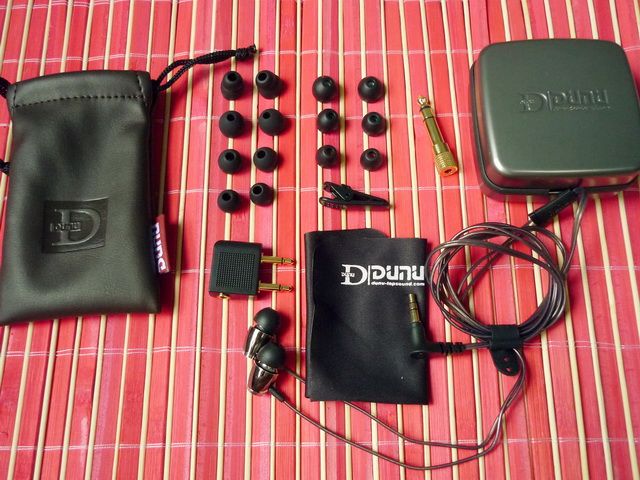 DN-17 Crater
DN-18 Hawkeye
DN-19 Tai Chi
I 3C-S
As always, DUNU has some of the best build quality in IEM market and the 4 models reviewed here are no exception. All 4 models feature the new silver cable DUNU developed and it looks particularly good on Tai Chi. Microphonics is decent on all 4 models, as the cable is a little rubbery and tends to 'bounce' around, but overall it is still we within the acceptable range. Isolation is slightly weaker on I 3C-S, but I'll still consider all 4 models to be around average.
If I were to nitpicking, there will be three things: First, the damper on the Tai Chi is tiny and not easy to handle. Good thing that many extra are included as I would imagine some will lose them easily. Second, the mesh filter on the I 3C-S won't likely to stay on for long if the eartips are swapped regularly. Lastly, the marking of "I 3C-S" on the outer shell of the IEM seems a little odd. Would have been nicer to have them on the inner side of the housing while the outer facing side has a 'DUNU' marking instead – think of Shure's IEM on this. The last suggestion is purely cosmetic. As I have said, I am nitpicking.
All and all, DUNU is still maintaining the same high quality as we have seen in the past, giving the feeling that you are getting more than you have paid for - and that's always a good thing.
The aluminum case the comes with Crater, Tai Chi and I 3S-C. Reminiscence of old UE case.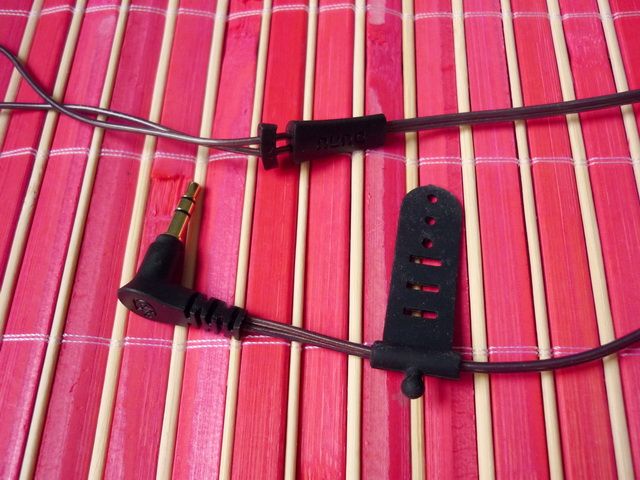 Excellent cable quality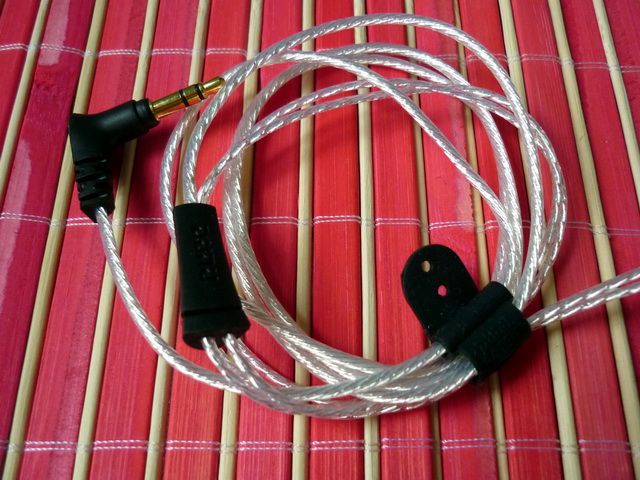 The silver cable on Tai Chi looks as good as any expensive custom cable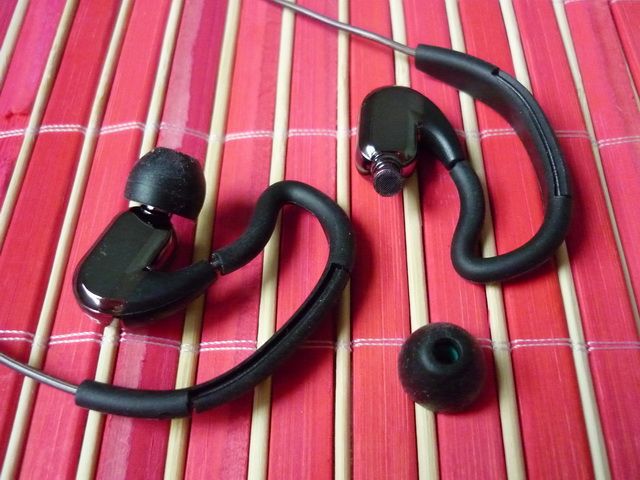 The glued on filter on I 3C-S might not last very long due to its position on the nozzle.
SQ
All models have been given at least 50hours of burn-in before the review.
DN-17 Crater is warm and sweet, neither forwarded nor laidback but with a slightly excessive feeling of weightiness due to mid-bass. Bass runs deep with good control and decent impact, but the upper region around 500Hz to 1kHz is a few dB too high – not as much on creating boominess but it muddies up the lower vocal noticeably. Mid isn't forward in nature but it is clean, and somewhat bland. Treble extends well, but overly smooth after 12kHz so it lacks a sense of air. The lower treble region is also slightly grainy. Soundstage is decent, but nothing to write home about. For all its weaknesses, the IEM doesn't have much of any major flaw. It compared well to many sub-$100 IEM like GR06 and Siren based single BA IEM such as the Sherwood SE-777 or MEElec A151. With a little EQ to reduce mid-bass and boost the upper treble, it can even edge out on most of them.
DN-18 Hawkeye is bass oriented, boomy, warm, forward and full. Though it is reaching down all the way to sub bass, the sheer amount of bass, especially mid-bass, simply shadow any quality that might be there and make for one of the more extreme case of basshead IEM. Mid is forward and full, a mid centric sound in itself if not for the ever more powerful bass response that takes the focus away. Treble is overly smooth and roll off early, lacking sparkle and crispiness. Soundstage isn't particular great as instrument separation is hurt by the lack of micro-detail. All and all, Hawkeye sounds like a typical basshead IEM – big on the bottom and roll-off at the top. It reminds me of CKS70, except CKS70 has less forwarded mid and slightly better upper extension. It is a clean case of 'non-basshead need not apply'. Compared to Crater, Hawkeye is a noticeable step-down technically.
The bass damper adn grey / black eartips for tuning
DN-19 Tai Chi is currently the flagship of DUNU. Being a tunable IEM, it has two faces: with the bass port sealed, it is has a warm yet fairly neutral presentation; with the bass port opened, the bass starts to steal the show. Beside the different of bass, lower treble / upper mid can be tuned by using either the included Sony Hybrid clone (less) or the grey eartips (more). Since the difference isn't nearly as significant as the bass port, the grey eartips is simply a no-brainer for giving just a tad more micro-detail. Upper treble is mostly unaffected by eartips and has good extension and sparkle. It isn't exactly analytical but doesn't feel lacking either. Mid on the other hand stays relatively clear regardless of what bass port or eartips configuration are used. It isn't particularly forwarded, but stays in line with the rest of the frequency response and therefore doesn't sound recessed. Soundstage is above average with good instrument separation. As the flagship, Tai Chi is not only the best sounding IEM DUNU ever made, it is probably the best balanced sounding IEM in the whole line-up as well. It plays with almost every genre of music, even though it might not excel in any particular. On the other hand, this maybe Tai Chi only weakness as well – If the optional tuning is taken away, I think the same dynamic driver could be pushed even further in performance just by adding a little more upper detail and extension. Already an excellent all-arounder, what Tai Chi needs is one edge that sets itself above and beyond other IEM around the same price range. Taking Shure SE215 for an example, which is also a fairly good all-arounder that does nothing wrong, is still able to offer a little bit more detail. Even EOps noisezero Sport+, which is also priced at $130, gives just a tab more sparkle even though it has a bass oriented sound. There is potential in Tai Chi's dynamic driver, DUNU just needs to dig deeper.
I 3C-S is mid centric with decent extensions on both ends. It is what I'll generally refer as the Shure house sound - a mid that isn't necessary very forwarded, yet is good in texture and detail that gives the vocal a sense of sweet and intimacy. Though well extends to the sub-bass region, bass is rolling off slowly after mid bass and therefore doesn't give a lot of depth and body, but still carries some impact. Treble too roll off at the top end with a very gentle fashion, very smooth but missing some sparkles and air. As with most mid centric sounding IEM, soundstage isn't a strength of I 3C-S, but it does have very good intimacy that gives vocal a sense of realism. Compare to Fischer Audio SBA-03 (or MEElec A161), which also has a mid centric sound, I 3C-S is less extended on both ends and more mid forward. Same can be said when compared to the mellower, but still mid centric Sony XBA-1 as well. To push the mid back for a more neutral presentation, DUNU included an impedance adapter to pair with I 3C-S. While the adapter does improve the overall accuracy, it still doesn't add enough top sparkle back. As a single BA, I 3C-S has a admirable performance that is well above that of Siren BA, but not nearly on the top of what singe BA can be. It is well suited for vocal centric, easy going music such as Pop, but might not have the technicality for the more accuracy demanding instrumental or Classical.
Verdict
This is my third major review on DUNU's line-up for the last year and a half since the company come back to the universal IEM market. It is quite obvious that the company is still working to develop a top end IEM but yet to success. However, it is also noticeable that they are improving with every generation and certainly getting closer and closer to their goal. For the 4 models under review, neither one is a bad buy. They still have DUNU well known and regarded build quality and decent sound quality to match. What they don't have, is a killer sound that can be placed among the big boys. But with their track record on progress, we might not have to wait too long.
A thanks to
DUNU
for the samples.
For numeric rating, check out
The List
.