First, I'll like to thank
lendmeurears.com
for the PG100 sample.
Here I have three sub-$30 IEM waiting for review: ECCI PG100 and Ultimate Ears UE100 are both in the $20 mark while UE200 is a bit more expensive at $30. Given so many people out there will never want to spend over 1/5 (or even 1/10) of the price they paid for their DAP, I thought it will be fun to give them a combined review and perhaps a quick comparison with some of the other more popular sub-$30 IEM in my hand, namely the MEElectronics M9, SoundMAGIC PL30, and the very much underrated VSONIC R02 Pro II.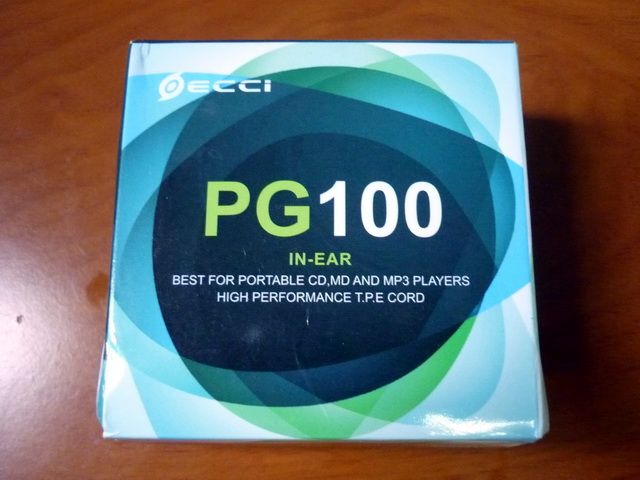 Spec
ECCI PG100
Driver: Dynamic transducer
Impedance: 18 ohm @ 1kHz
Sensitivity: 104dB @ 3kHz
Max Power Input: 200mW
Cable: 1.3m
Connector: 3.5mm Stereo
Ultimate Ears 100
Driver: Dynamic transducer
Frequency Response: 20Hz ~ 20kHz
Noise Isolation: 26dB
Impedance: 16 ohm
Sensitivity: 105dB/mW
Cable: 1.15m
Connector: 3.5mm Stereo
Ultimate Ears 200
Driver: Dynamic transducer
Frequency Response: 25Hz ~ 15kHz
Noise Isolation: 26dB
Impedance: 16 ohm
Sensitivity: 107dB/mW
Cable: 1.15m
Connector: 3.5mm Stereo
Packaging, Accessories, and Build Quality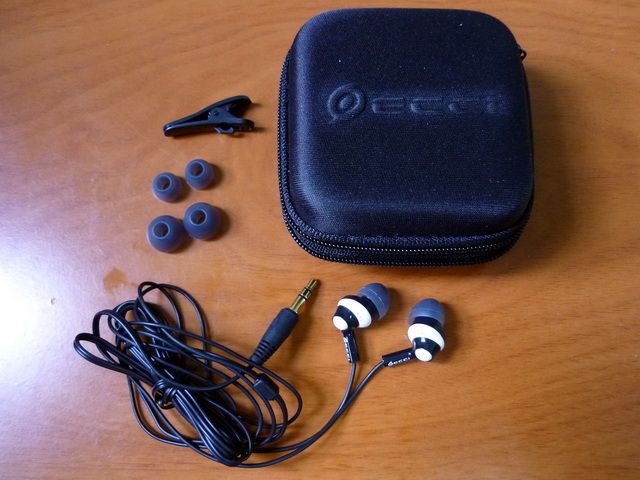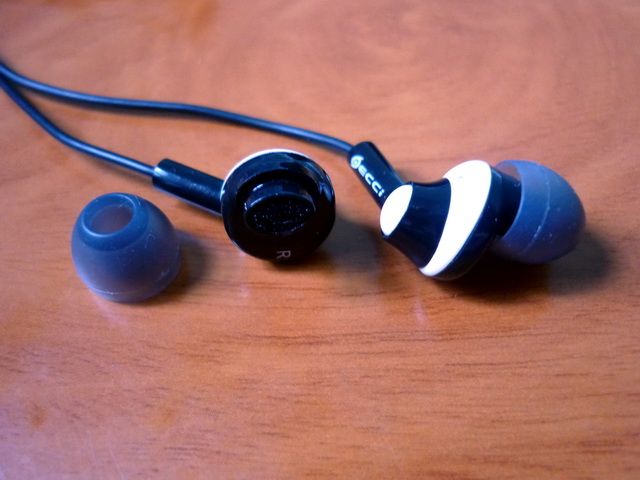 If you know ECCI, then the packaging won't be strange to you. It is basically a thin paper box with the hard case inside, where the IEM and eartips are stored. While it is meant to replace the PR100 as the lowest end model of ECCI current lineup, the PR100 is also cheaper too. As such, you won't find any extra eartips like that of PR100. You will get the basic three pair of single flange eartip (S, M, L) and a shirt clip. That's as ordinary as it can get. The good news is that the eartips are fairly decent in quality so you won't need to buy extra eartips on your own. The build quality of the IEM itself is decent if not a bit generic, definitely not quite as good as the all metal PR100. It is however not all bad. The design reminds me of Panasonic RP-HJE450, but the earpieces are smaller and lighter in weight, making it fit more comfortable. Like the Panasonic, the oval shaped nozzle also improves the fit as well. Microphonics isn't good on the PG100 as it lacks proper strain relief on the earpiece to absorb the vibration from the cable. You will want to use included shirt clip to ground the cable noise as the IEM itself is not designed to be wore over-the-ear. Isolation is sub-par as there are vents on the back of the housing. PG100 is basically more suitable more in house usage where noise is not a concern.
UE100 comes in blister pack, which I am not too fond on. But given the targeted market (*general consumer), I guess it is reasonable to use this type of packaging. It is colorful, to say the least. Inside the pack, you will find the IEM itself with 4 pairs of eartips (XXS, XS, S, M). Don't let the size of the eartips confuse you – they are really more or a (XS, S, M, L) in real conventional size. I think UE now has an extra large eartips (on other IEM, such as UE200) that are XL in conventional size but they rather prefer to call that an "L" and downsize all the naming of other eartips they have – weird. Regardless, the build qualities of the eartips are all quite good as you would expect from UE. The same can't be said to the IEM – The first pair I got has severe driver flex on the left and mild driver flex on the right. The left side was so bad that the audio was cutoff most of the time when I insert the IEM. I exchanged it for another pair on the store and the second pair has mild driver flex on left too. Needless to say, I am certainly not too impressed but I can live with it. As for the rest of the IEM, it could use better strain relief. The earpiece itself is small in size and fairly comfortable to use. Microphonics is quite fairly low and isolation is actually quite good. Not the best there is but above average and something rare for this price range.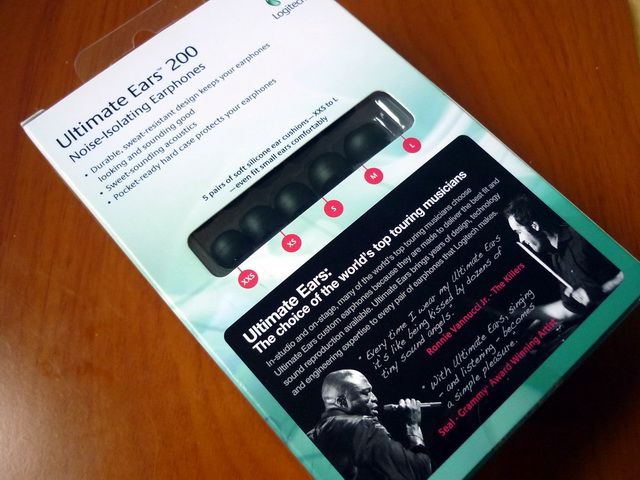 UE200 comes in a proper paper box with transparent windows, but that's not the only thing you get by paying $10 more. You will get 5 pairs of single flange eartips (XX, XS, S, M, L) and a small though decent plastic hard case. The design of the earpiece is much more conventional, but in a good way as it is easier to wear over-the-ear if you want to. UE100 can be wore over-the-ear too, just a little strange looking. For the least, the UE200 I received doesn't have any driver flex issue at all. Comfort, microphonics and isolation are all on par with UE100. One thing worth noting about both the UE models is the two years warranty. Old UE models lost their extra year of warrant after Logitech's acquisition and I am glad to see the company finally decides to extend the warranty term back to what it used to be.
Sound Quality
All IEM have been given at least 50 hours of burn-in before the review. No significant change was detected.
The sound signature of PG100 is bass dominance with a very mild U-shaped frequency response. Though being the dominant sound, bass is not excessive in quantity. While the bass does reach deep with the speed and decay still decent enough not to feel muddy, more than often it is the mid-bass that take over the show, leaving a sense of thickness in the air that overshadows the rest of the frequency and slow down the music. Mid is a tad further away but not enough to be called recessed. It is warm, sweet and intimate while doesn't appear to be too forward. Though at the same time, the thickness carried over from the bass is restricting the air, feeling like an overcrowded room instead of a more opened space. Treble is well extended to 16kH, a little more forward than the mid and has some sparkle, but not in abundance. It is capable of a decent level of micro detail, but also has a tiny amount of graininess that is typical to IEM of its level. Soundstage is below average due to the warmness and thickness. Overall, PG100 sounds like a slightly restricted PR100 - not quite as extended or opened, but still retaining the warmth of the house sound within the lower end of the family.
The sound signature of Ultimate Ears 100 is mid focus and easy going. Bass extends deep to the 20Hz and is just north of being neutral with a decent decay, but doesn't feel particular fast with the lack if a good kick. It has more body than impact, behaves politely in all time. Mid is warm on the fuller side but not particularly sweet or very upfront, neither full of texture nor totally lacking, but well spaced to leave just enough air without losing intimacy. Treble extends to 16kHz but in a smooth and gentle way. It lacks sparkle and in a way, lacks good micro detail, making string instruments feel like losing their crispiness. Soundstage is about decent. UE100 is a very easy going IEM with no particular weakness in its sound. But on the other hand, there is really nothing particular good in the presentation as well. Being the lowest end of the UE line-up however, it is probably well suited for the average consumer with no particular requirement in sound.
The sound signature of Ultimate Ears 200 is mid focus and easy going as well. Compared to UE100, it is just a tad more forwarded in the mid while better extended at both ends. Bass extends just as deep as UE100, but comes with proper impact and speed. It takes away some of the decay and body of UE100, but in return gives it a tighter control and better texture. As with UE100, Mid is, again, warm and on the fuller side, more upfront but not to a level of being sweet or in-the-face. It does however trade away some of the space between the listener and the music. Treble is well extended and shows sparkle, giving back the much needed crispiness and micro detail that are missing in the UE100. Soundstage is a tad below average due to the forwardness of the overall presentation - That is also where the biggest difference between UE100 and UE200 lie. It is the extra little things on UE200 that restores some of the liveliness back to the music while still maintaining the same easy going style. That alone should worth the extra $10 going from UE100 to UE200.
So how do PG100, UE100 and UE200 compare to some of my favorite sub-$30 IEM, namely MEElectronics M9, SoundMAGIC PL30, and the very much underrated VSONIC R02 Pro II? Lets talk about PL-30 first. It is a rare sub$30 IEM that offers a neutral sound that focus on clarity instead of the more ear pleasing warmth. But being the oldest IEM in the group, it isn't quite as popular as it used to be since newer IEM of the same price range are getting better and better. It still holds one of the best clarity in the same price range but comes short for those who are looking for more. In between PG100 and UE200, PL-30 doesn't really have many advantages to speak of. M9 is what put MEElectronics to the map for offering a well built, good sounding IEM on a great price, but it is not a perfect IEM. The somewhat V-shaped frequency response can be too aggressive for some. While it is a class above most of the other sub-$30 IEM, it is also a choice that required more consideration in listening preference. VSONIC R02 Pro II is what set the bar for all other sub-$30 IEM. It is even better sounding than M9, just as good in build quality and has a rather easy going and lively sound signature. So what is the catch? It is hard to find. The few sellers on eBay that carry the R02 Pro II usually sells it higher than its MSRP (*over US$30) and the weaken US currency exchange rate certainly isn't helping either. If you can find it under $30, it is a great deal – just that it is a big 'if' and it is not getting smaller.
Back to PG100 – the new EECI is a really decent offer for the sub-$30. While it is only replacing PR100 as a low end but not getting better with its sound quality, it shouldn't be a surprise since it is also $10 cheaper. Why ECCI wants to go lower is however a puzzle for me, but obviously they know just how to price accordingly. While I am disappointed at UE100 build quality, the overall sound quality of both UE appear to me as solid IEM from a big brand name. They don't offer more than their price and try to be as easy going as possible, making them more appealing to what they are marketing to, the general consumer. The real attraction for both models is however the two years warranty they offer. If you are buying IEM for the younger member in the household who has not yet to develop the appreciation for good sound quality or the care to handle expensive gears, these UE make better sense.
Verdict
Giant killer they might not be, both ECCI PG100 and UE200 are solid IEM for the price. With PG100, you will get more sound quality than build quality for the money; With UE200 however, it is just the opposite. Other the other hand, UE100 has failed to impress me for its build quality. If you are considering the lower end UE, better spend the extra $10 for the UE200 instead.
Check out
The List
for numeric rating.