First, I'll like to thank
AiAiAi
for the sample and the local AiAiAi dealer David @
Event One
for the arrangement. Back before the release of TMA-1 just over a year ago, the Danish based AiAiAi was generally recognized as yet-another-life-style-headphone-brand. We have seen companies that offer nothing but bold, mostly aesthetic design which serves to conceal the lack of sound quality before, and the general consensus for any self-respected audiophile is to avoid anything that looks too flashy: Yes, pick the headphone with the old, ugly design. After all, what else would an ugly headphone have to offer beside sound quality? But with the TMA-1, AiAiAi set out with a different approach to combine good design and sound quality into one product that doesn't offend both the eyes and the ears - a headphone with style and sound that both DJ and audiophile can approve of.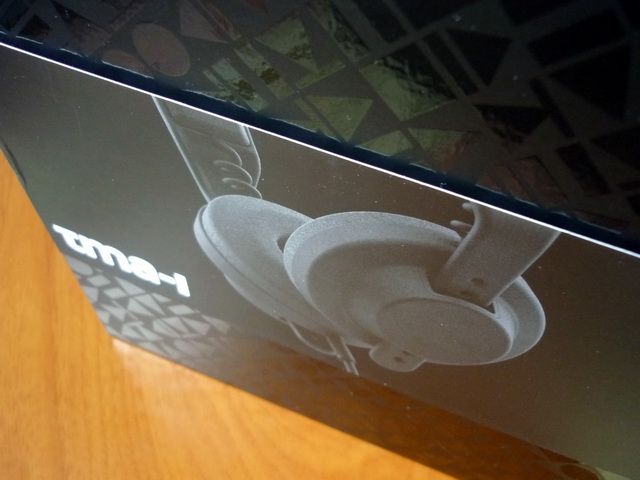 Spec
Transducer: 40mm Closed Dynamic
Impedance: 32±15% Ohm
Load Rating: 0.1W
Frequency Response: 20 to 20.000 Hz
Total Harmonic Distortion: <0.3%
Sensitivity: 110±3dB
Weight (w/o cable): 190g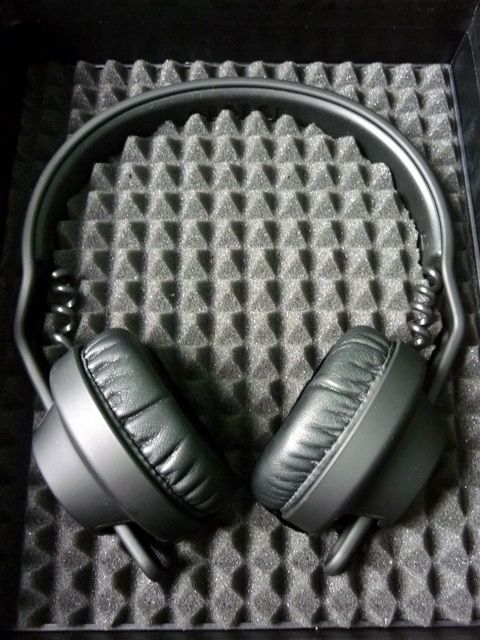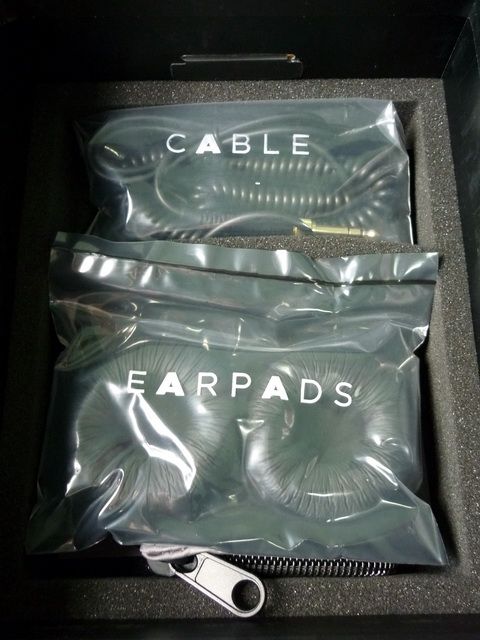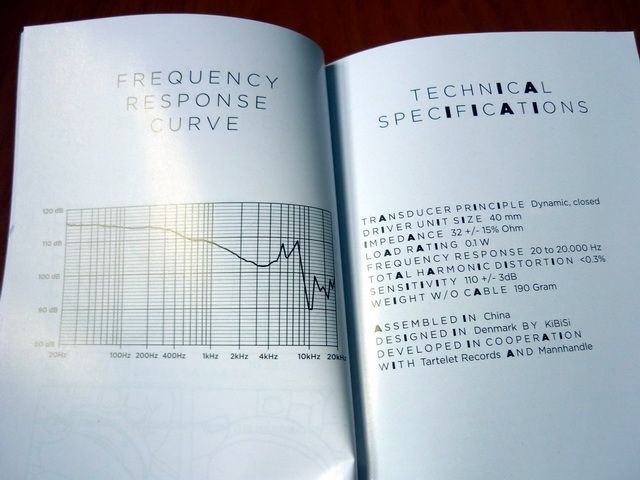 Packaging, Accessories and Build Quality
If you are the geeky type like me, of simply a fan of the Space Odyssey movie / novel series by Arthur C. Clarke, you will know that the name 'TMA-1' originally stands for "Tycho Magnetic Anomaly 1". It is a black monolith like machine that was left long ago by an advanced alien species in the Tycho crate on the southern lunar highlands with the main purpose of encouraging intelligent life form's evolution. Drawing from the same concept that a simple looking device that features great power and sophisticated functions, the similarly named AiAiAi TMA-1 is taking the concept of a DJ headphone back to its basic, then evolve the form and function together to create a DJ headphone that is simple and elegant, yet also practical and well made.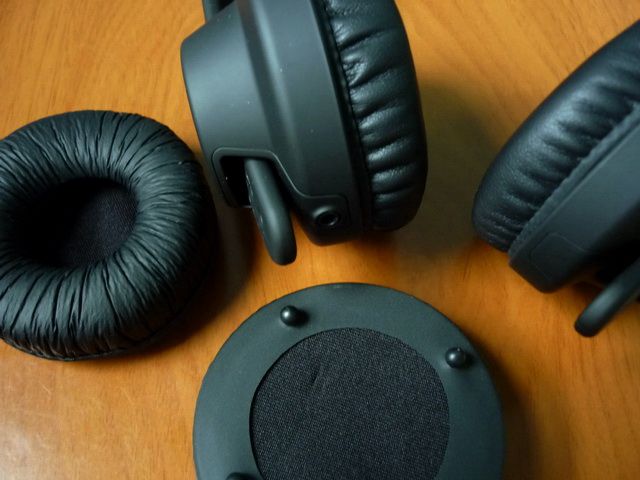 Leather earpads (on TMA-1) and synthetic earpads.
The packaging is lavish, to say the least. But on the other, there is a touch of 'pro' styling that points out that this is still designed as a tool for DJ and professional. The box itself is a very heavy and hard paper box with the marking of 'play, pause, reverse, forward, stop, recording' logo glossy printed on the matte surface. Inside, you will find the headphone sitting in a sheet of pyramid foam to mimic the feeling of sound absorbing wall often found in recording studio. Underneath the headphone is where the cable, extra earpads, and the soft pouch are to be found.
The cable is about 1.7m in length with 3.5mm mini stereo plug at both ends. The one side that will go to the source also comes with a screw-on 6.5mm stereo plug adapter. The upper middle section of the cable is coiled so it will add more freedom of movement to those who do intend to use it as on the mixing table. The headphone comes with a set of "semi-leather" earpads installed and another set of foam pad with thin synthetic leather covering. In comparison, the "synthetic" foam pad is softer than the semi-leather pad but also lose some of the firmness and isolation. Between the two, my choice is on the semi-leather pad since it sounds just a tad better than the foam. For what I know, there have been several reversions on the accessories since TMA-1 launch and the one I have might not be the latest. If you find naked foam pad, it is mostly likely the earliest batch. If you find additional straight cable (no coiled section) or straight cable with iPhone compatible mic and control, plus extra semi-leather pad instead of synthetic pad, then likely you are having the latest batch. However, the headphone themselves should be identical on construction and sound.
No extra cushioning.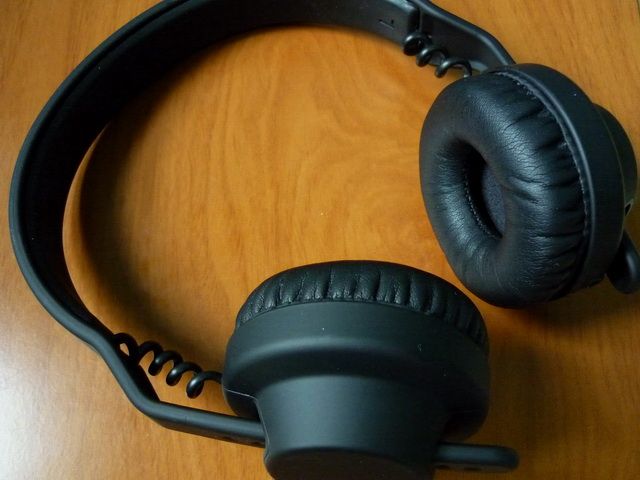 The earpad mounting is quite ingeniou
Some kind of metal diaphragm inside.
One of the big plus for TMA-1 is the overall rugged build quality. First, the whole head band and ear cup are all covered with rubberized surface to add texture and grip. It is great to the look and touch but rubberized surface is not known for prolonged durability. I have not seen any scratch on my TMA-1 yet, and hopefully it will stay that way for the time to come. The head band is made out of a one piece plastic that is extremely flexible. It can be twisted to extreme angle that would have easily snapped a conventional DJ headphone two times over. While the lack of joints and pivot limit the range of motion on the earcups, it is still enough to be worn comfortably. But compare to those DJ headphones that can be folded flat, TMA-1 might not be quite as versatile. There is also no cushion on the head band besides the semi-soft rubber inlay. I find it decently comfortable but those of you who like your padding will not fancy it. On the durability point of view however, padding is just another thing that needs to be replaced after a few year of soaking up sweat. That is why the earpads on the TMA-1 is designed to be easily replaceable with a simple snap out of the ear cup, and so is the cable using the common 3.5mm plug. On the last note: I do have a fairly big head size and I find the clamping force on the head band just right - enough to walk around and for everyday business but not something I would run with. I would imagine people with small head might not be able to get the same good fit so that is something to consider.
While I don't consider myself a regular full sized or portable headphone user*, I am deeply impressed by the build and design that go into TMA-1. It really sets itself apart from all other DJ headphone I have ever seen, including the old classic Sennheiser HD25, AKG K81DJ and the newer Audio Technical ATH-M50.
*Tropical 30+ degree Celsius of daily temperature can be a big factor on headphone choice.
Sound Quality
The headphone has had at least 100 hours of burn-in before the review. No major sonic change was detected.
The first sonic impression of the TMA-1 is definitely very different from other closed portable headphone I have tried (K81DJ / M50). It is warm to almost dark, full at the bass and mid while smooth at the top. This is a big contrast to similar closed 'Pro' or DJ style headphone where a more balanced sound signature is generally preferred by the maker. Instead, AiAiAi chooses to go with a more mid and bass oriented sound.
Bass on the TMA-1 hits hard and with a good amount of texture. It extends to very low and doesn't emphasize any particular region of bass. You'll get an evenness of bass distribution while at the same time, a really good speed and decay. The bass body is there but there is not excessive mass that'll make it muddy. While it is not what I would refer as bass monster, the overall response is definitely on the fuller side that brings out the 'fun' part of the music. Mid follows the same characters as bass – full and warm, almost a continuation if you like. The vocal is lush, sweet, well textured and forwarded though not in-the-face. It complements the bass well and together they have a very lively presentation. Treble is where TMA-1 is different from most as it is a step behind the mid and bass but it is not totally lacking. The lower treble / upper mid is fine actually and can sound just a tad edgy when you push the volume a little too high, but the main difference is on the upper treble. While it extends as far as my hearing goes (around 17kHz), there is a noticeable drop in treble strength going pass around 10kHz to 13kHz or so, making all the top end sparkles sounds dim and faint away while still linger in the background. While micro details are not all lost, you will have to search for them intentionally to notice they are still there. It is enough for laid back listening, but people who enjoy a healthy dose of treble will not be impressed. Soundstage is not a strong point on TMA-1 because of the warm and fullness in the mid and the general lack of good air on the treble, but overall it is not too bad. It shows decent space but doesn't go very deep or wide, not something uncommon on DJ style headphone anyway. While clarity and imaging isn't top notch, timbre and texture over the mid / lower frequency is quite good.
What TMA-1 really does well is in its energetic presentation and the overall strong texture in the mid and bass. It is what I usually refer to as the warm and sweet sound signature. It goes well with most electronic and bass heavy music as well as most fast vocal centric music like pop to certain rock. I love how TMA-1 sounds on albums like Daft Punk's "Tron Legacy Reconfigured", Avril Lavigne's, Lady Gaga's, to even some of the Dave Matthews Band's. But that being said, TMA-1 definitely doesn't sound great with anything that requires treble or air. Classical and instrumental suffer, so are music that already go slow and thick on their own. The added thickness might just be too thick and sluggish at the end.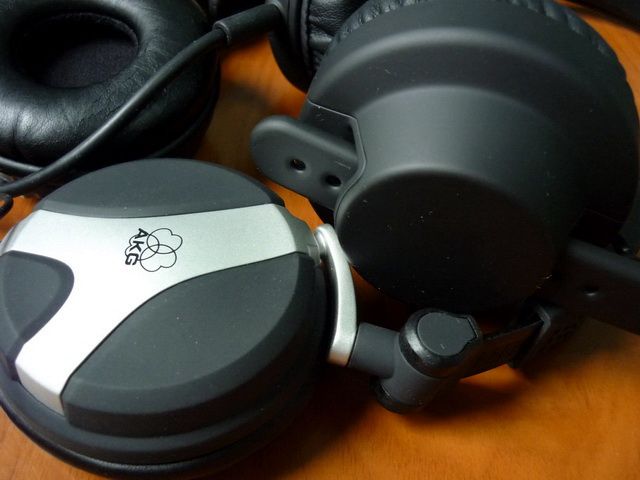 AKG K81DJ (left) and AiAiAi TMA-1 (right)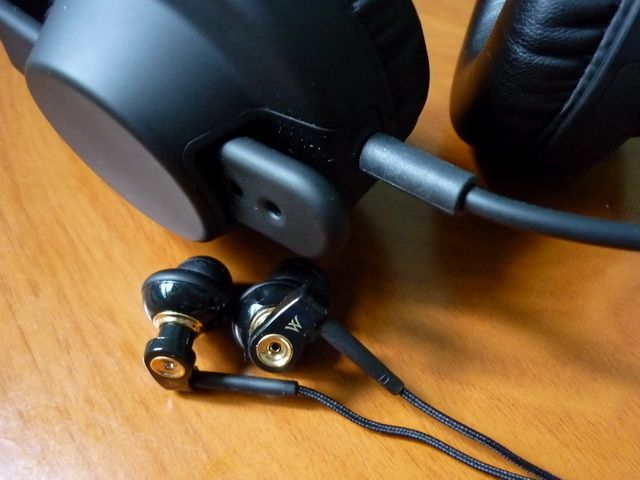 Radius DDM2 (bottom) and AiAiAi TMA-1 (top)
Verdict
Is TMA-1 a good tool for mixing? I don't mix music myself so I really don't know. But I guess with that strong of a coloration, TMA-1 will be more of an acquired taste (or preference) for the individual DJ. Equally the same can be said to TMA-1 as a pair of closed back supra-aural for music. It is definitely not for everyone or for every kind of music - but on what it does well, it really excels. So who will like TMA-1? I would imagine anyone who loves
Radius DDM2
will like the TMA-1 as well. You will find a lot of similarities between the two, from the textural sound to the warm and smooth presentation. Like I have said about the DDM2 before, this kind of tuning might not be suitable for all, but it can be very rewarding to those who know what they are looking for - that is, something unique and different from the rest of the market. For me personally, I think TMA-1 is one fine headphone that I will enjoy for a long time to come.