First, I'll like to thank
MP4 Nation
for the sample.
Before we go into the review of B2, let's take a look at the story of B2 itself. Well, for those of you who have done your reading, you would have known there is another 'B2' before this B2. It is the very well received DBA-02 from Fischer Audio (reviewed
here
). MP4 Nation is able to contact the same company that OEM the DBA-02 for Fischer Audio and begin a production of its own (note, this is not considered cloning since the OEM company is holding the design right of the IEM and free to sell it to anyone). While the IEM itself might be largely the same, MP4 Nation has given it a facelift and much easier accessibility for those who want to buy one, which is the one hinder that keeps DBA-02 from getting really popular and a full 5/5 recommendation from me. With the B2 however, everything is a step closer to perfection.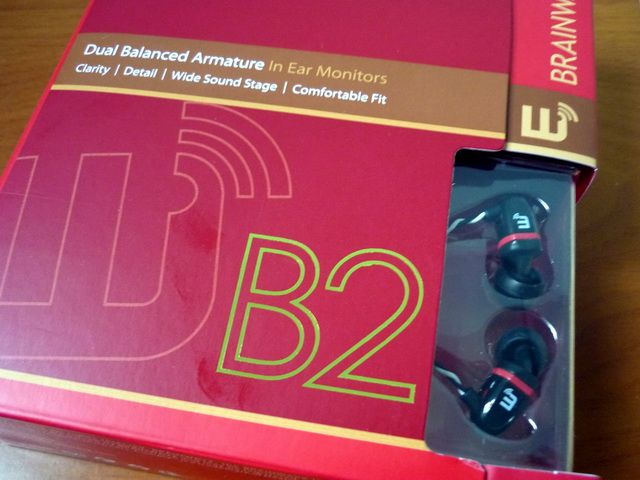 SPEC
Drivers: Dual balanced armature
Rated Impedance: 40ohms
Frequency range: 20 ~ 20000Hz
Sensitivity: 110dB at 1mW
Maximum input power: 60mW
Plug: 3.5 mm 90-degree gold plated
Cable: High grade copper cabling
Cable length: 1.3 meters
Packaging, Accessories and Build Quality
Different from the minimalist's approach of its Fischer Audio twin, the B2 goes all extravaganzas on its packaging. With a crimson red / gold theme, the box is well layered and showcases the IEM itself from the transparent window on the side. While I have never been disappointed by Brainwavz's packaging, they do seem to go all out on this one. In sum, it can be placed next to any Japanese or Western brands and doesn't feel short of itself.
Accessories include a decent nylon hard case, three pairs of single flanges silicone eartips (S, M, L), an airplane adapter, a 3.5mm to 6.5mm adapter, plus a pair of red Comply T100. The inclusion of Comply is a good move on Brainwavz. B2, like DBA-02, offers isolation only to what I consider as slightly below average. It is still good for city commute (as I have tried it in subway) but might not suitable to very noisy environment. The Comply will help a lot here to improve the isolation, easily pushing the IEM to over -30dB (which is what some of the best isolating IEM offer). Those who find the T100 absorbing a bit too much treble can try the latest Ts100 from Comply (reviewed
here
). If you want foam tip that is very durable, Shure black foam (olive) will fit but slightly tighter.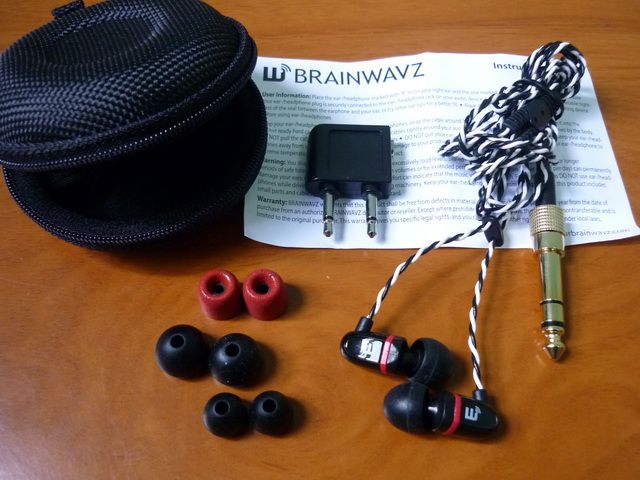 Build quality is quite good. I have used my DBA-02 for some time now and it still holds on strongly, thus I have no reason to suspect any problem with B2 of the same design. Of course, like most IEM, you do need to take some care as they are not something that will take abuse well. Like DBA-002, if I were to nitpick - I still think the strain relief on the IEM housing can be better. Also, the lack of left / right marking on the housing can be confusing to new IEM user. As with DBA-02, I like the Westone style twisted cable on the B2 but the black and white combo still looks funky. I also know it will slightly untwist itself after a few months but it will still hold the general shape. I do hope we could see an even better cable on B2 in future that better resemble the real Westone cable. The two main differences between DBA-02 and B2 are: 1) B2 comes in a non-transparent black and red housing instead of the transparent and blue housing of the DBA-02. Whole the material might still be the same kind of plastic, the new color combo does make classier. 2) Different from my early sample of DBA-02, B2 (and I believe the later generation of DBA-02 as well) comes with a better filter. It is not user replaceable so you will be wise to try to keep the nozzle as clean as possible. More filter discussion in the Sound Quality section later.
Overall, I really like B2 packaging and build quality. Now it is packed and looks like it belongs to the top-tier world. In case there is any problem, there is also a one year swap-for-new replacement warranty in place that will get you a new unit instead of waiting for repair. This adds even more value to the already bang-for-bucks IEM.
Fischer Audio DBA-02 (left) and Brainwavz B2 (right)
Sound Quality
Over 50 hours of burn-in was given before the review. Overall there isn't much sonic change during the process. Since B2's internal is pretty much identical to DBA-02, there really isn't much point to rewrite the whole sound signature description so I am just going to copy and paste most of what I have written on the DBA-02 for the B2.
Like DBA-02, B2 is fairly balanced sounding with a brighter, more analytical presentation. Treble is very well extended to the top, detailed and full of sparkle, but might be a little too aggressive for non-analytical listener. Mid has good texture, neither too forward nor recessed, but the upper mid is a little more forward which can sound slightly harsh on brighter music, especially on loud volume. Bass has good impact, body and speed. Neither quantitatively big nor bone rattling deep, but above average. You do however need a good seal for the bass to reveal itself, so be sure to try different eartips. It also responds well to EQ so you can give that a try if you really need to shake your ear bone. Soundstage is quite good, very airy. While it lacks the best layer, separation is among some of the best.
So does B2 really sound the same as DBA-02? Well. That is a tricky question for me to answer since my early DBA-02 comes with paper filter and the B2 uses a more conventional IEM filter (something that looks like an Etymotic ER4 filter). So whatever difference I detected could just be the filter and not the IEM itself. However, since the two sound so close to each other, it is confident for me to say they are really within the last few percent of each other. To make thing even more confusing, the later batches of DBA-02 have also switched to the conventional filter as well. In any case, I can only say the B2 sounds just a little crispier in the top than my old DBA-02 but without being noticeably brighter or harsher. However, I double most can detect such a slight difference without listening to both at the same time. I think the safe thing to say is there really is no practical difference between the two models – that is, they are both offering sound quality closer to the top-tier category in the universal IEM's world.
Verdict
As I have mentioned in the beginning, accessibility (which is the combination of availability of purchase, shipping and warranty claim) is the one hinder that keeps DBA-02 from getting really popular and a full recommendation from me. With B2, the disadvantage is gone. MP4 Nation has web store in both Hong Kong and U.S. (Amazon.com based), plus a few resellers over the world. Given the $170 price tag is pretty much the same to a DBA-02, there is really no reason why I won't want to recommend B2 with a full
[5 / 5]
Sonic Diamond.
Check out
The List
for numeric rating.