First, I must admit I am a sucker for dynamic dual drivers, and I have quite a few in my headphone collection. Naturally when I saw the eBay listing for a relatively cheap (~$60), never heard of dual dynamic IEM from Korea, I just have to grab one. I really do not hope for much simply by looking at the packaging, but look can be deceiving. In the case of
SonoCore
COA-803, money isn't all wasted.
SPEC
Drivers: 6mm + 10mm dual dynamic transducers
Frequency Response: 16Hz – 20kHz
Impedance: 8 ohm (10m) + 16ohm (6mm) @ 1kHz
Sensitivity: 115+/-3dB @ 1kHz, 126mVrms
Rated Input Power: 3mW
Max. Ibput Power: 10mW
Cable: 1.2m, 3.5mm stereo plug
Packaging, Accessories and Build Quality
What I have received is part of what I believe to be a 'bulk package', meaning it is not retail package and not supposed to be pretty looking. Inside, the IEM is coiled in a fairly good looking aluminum case. There are also three pairs of average quality eartips and an oddly long (~3m), pretty good quality extension cable. At first look, the IEM itself seems decently build. However, the lack of strain relief, nozzle mesh and an easily open back end on the housing (just a little force on the finger will do) rise concern. The fact that my first pair died less than 3 hour in first use wasn't really helping too (though it was replaced and works fine since then). Though I wasn't really expecting much from an unknown brand, I do hope SonoCore can improve its build quality and adapts a more solid housing design as I think there is good potential in their dual drivers.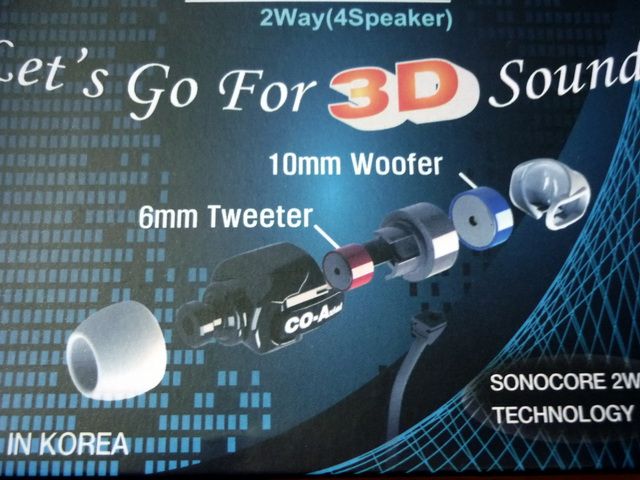 Sound Quality
As usually, the IEM received at least 50 hours of burn-in before the review. The sound improved slightly at the first few hours of burn-in as detail becomes a little clearer but overall there is no significant change.
The overall sound signature is bass driven, warm to slightly thick with smooth upper end. Bass is really big and a little boomy, though still maintains a decent level of texture to it. Slight slow at speed but overall decent in quality. Mid is warm and slightly veil due to a slight drop on the 1kHz to 2kHz region. Treble extends decently but smooth and sparkle-less, lacks enough detail to offset the overly dominating bass. For the same reason, soundstage is below average. At first, COA-803 can sound a little underwhelming because of it bass heavy sound. However, if you don't mind playing with a little EQ, say a slight bass reduction on the 150Hk region, a rise on 1.5kHz plus some treble boost, the IEM can still be a lot of fun to listen to. It might not be a particularly accurate sounding IEM, but the potential is there for user to explore via EQing.
Verdict
The COA-803 was originally intended as more of a fun purchase than it was a serious one, but at the end I don't feel regretted. As the SonoCore's first dual driver, it shows good potential but also has its own downfalls. The model has since been discontinued and replaced by upgraded models (COA-803+ and COA-805) that promise better treble and detail presentation. If SonoCore can tune the dual drivers just right and improve the build quality, I would imagine we might see a killer sub-$100 dual drivers in the future.
Check out
The List
for a numeric ranking.