Disclaimer: This review is part of the Monster Turbine Challenge Review program on Head-fi.org where selected Turbine models are provided to applicants free of charge in exchange for honest reviews.
I have been keeping my eyes (and ears) on the IEM market for the last 5~6 years now. If we were to go back to 2008 and before, the upper end of the IEM market was mostly dominated by balanced armature (BA) based canalphone ('IEM' for short) while the lower end was all dynamic (moving coil) based. That had been the trend going back almost as far as the birth of IEM as a new type of earphone. But since last few years, there has been an influx of higher and higher end dynamic IEM to the market, challenging the long held belief that BA based IEM must be inherently better than dynamic based IEM. This new trend couldn't have been more apparent in the last one year or so.
When
Monster
first came to
Head-fi.org
with its newly designed original Turbine back in late 2008, questions rose regarding the seriousness of the company's intention to enter the IEM market. There had been many attends from many non-headphone related big brands trying to penetrate the IEM market and in most case, they just failed to follow up with steam after one or two models' release. However, the original Turbine was (and still is) received fairly well in the community and Monster came back strong a year later with the late 2009 announcement of Turbine Pro (which later known as the Gold 'audiophile' edition), and followed a few months later with the CES2010 announcement of the additional Copper 'Professional' edition – which is what I will be reviewing here.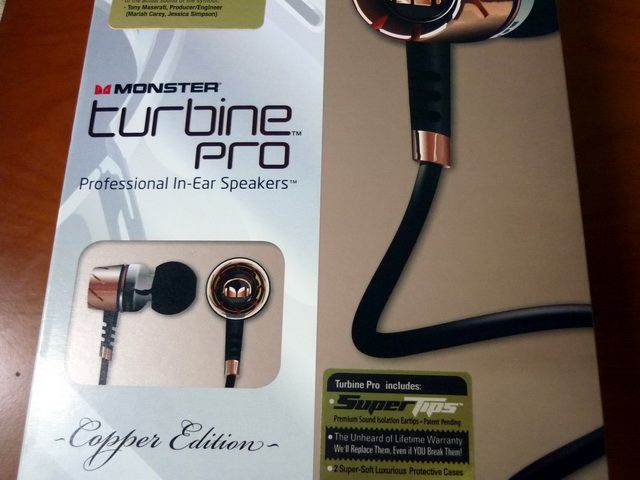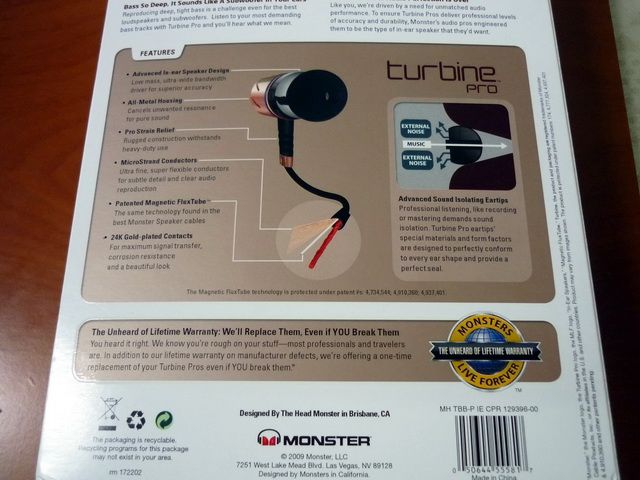 SPEC
Monster never publishes the full spec, but a quick measurement suggests that the Pro Copper likely has impedance around 16~20ohm and a transducer size of about 8mm.
Packaging, Accessories and Build Quality
Packaging is classy – well designed and printed outer paper wrap, extra tough hard paper box, plastic tray with velvet inlay to hold the IEM in place and has the spared space underneath for the truck load of accessories - Talking about the accessories, let's see what is included: A soft pouch with snap-back opening, a semi-hard velvet case with magnetic button, a 'revolver' style eartips holder, a 3.5mm to 6.5mm adapter, a pair of ear clips, a shirt clip, two pairs of tri-flanges silicone eartips (small and large), three pairs of single flanges eartips (S,M, L), six pairs of gel filled Supertips (SS, S, M, 2 x L, XL), five pairs of foam Supertips (SS, 2 x S, M, L), a bacteria resistance cleaning cloth, and a few manuals.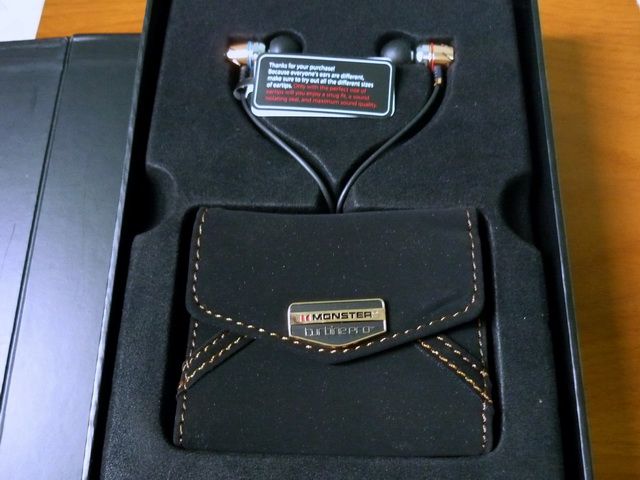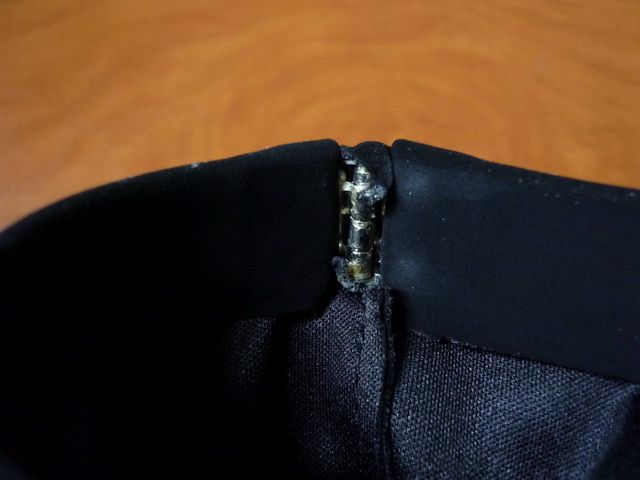 First, here are the few things I think are fine / better than fine – the soft pouch is well made with hinges on the snap-back mechanism - that is attention to detail. The semi-hard is decent, though could be a little bigger. The eartips holder is a good idea. The 3.5mm to 6.5mm adapter really looks gorgeous. Shirt clip is functional but could be better. The cleaning cloth is a nice touch. Keeping the IEM (and especially the cable) clean from earwax and skin oil is the first step to prolong the IEM lifespan, even though Monster does offer a generous lifetime warranty and a very generous one-times-only free replacement.
Some of these manual are a little outdated.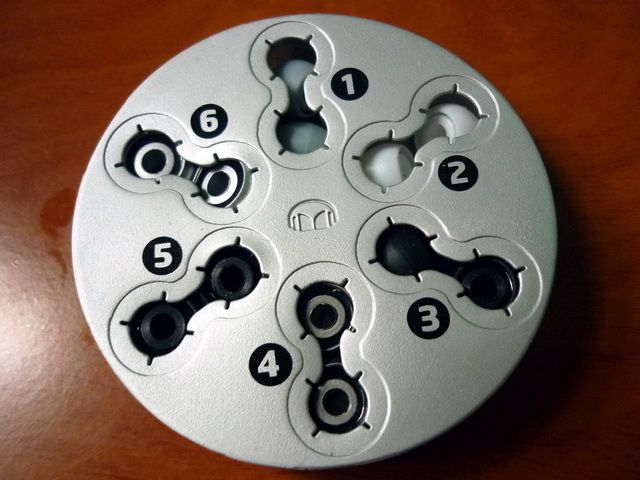 How about the things I don't like that much? They are the eartips and ear hooks. To be more specific, I don't like the size gap between the different sizes of eartips and how the IEM is mounted / clipped onto the ear hooks. For examples, the size difference between the small single flange eartips and the midsized single flange eartips is too large. The midsized eartips should have been just a few milliliters smaller to be in line with the common industries' standard (I am referring to eartips from Sony, Audio-Technica, UE, etc). The same can be said to the small and midsized foam Supertips – the midsized is just a tad too big to be an actual midsized. As for the gel filled Supertips, the difference in size is more proper but I personally don't like rigid eartips and therefore don't find them to be comfortable to use. Out of the very few eartips that I can use, they are either a little too tight, not tight enough or simply don't sound quite as nice. I end up using a pair of cloned midsized Sony Hybrid eartips (which actually shaped like the stock single flange) on my Copper to get the best balance in fit and sound. It would have been nice if the stock eartips have the right size in the first place because those eartips actually work quite well when they fitted right / comfortable for a brief moment. But like any IEM, getting a good and comfortable fit is the first and most important step of getting a good sound. I really like the fact that Monster includes that many selections of eartips in the package, but I think they could still learn something from Sony when it comes to perfecting the eartips size selection. Isolation wise, all of the included eartips are above average. With the gel filled Supertips, the Copper can even rival some of the best noise isolated IEM in the market.
Eartips (from top row) Foam Supertips, Gel filled Supertips, single flange and tri-flange eartips. Only showing one of each pair.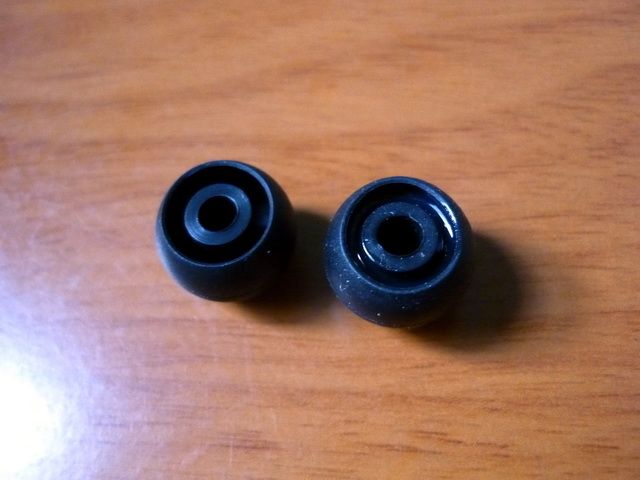 Normal single flange eartip (left) vs. gel filled Supertips (right)
Normal single flange eartip (upper left), gel filled Supertips (right) and foam Supertips (lower left). The idea on the Supertips is nice, but come out a little short in real life.
Ear hooks are another missed detail. The ear hooks themselves are well made, but the strain relief (when the earpiece is clipped onto the ear hook) is positioned at the wrong angle. The ear hook forces the strain relief of the earpiece to point downward, pushing it (and the cable) against the ear lobe. It would have been much more natural to have the strain relief pointing a few degrees forward.
Onto the IEM itself – The housing is full metal and very well made (and a tad heavy). The design idea of the whole Turbine series obviously comes from Monster's own Turbine RCA connector, and it actually looks pretty good on the earpiece as well. The cable is the rubbery, slightly springy type with decent thickness. They look like they should take stress well, and I guess that's the underlined assumption for anyone buying IEM from a company that makes expensive cable. Microphonics is acceptable, neither great nor bad. The Y-splitter and mini plug looks quite good too, but I won't mind better strain relief on them. The only build quality issue I detected so far is the infamous driver flex issue that seems to bother the whole Turbine line of IEM. Driver flex is when the diaphragm flexes around due to the pressure caused by insertion and makes a scratchy sound (and in worst case, pressure can cause the speaker to be quieter than usual temporary and you will need to adjust the earpiece for it to return to normal). It usually happens to IEM with a fully sealed acoustic chamber like the Turbine. I would suggest Monster just make a very small vent on the base of the nozzle to fix the issue. As long as the vent is small enough, it shouldn't reduce performance or affect the sound too much. I haven't heard that driver flex will damage the transducer itself, but it is quite annoying and I can't imagine it could be anything good for the IEM in long run.
Overall I have a positive impression with the Copper's build quality. The eartips and ear hooks are more or less minor issues while the driver flex can be a little annoying, but they don't subtract all the pluses from the IEM. I do however hope Monster can further refine the Copper, especially consider the high MSRP.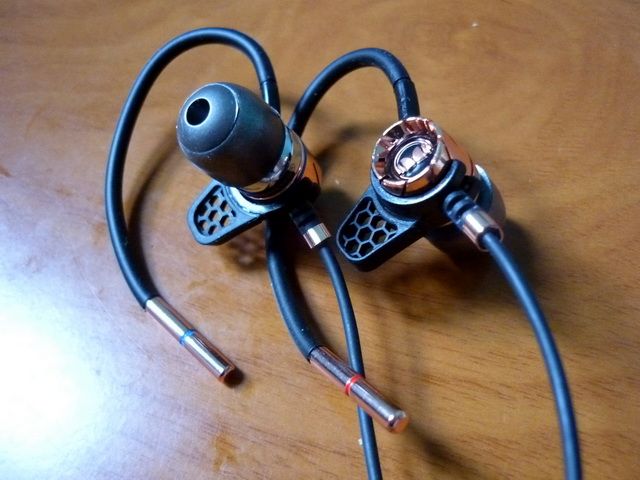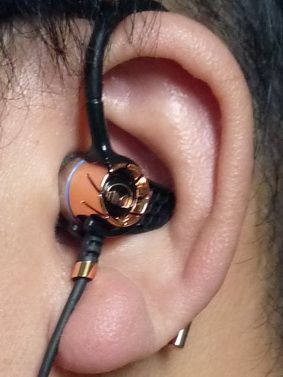 Strain relief pushing against ear lobe.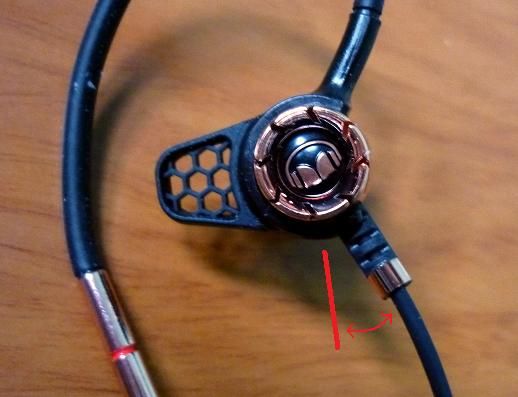 A little change (from the original red line) in how the IEM is mounted can improve the fit.
Sound Quality
The IEM had received no less than 50+ hours of burn-in before the review. No significant change has been detected. Copper is claimed to be studio quality monitor that is 'designed for serious audiophiles and audio professionals'. Personally, I would take something more neutral for monitoring purpose, but that is not to say you can't use Copper as a monitor if you already understand its coloration to the sound. I am just more inclined to use it for the serious audiophiles' bit of the business.
The sound signature of Copper is warm, sweet, full and smooth. Bass is hard hitting, deep, well textured but also well rounded and not overly aggressive. While not a bass monster in nature, it has the quantity that can easily put smile on a basshead and the texture, speed, and proper decay not to sound muddy. Mid is forwarded, but not overly full. It is sweet but not in-your-face, keeping just enough distance not to become mid-centric, yet gives a sense of intimacy in vocal. The mid and bass complement each other very well and do not overpower one another at anytime, making it the backbone of the Copper's sound. Treble is well extended, but lacks just a tiny bit of extra sparkle on the top to fully showcase the crispiness of string or brass instruments on its own. As a whole however, the treble still acts well to accentuate the mid and bass presentation without appear to be lacking. Soundstage is only decent, as expected on a full sounding IEM and there is nothing to be faulted for.
I tested a variety of songs and music but here are a few that best showcases the strengths and weaknesses of Copper:
"Derezzed (The Glitch Mob Remix)" from soundtrack [Tron Legacy: Reconfigured]: Electronic music needs good bass and treble. Copper can easily handle the bass demand but not quite as easy on dealing with all the high notes. It is satisfying overall but I won't think Copper will be my top choice for electronic.
"Bad Reputation" from Avril Lavigne's album [Goodbye Lullaby]: A fantastic song to test for speed and resolution, since there are a lot of things going on at the same time. Copper renders it beautifully and I couldn't have asked for more.
"Bottle It Up" from Sara Bareilles' album [Little Voice]: This is one of the most sibilance-prone songs in my collection. Copper presents all the 's' on Sara Bareilles' vocal without causing sibilance or sounding muffed, well done.
"Bari Improv" from soundtrack [August Rush]: Performed by Kaki King, this is my standard song for checking guitar rendering, micro detail and soundstage. As mentioned before, Copper isn't that great with string instruments – Guitar has the kick, but lacks a little of the air and extension. A little more than decent overall.
"La Paloma" from album [Andre Rieu: Romantic Paradise]: Orchestral music and New Age ain't something I would consider to be strong points for Copper, but it certainly can plays them well enough and I have no complaint over it.
"Heart Skips a Beat" from Lenka's album [Two]: There are really deep bass here to check for quantity and depth. Is Copper the best at rendering deep bass note? Probably not - it doesn't mean it is not excellent on its own though.
"Isn't This a Lovely Day" from Diana Krall's album [From This Moment On]: This is the kind of music that showcases Copper's ability best. Warm, full, textured and intimate - Diana Krull sounded sexiest as ever.
So what will be a direct competitor for Copper's sound quality and signature wise? I would think Ortofon e-Q5 and the discontinued Shure 530 can both pose as good candidates to compete with Copper. But if you asked me, I don't think any one of them can truly trump over the others. At this level of sound, the actual pros and cons in sound is generally much smaller than the importance of the listener's preference.
*Gears: Dell XPS420 - FooBar2K - MeierAudio Corda 3MOVE / Sansa Clip+ / Sansa Fuze + LOD + 3MOVE / Cube C30.
Verdict
While the MSRP is high, the street price of Copper is fairly reasonable at around $210 and put it in the same 'zone' as many of its competitors. There are a lot to be loved on the Copper, but at the same time it is not the perfect IEM. Then again, perfection perhaps is only in the eyes of the beholder. I think Copper has more than proven itself to be one of the best dynamic IEM around and capable to rival some of the best BA based IEM in the market. But in true audiophile spirit, I am hoping to see Monster further refining the Copper and that will make it truly special.
P/S. Do note that you don't want to get any of the Turbine Pro from an unauthorized third party seller, or else your IEM won't get covered by the outstanding warranty program.
For numeric ranking, check out
The List
.