F
irst, I want to thanks Tony @ SoundMAGIC for offering me the chance to review the PL-50. I first got wind of a balanced armature based SoundMAGIC few weeks ago when I came across a pre-order page on another forum. There wasn't a lot of info back then to made out how well this IEM are going be. Plus, SoundMAGIC usually like to operate under the radar, making it difficult to tell what kind of product they are planning for. I have been in contact with Tony since last year when the PL-30 was on hot sale, basically asking questions and getting detail of their flagship at the time. Personally I am not that excited when I received my PL-30. It sounds quite good as a sub-$50 IEM for sure, but I could never get a seal good enough for me to use it in long term. Instead, I take a liking to their PL20 and PL11 offering simply because of better fit. As I always say, you are going to get a good sound only after you get a good fit.
For those who don't know anything about SoundMAGIC, they not only make their own line of headphone, but also are the OEM supplier of several well known headphone brands around the world (Beyerdynamic for an example).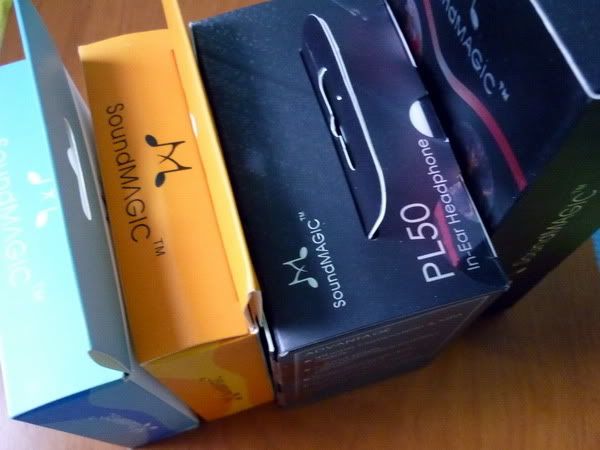 The case is about twice as thick as PL11/20's case, but much better looking.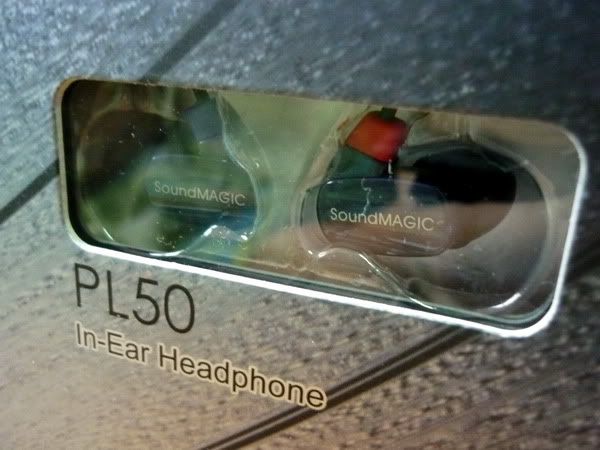 Spec
Driver: Single Balanced Armature Transducer
Sensitivity: 109 +/-2 dB SPL @ 1 kHz
Impedance: 55.5 +/- 15% Ohm @ 1 kHz
Frequency Response: 15Hz - 22 kHz
Cord: 1.20m
Plug: Gold-Plated Stereo 3.5mm Mini-Plug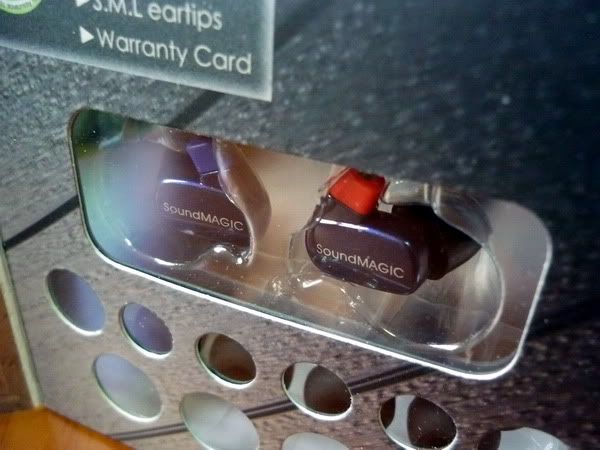 Packaging, Accessories, and Build Quality
PL-50 spots a very classy packaging - the best I have seen on any Chinese brand so far. The general foot print of the box is still quite small, but thicker on the side to accommodate a hard case (as the same kind found only on SoundMAGIC previous flagship, the PL-30). By opening the side windows, you can take a peek on the IEM itself (with the mid sized foam tips) and 4 pair of different sized silicone single flange eartips (S, M , L, XL). Inside the box, you will find the warranty card and a hard case in the back compartment with 2 silicone ear hooks and two more foam tips (S, L). Now you should take note that the foam tips are actually smaller in size compared to similar foam tips offered by other manufacturers. What I mean is, the large sized foam tips is actually about the same size as a mid sized Shure black foam (olive). Also, they are more rubbery than normal foam. The good news is, these foam actually have a inner tubing (as opposite to the cheaper type that has no inner tubing).

The nozzle on the earpeice is slightly larger in diameter than typical Shure or Westone and has a bump close to the base to hold the eartips in place more firmly (those who own Philips SHE9850 will know the design). That said, Shure olive can fit in but it is very tight - so tight that I won't recommend even trying (as you might break the nozzle when trying to remove). Comply T100 fits too, but it is also a tight fit (just not as tight as olive). If you are seeking aftermarket replacement eartips, here are some that I have tried and work quite well: Shure grey flex sleeve, Sony hybrid replacement silicone eartips, tri-flanges, big bi-flange, and JAYS's replacement eartips (including their foam tips). In all, I will recommend JAYS eartips as the eartips of choice for replacement, but not their foam tips since it exposes too much of the nozzle opening for earwax. For those who are looking a long term foam solution, I will recommend you to try my
Olive-on-Jays mod
, which works very well and give optimum comfort, grip and easy access for future eartips replacement / exchange.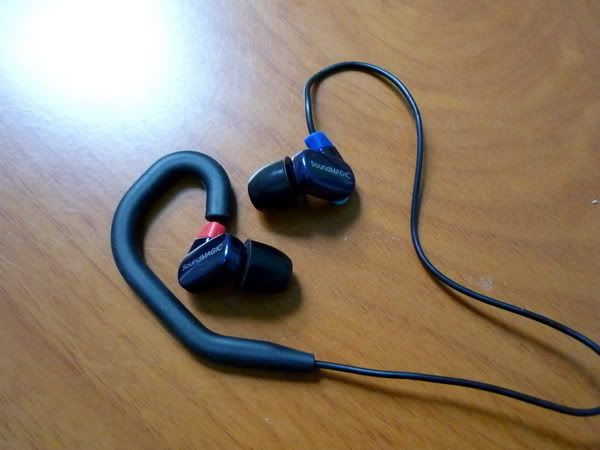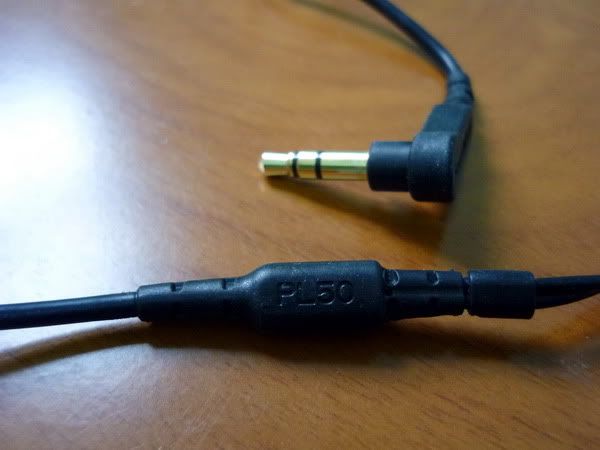 As far as I can tell, the earpiece itself is plastic and it is extremely light. It finished with a dark blue metallic coating which is very classy to look at. The fit is close to phenomenal - I dare said PL-50 is almost as good as my Westone UM2, which is renowned for its fit. The strain relief is color coated for left/right channels. The cable in use is similar to those found on NuForce NE-7M, soft but generally strong and don't have memory effect or tangle easily. The Y-splitter and the mini jack look very well built. I especially like how the mini jack is designed for iPhone yet still remains very practical- much more elegant than the solution Shure has on its SE530. The inclusion of ear hook is a good plus though the cable is quite easy to use in over-the-ear style without the hook, which of course also help eliminate any microphonics issue. If you are wearing PL-50 in a more or less stationary position (such as in front of desk), you can plug it in upside-down / hanging position. It still works very well but there will be a bit of microphonics issue if you start to move around. Overall, I am very please with the quality of PL-50.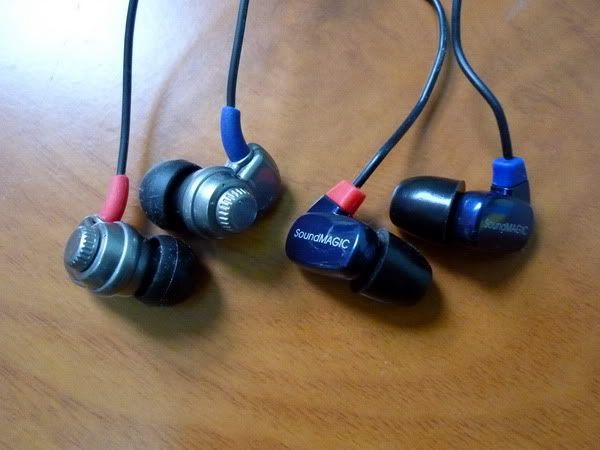 Sound Quality
As a standard procedure, I burnt PL-50 in for 50 hrs fore the review. Some of you might think it is a complete waste of time, but not this time. There is a small degree of noticeable change in sound quality in the first few hours (<>
On my
O.J. mod'ed Shure olive tips
, the overall sound signature is warm, smooth, full sounding mid with rather sweet male vocal performance. Bass is on the leaner side but still adequate, definitely not what I'll describe as bass shy, but more like below average. Mid is full and take dominance over the whole sound signature (in a good way). Male vocal sounds pretty sweet but female vocal doesn't have as much detail since the upper mid and treble is rather smooth without any peaks or highlight. There are some degree of detail but lacks sparkle, thus not much fine detail to speak of (and no sibilance if that is what concerns you). Analytical listeners need not apply. Isolation is rated at -20dB, which is about correct with the default foam tips and quite consistent with the mod'ed olive tips. That is about average on my scale. Soundstage is also about average with the foam tip.
On the stock silicone single flange eartips, the mid is not as full and leans a little more toward the neutral side, giving a slightly more revealing sound that tends to better suited on female vocal. However, the overall sound signature still remains warm and smooth. Soundstage is also better and airier with the silicone stock, but the isolation is probably 1~2 dB less. Not a major drop but noticeable in comparison.

In sum, PL-50 has a rather 'popular' sound signature. Not bassy nor bass-shy, not bright nor too dull - plus a mid that tend to work fairly well in most genre of music.

So how does PL-50's SQ compares to SoundMAGIC previous flagship PL-30? In short, there is no competition. PL-30 is a good sub-$50 budget class IEM, but in my opinion PL-50 has very well reached the top of entry class IEM, which is a class above PL-30.

Conclusion
SoundMAGIC has always been a good choice for those in tight budget, their new flagship is no exception. If you went out and bought a pair of balanced armature (BA) transducers on your own then fit them into an housing, I doubt you can even get half decent sound with mere $55 of budget. BA based IEM have always been criticized for their price, but SoundMAGIC PL-50 has absolutely pushed the limit... the only question left is, have you have your wallet ready yet? Do expect this to cast an even bigger storm than PL-30!!!

You can read the quick sum up
here
.