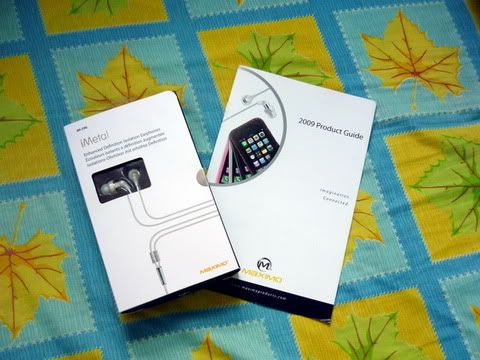 R
ight about the end of last year, Andrew @ Maximo Product contacted me asking if I would like to have a listen to the demo unit of their upcoming flagship IEM and perhaps give some opinions, naturally I agreed. To cut things short, it was one of those IEM I really like in first listening but couldn't tell anyone due to confidential agreement. That IEM was later
announced at CES2009
as iM-590. Since I had reviewed iM-590's little brother, the iM-390, right about the same time, I have high expectation for iM590's debut. Personally, I think iM590 is taking Maximo to a higher level as a headphone manufacturer, separating them (SQ wise) from only offering consumer grade products to a more serious audiophile market - that kind of remind me a comment I made 6 months ago on
iM-390's review
which still holds true today: "Obviously Maximo have good confidence in their IEM and are willing to prove themselves to be more than just-another-accessories-maker."
That said, let get into the real topic.
[Specifications]
• Earphone drivers: 9mm neodymium
• Frequency response: 12Hz-22KHz
• Sensitivity (1KHz, 0.1V): >100dB
• Maximum SPL output: >120dB
• Impedance: 17ohm (estimated)
Included:
• 4 sizes of proprietary eartips (S, M, L, XL)
• 2.5mm stereo plug adapter
• Airline dual-plug adapter
• 2-ft extension cable
• Shirt clip
• Carrying case
• User guide
• 2 year warranty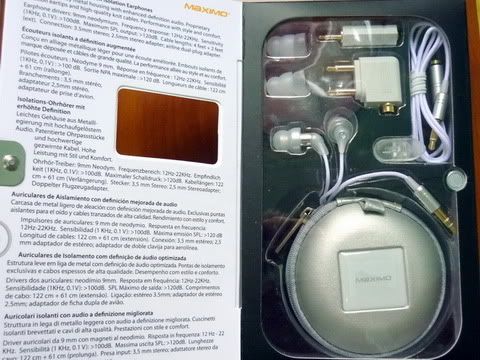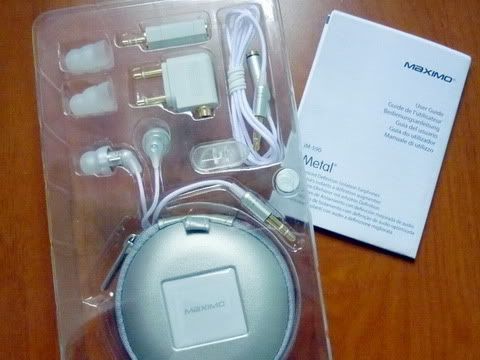 Packaging, Accessories and Build Quality
The packaging on iM-590 is a genuine improvement over the old iM-390 blister pack. Nothing is sealed hard so there is no need to cut around. Definitely one of the best packaged sub$100 IEM in the market. Needless to say, you will find pretty much all the goodies in front of your eyes as soon as you opened the front cover. The only thing missing is the extra large eartips which hide inside the hard case. AsI had commented before (on iM-390's review), the included case is one of the best quality hard case included with any IEM.

The eartips themselves are Maximo's proprietary design - kind of like fusing the two 'skirts' of a bi-flanges into one continuous piece and shortening the inner tubing at the same time. This new 'fused' flange places the transducer closer to the ear while using part of the earpiece housing as the flange's support to form a second seal, giving a tighter fit without resolving to a significantly deeper insertion (like normal bi- / tri-flanges). Overall I find the design to be comfortable. One of the plus side is the short nozzle will still take UE style aftermarket silicone eartips that has a tigher inner tubing (Sony hybrid for an example), but you can't use Comply T400 or loosely fitted eartips on it anymore. The nozzle is simply too shallow to have the proper grip needed for those eartips.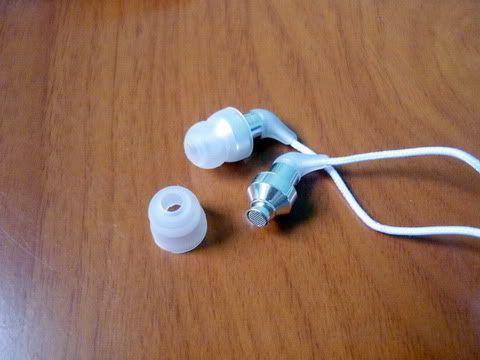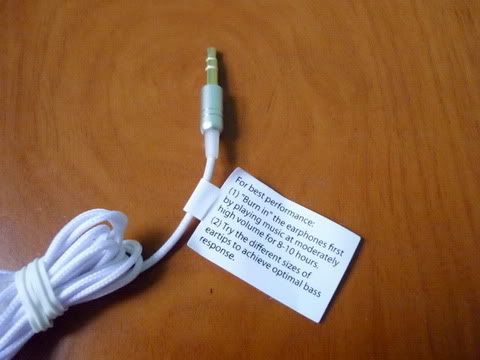 One extra thing that worths mentioning is the design of the cable slider + shirt clip combo. For your choice, you get to use them normally or combine them together.
Overalll, the build quality is quite good and consistent with their previous products. The cable is the fabric sleeved 'knit' type - extra soft and generally less microphonics but sometime they will tangle if you didn't store it correctly. All of the plastic pieces (Y-splitter, strain reliefs) are actually the same kind silicone that made up the eartips. I'll think a more conventional hard rubber type could provide better contrast and give a classier look but it doesn't really matter function wise. The white version which I review is 'fully' white - for those who are a bit scare of dust and dirt, you might want to get the black version instead.
Sound Quality
I burnt iM-590 in for 50 hrs but didn't really notice any significant change in sound quality. Like iM-390, the impedance is not listed on the official spec but I did a quick measurement and it turns out to be about 17ohm, which means iM-590 is quite easy-to-drive and no need for amping. Isolation is by far the biggest weakness of iM-590. The fused tips themselves are not quite as isolating as normal single flange which means isolation is slightly worst than single flange shallow inserted IEM like the CX300 or EP-630 [
See note 1
]. There is also a bit of wind noise in windy condition since there is a vent underneath the earpiece, but not bad enough to consider as a turn down. Though still decent for daily use, you might need to invest in a pair of Sony hybrid eartips (EPEX10A) for noisy environment, granted that it will never be anywhere close to as isolated as a pair of Etymotic.
iM-590 is on the analytical side but still quite balanced overall. Bass is not particularly strong and a bit roll off at the most bottom end (40Hz and below) but it has good attack, control and presence overall. Upper mid / lower treble is a bit more forward, Etymotic-like but not as piercing. Pretty good on vocal most of the time but there is a tiny bit of harshness on brighter recording. Treble is well presented and quite detail but not the best I have heard. Soundstage is above average, airy and specious especially in term of depth. In sum, iM590 is a well balanced, detail sounding IEM.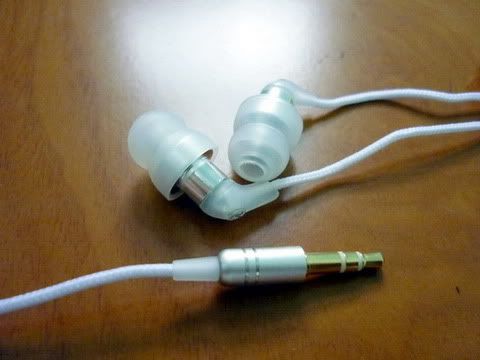 Conclusion
Though not the best sub$100 IEM I have heard, iM-590's overall sound quality is well above its asking price of US$60. Coupled with the fact that it comes with a wide range of accessories and a good 2 yrs warranty, it is hard to not consider iM590 as one of the best sub$100 IEM package around.

You can read the quick sum up
here
.
Note 1
: You can try this simple mod to improve the stock eartips isolation. Click for larger picture.