First, wanna thanks Raz @ MP4 Nation for giving me the chance to review the beta Brainwaz. Since the alpha Brainwaz is included with the sample of beta, I thought I'll review it as well. Keep in mind that both IEM are in OEM package, and beta hasn't received its final packaging yet, so you should expect better packaging and more accessories after its official launch, which I guess is pretty soon (estimated to be early July).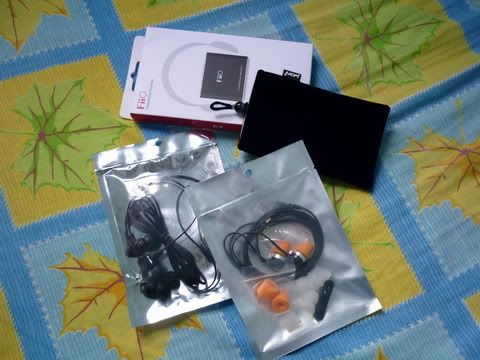 alpha Brainwavz
As the first generation Brainwavz, MP4 Nation's aims alpha as the cure of the common stock-earbud-syndrome. For that, they decided to work with well known Chinese manufacturer to introduce some of the best-bang-of-the-bucks models in China to the rest of the world under MP4 nation's own 'Brainwavz' brand name. Long story shorts, that is how alpha comes to life.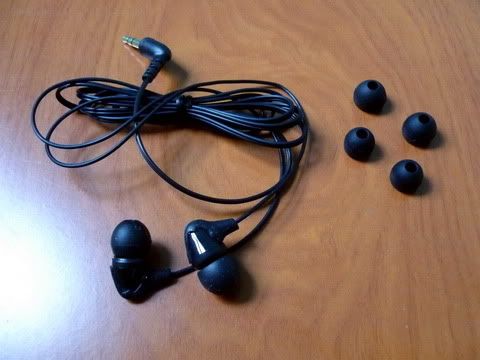 Spec
Driver: Single 8mm Dynamic
Sensitivity: 100dB SPL @ 1 kHz
Impedance: 20Ohm @ 1 kHz
Frequency Response: 15Hz - 28 kHz
Cord: 1.26m
Rated Power: 10mW
Max Input Power: 30mW
Plug: Gold-Plated Stereo 3.5mm Mini-Plug
Packaging, Accessories, and Build Quality
alpha comes with a no thrill, OEM-like packaging with three set of different sized single flange eartips, probably similar to the bundle package comes with MP4 Natin's own brand of PMP. Since it is very much a budget oriented IEM, I guess there isn't anything to complain about. For similar price, you will find SoundMAGIC offering better packaging and accessories. Build quality wise however, alpha seems to be stronger and more durable. Microphonics is slightly worst than average, but nothing too terrible that an extra shirt clip won't fit. Isolation is average. Decent for daily use but not for the noisiest of situation

Sound Quality
I gave alpha a 100 hrs burn-in before the auditioning, but I couldn't say in definite that it improves the sound quality. Maybe the are some changes, but probably not very obvious.

alpha's sound signatures are on the warm to slightly dark side. Big bass, heavy mid, and not very detail on the treble but still have a tiny bit of sparkle. Despite the fact that the overall sound feels slightly congested due to the heavy mid, the bass actually has quite a good resolution and texture to it. Vocal is pretty forward and dominant. Upper treble rolls off early. No sibilance to speak of. Soundstage is small due to the lack of fine detail and airiness. Overall, alpha Brainwavz is slightly dark with a very mid and bass centric, fun and more personal sound

Conclusion
For about US$14~16, alpha Brainwavz is in the same line of fire as the SoundMAGIC PL11 and PL20. PL20 is good on detail but lean on bass while PL11 is more bass oriented. Both has better soundstage and detail than alpha. However, alpha has better bass performance and sweeter vocal. SQ wise, I consider them to be just about the same. It is definitely one for the basshead with small budget.

---------------------------------------------------------------------
▲▼▲▼▲▼▲▼▲▼▲▼▲▼▲▼▲▼▲▼▲▼▲▼▲▼▲▼▲▼▲▼▲▼▲▼▲
---------------------------------------------------------------------

beta Brainwavz
beta comes not as a replacement of alpha, but more of an evolution. If I am not mistaken, this pair of IEM is also from a Chinese IEM maker. Those who are in China might have seen a very similar IEM on the street or over the shop counter. Nevertheless. MP4 Nation is giving the IEM an updated look and a new set of accessories for its international debut.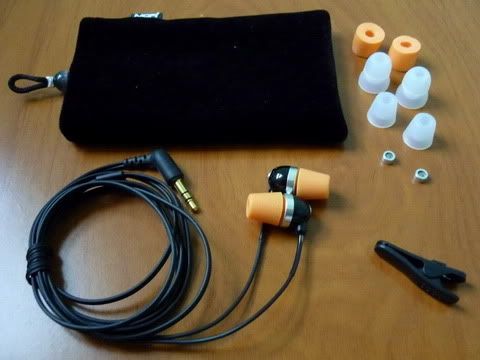 Spec
Driver: Single 11mm Dynamic
Sensitivity: 110dB SPL @ 1 kHz
Impedance: 24Ohm +/- 10%@ 1 kHz
Frequency Response: 8Hz - 28 kHz
Cord: 1.20m
Rated Power: 10mW
Max Input Power: 40mW
Plug: Gold-Plated Stereo 3.5mm Mini-Plug
Packaging, Accessories, and Build Quality
Like the alpha, beta also came in a pretty OEM looking packaging - but no need to worry here, as final version will have a box and a few more accessories. The final version will have a pair of orange cone silicone eartips, a pair of translucent white cone eartips, a pair of big bi-flanges, a pair of orange foam eartips, shirt clip, a fish bone shaped cable winder, a pair of removable metal mesh and a soft pouch by Mofi. A few things worth noting: 1) beside the foam tip, none of the other eartips can be considered for small ear canal and 2) The Mofi pouch is actually quite good.

beta's nozzle diameter and length are a bit of the odd side. Diameter wise, it is larger than those found on Shure or Westone, but smaller than the UE. If you want to use aftermarket eartips, you can use Shure's eartips if you don't use the metal mesh. If you do have the metal mesh on, you can use a tight fitting UE style eartips like the Sony hybrid replacement eartips, but not the loosely fitted genuine UE eartips. For foam tips replacement, I can fit a Comply T100 on beta when the metal mesh is off. So you wonder what is the big deal about those metal mesh? They are actually used for sound tuning instead of earwax stopper. More on this later.

(left: no mesh)
Beta appears to be well built. The wire is pretty soft yet seems to be strong. The nozzle of the earpiece is made out of aluminum alloy, individual marked with serial number (for QC and warranty, if I am not mistaken). The metal mesh can be screwed on or off based on the user preference. There is also an one inch transparent sleeve over the cable where it meet the earpiece, protecting the weakest part for wear and tear. Microphonics is very good while isolation is average. Overall, I think the build quality has vastly excessed its asking price. The finished version is said to have even better looking.

Sound Quality
As suggested by MP4 Nation, I burnt the beta in for 100 hrs before the auditioning. Like the alpha, I didn't notice any major change in sound quality.

beta's sound signature with the metal mesh is balanced but on the warm, smooth side. Bass extends quite further down but lacks big body or impact. Mid is full and warm. Treble performs well, capable of showing a good degree of fine detail. Soundstage is about average. Without the metal mesh, bass definition suffers a bit while the upper mid and treble become more forward, brighter with more fine detail. Soundstage is also very slightly more airy.

In sum, beta with the mesh has a well balanced sound without any major strength or weakness. Its sonic characteristics resemble that of CrossRoads Woody 2, but in a lesser form. Without the mesh, beta becomes brighter sounding.

On a side note, my beta also comes with a FiiO E5 as part of the bundle. Personally, I find beta to be just fine without amping, but pairing with the E5 can gives you more bass if that is what you crave for, since beta is more on the balanced side instead of the alpha's big bass side. For the least, I don't find any synergy issue between them both.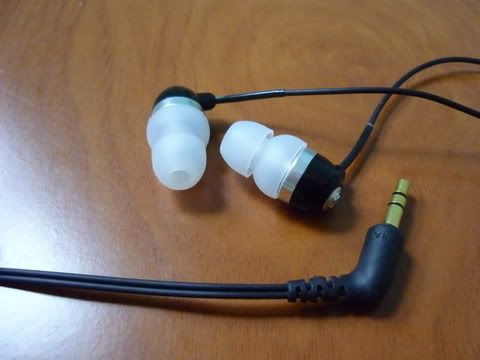 Conclusion
beta is an major upgrade from the alpha, both on build and sound quality wise. People with tight budget will not be disappointed by the beta, especially consider it high performance / price ratio. It is one of those IEM that are fully capable on taking down many other that have double or even triple the price tag. Those who are looking for the best bang for the bucks should put this one high on your list of consideration.

For a quick sum up on both IEM, read
this
.