Dual dynamic has become quite a common place these days, and the
Nocs
NS600 Crash is one of them. I have to admit that I am a big fan of titanium diaphragm when it comes to small dynamic transducer. Almost every IEM or small portable speaker that I own which has a titanium diaphragm coated driver tends to pull ahead of the competition. Though only the treble driver has the coating, does the NS600 Crash have an outstanding performance as well? Well, let's find out.
Spec
Drivers: 5.78 mm titanium coated diaphragm
8.0 mm custom duo magnet
Sensitivity: 110 dB SPL @ 1 kHz
Impedance: 20 Ohm @ 1 kH
Frequency: 20 Hz – 20 kHz
Housing: Sandblasted Aluminum
Cord length: 1.2m
Cords: Kevlar, Copper, TPE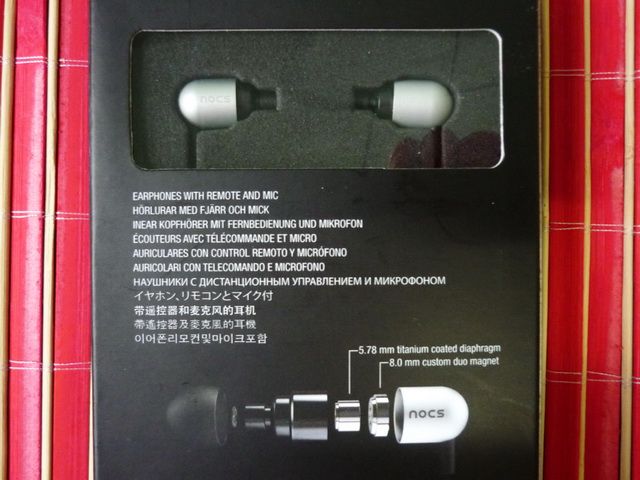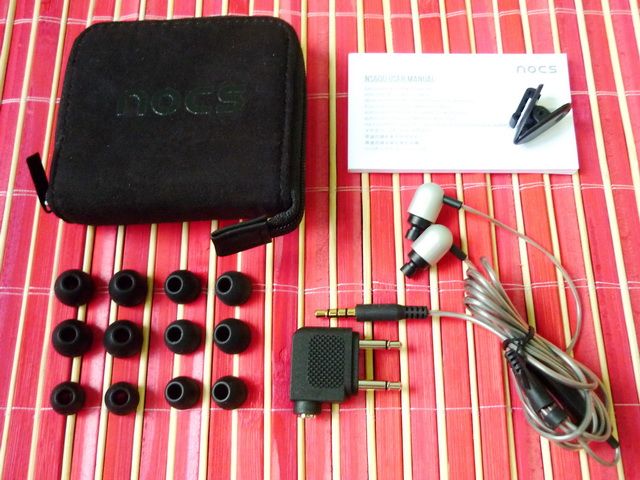 Packaging, Accessories and Build Quality
Nocs seems to keep to more of an Apple'ish simplified styling when it comes to packaging, which of course is nothing wrong. They didn't however cut short on the accessories though – you get a decent soft pouch, a shirt clip, a user manual, an airline adapter, as well as 6 pairs of eartips that are 2 pairs in three sizes (S, M, L). The build quality is quite excellent and the design is fairly minimalistic. I particularly like the cable, which reminisces that on MEElec's IEM but seems to be better overall with low microphonics and usually just last forever as long as it is used with care. The strain reliefs, housing and remote are all of good quality and finishing – nothing to complain about except that I wish NOSC would just put some marking on the remote or a more obvious left / right indication on the housing. Of course, it doesn't really take much time to remember them all but it just seems a bit too minimalistic at time. Last but not least, there is one weakness on the NS600 Crash – that is some mild driver flex on both side. Not enough to be a concern but certainly can be a little annoying during insertion.
Note that the new NS600 Crash is not to be confused with the original NS600, which looks almost identical on the outside and but feature only a single driver per side.
Sound Quality
The usual 50 hours burn-in is given before the audition. I have to say I was a bit disappointed at first listening, before any burn-in and just to check if the IEM is working properly or not. It is really metallic sounding with too much sparkle. The good news is that metallic flavor is slightly tamed after the burn-in, and the overall presentation improves noticeably. So I do recommend those of you who get the NS600 Crash give it some time before making up your mind.
NS600 Crash carries a sound signature that does justice to its name. It does indeed excel when it comes to crashing of metal and string. The presentation is fun yet laidback. Bass has a good boom, but rolls off at the lower sub-bass region and therefore doesn't get all the rumbling out. Even with some of the deepest bass missing, the overall impact is still strong so it is not bass shy in anyway, though not a bass monster either. Mid is just about in line with bass – linear, decent, if not just missing a tab of sweetness and texture that would have excel it. Still, it maintains good clarity and detail with no sibilance to speak of. Treble has excellent extension, if not just a tad too crispy and become a bit busy on complex passage. It could have been great if there is more definition and resolution to it. Soundstage is fair, decently wide but doesn't quite give a specious feeling. The strength of the IEM is really in its treble extension, which gives especially good rendition of violin and electric guitar that tends to be just a bit too soft on most IEM. Any music that can take advantage to the extension should excel on NS600 Crush. I can see it doing well with electronic music in general. However, I do feel like the mid to bass can used more presence, or should I say a bit more forwardness. That would have really sealed the deal for me.
Sum-up
As the company's first dual dynamic, Nocs has done a really good job. But I can feel the IEM can be further improved if they can tame the sparkle a bit more while maintaining the same extension and bring more texture to the mid and bass. Then they could very well have a giant-killer in their hand. As it is however, NC600 Crash is still a solid and well-rounded IEM. It might not be class beating but it certainly is no slouch either.
A thank to Nocs for the sample.