beyerdynamic makes fantastic portable and full sized headphone. Earphones however don't seem to be the focus of the company. Late last year, beyerdynamic teams up with
Jaben.net
to introduce the new XP series exclusively to the Asian market, including Asia Pacific. The three models, XP1, XP2 and XP3 are all tuned with vastly different sound signature, but have the same US$58 price tag.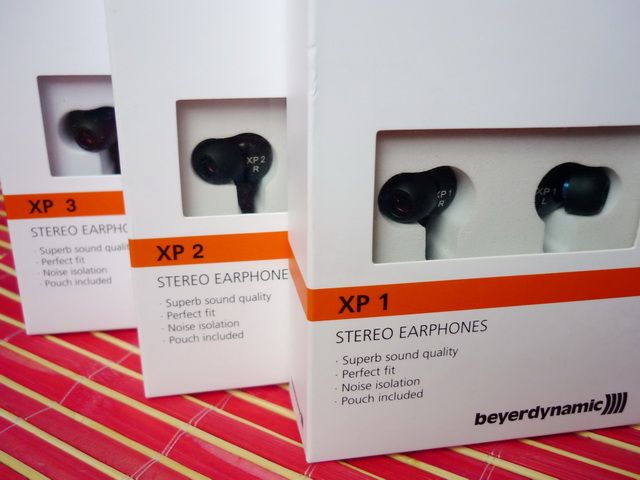 Spec
XP1: Deep bass
XP2: Balanced
XP3: Clarity
Driver: Dynamic transducer
Frequency range: 20-22000Hz
Impedance: 16Ω
Sensitivity: 98dB
Cable length: 1.4m
Connector: 3.5mm gold-plated plug
Packaging, Accessories and Build Quality
Paper box with foam inlay – nothing really stands out on the XP series package but nothing really to complain for either. Accessories wise, there is a soft pouch, an airline adapter, 5 pairs of silicone eartips (XS, S, M, L and bi-flanges). Would have been nice if there is a shirt clip as shirt clip for flat cable isn't exactly easy to find.
The IEM itself is quite well built. The earpieces are mostly aluminum, with anodized color nozzle to give a clear indicator of left and right side (and in case you don't know, blue is left and red is right). Oversized joints / strain relief and flat cable means durability should be quite good. Flat cable is well regarded for being tangle-free but unfortunately also induces more microphonics noise. It isn't above the average compared to other flat cable type IEM, but certainly more than conventional cable. Of course, it also adds more weight as well (*and that is where a shirt clip would have been handy). The IEM is design to be wore straight down, not over-the-ear. Unless you want to wear them on the wrong side (which JAYS does advise their a-JAYS customer to do, and a little silly to say the least), over-the-ear is just not going to be practical. Isolation is close to being average. There is also mild driver flex, but I only detect it on XP1 and XP2 while not on the XP3.
Overall, the XP series are good for the price and quite comparable in build quality to similarly priced and designed a-JAYS series.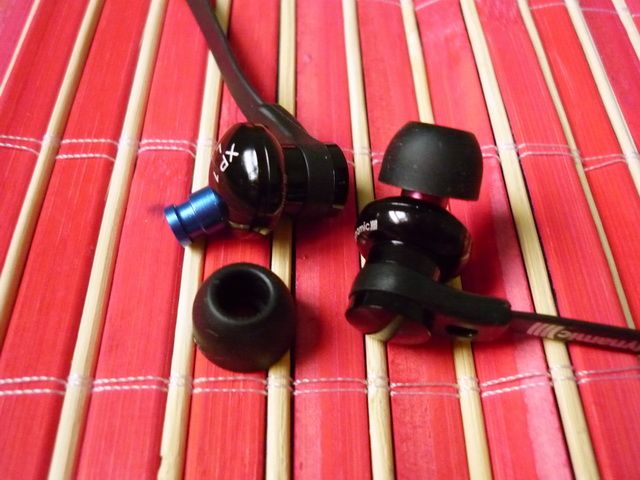 Sound Quality
All three models received 50 hours of burn-in before the review.
As described, XP1 is the bassiest of the three, and a lot of bass it has! Bass reaches down deep into the 10Hz region, but max out around mid- to upper-bass, with a sense of boominess. Overall, it is a case of quantity over quality, but not so much to a point of being offensive. Mid is sweet, smooth and decently in line with the bass. It is not overshadowed, but also not standing out either. Treble has decent extension, but in a very smooth fashion with just lack a tap of crispiness. Soundstage is decent, nothing to praise or fault for. All and all, XP1 has a classic bass oriented sound: big at the bottom, warm at the middle and smooth into the top. Though technically weakest in the series, XP1 is still able to keep up to the other two for the most parts and easily ahead of other similarly priced bassy IEM such as Audio Technica ATH-CKS70 or Klipsch S4.
XP2 has more or less the flattest frequency response of the three. Bass still extends deep, but in a more neutral fashion and gradually diminishing in strength into the very low of sub-bass. It is fairly decent balanced between quantity and quality. Mid is the sweetest and most forwarded of the three. It isn't quite in-the-face like a mid-oriented sound, but it is still the highlight over the whole presentation, which makes for a rather good choice for any vocal centric music. Treble extends well, still on the smoother side of things and misses some of the top end sparkles, but enough crispiness not to make strings sound bore. Soundstage is close to average - nothing particular special to speak of except it is the smallest of the three. Despite having the flattest frequency response of the three, the slight forwardness of XP2's presentation makes it more of a warm and fun sound rather than a cold and reference sound, yet it doesn't sound too colored in any way. All and all, XP2 is the all-arounder among the three.
XP3 has a V-shaped sound, and the most laid back and specious of the three. Bass is the weakest of the three, but not lacking bass per se. Hit and impact are still there, but it is more of a quality over quantity type of situation. Treble is similar to XP2 actually – well extended, smooth, misses some top sparkle while still retains enough not to be dull or veil. What really makes XP3 a V-shaped sound is the laid-back-ness as well as the slightly recessed mid-range relative to bass and treble. It is clean, but not sweet or particularly textured. Soundstage does however benefit from the recessed mid and laid back presentation as it has the best layer and more surround like image of the three. It is also the least fatiguing of the three, though neither is particular fatiguing. Classical or any music that benefits from wider soundstage (even movie and OST) is best suitable on XP3. All and all, XP3 stands shoulder to shoulder with XP2 as both offers different strengths, and compete against some of the best valued IEM in their price range, such as Astrotec AM90, VSONIC GR06 and AudioFly AF45.
If I were to classify the sound signature of XP2 and XP3, I will probably have them opposite of what they are described now. It isn't a right or wrong thing, just how a different in opinion over description. XP2 is referred by the manufacturer as 'balanced' probably because it has a balance amount of bass, mid and treble. But I'll refer it as being analytical because the closer a frequency response to being reference flat, the more detail it tends to sound. While XP3 is referred by the manufacturer as 'Clarity' likely due to the highlight over treble, I'll refer it as balanced not because it has V-shaped sound, but the idea that adding more bass to compensate, or balance out the lack of tactile bass (*sub-bass is felt by the skin as much as heard by ears) .
In Sum…
I am curious as to why beyerdynamic chooses not to release the XP series outside of Asia. They are obviously good enough to put some serious competition into the sub-$100 (or specifically, the $60) market. After all, the Western market is far more mature in term of buying capacity and beyerdynamic stands to lose a good number of potential customers, especially those who have already enjoyed their full sized and portable headphones. In any case, If I could make just one change - I would adopt a slimmer / narrower flat cable to achieve better balance between durability and ease of use (*and if I could made two changes, I would make it available internationally of course). Other wise, the XP series stand to be an excellent valued IEM of their own.
A thank to Jaben for the samples.