First, I'll like to thanks
Atomic Floyd
for the review sample.
Atomic Floyd, as a company, always seems a bit illusive to me in the past. It is a company mainly operates in Hong Kong and U.K. (where their main market seem to be) and has a fantastically well designed line of IEM. The bold styling and steel housing are much like modern art themselves, yet their IEM are very much under the radar. I have demoed one of their IEM some time ago and was quite impressed on both build and sound quality. Naturally, I have some high expectation for the SuperDarts that was released late last year, especially since it is one of the rare dynamic + balanced armature (BA) hybrid dual drivers IEM.
A bag of surprise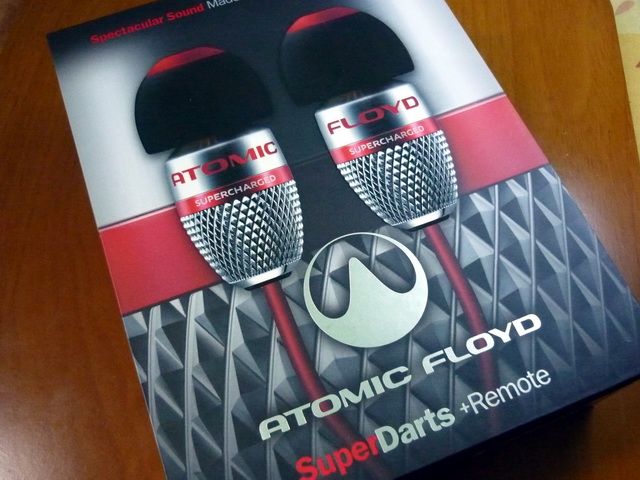 Very well printed packaging.
"Supercharged bass. Acid sharp detail." - actually a fairly good and accurate description of the sound.
SPEC
Transducer: Dynamic + Balanced Armature hybrid dual drivers
Impedance: 16 ohm
Sensitivity: 100dB (1kHz)
Frequency Range: 5Hz ~ 25kHz
Plug size: 3.5mm
Cord length: 125cm
Packaging, Accessories and Build Quality
In short: astonishingly well packed. In fact, better packed than the lavish Monster Turbine Pro Copper I have reviewed - not that Atomic Floyd has stuffed as many accessories into the package, but it just makes people feel like they have their money well spent - from the attention in printing to the bold red styling. Yes, buying headphone should be more about getting a good sound quality first. But there is nothing wrong if it comes in a beautiful box at the same time, especially since SuperDarts doesn't lack in either departments.
The manual is equally well printed.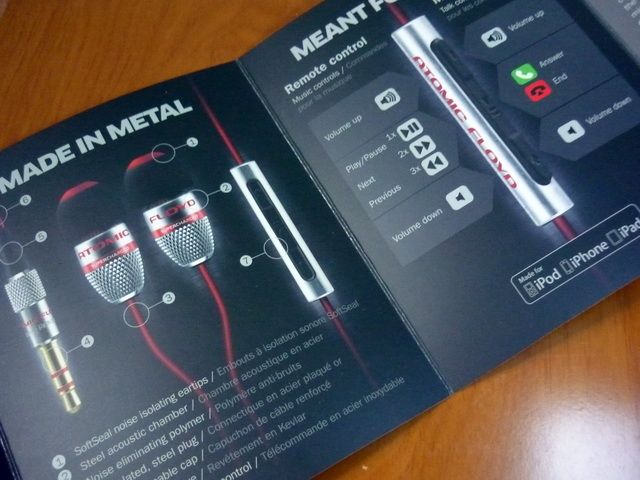 Accessories wise, you will get 3 pair of single flange eartips, a 3.5mm to 6.5mm adapter, an airline adapter and silicone rubber case. The three pairs of eartips are really well made, but they do come out a little on the thick side so they aren't that good for small ear canal. Even with my mid-sized ear canal, the mid-sized stock tips can be just a tiny bit too big. I end up using some aftermarket eartips (by Nakamichi, though Sony Hybrid should work almost just as well) because they are more comfortable. They also help on taming out some of the brightness. With the right fitting eartips, the isolation is slightly above average. Like the eartips, the included silicone rubber case is actually quite good as well, but I wish it could be a few millimeter (say 5mm) bigger in diameter for a roomier storage space. However, I do think I am just nitpicking here rather than complaining.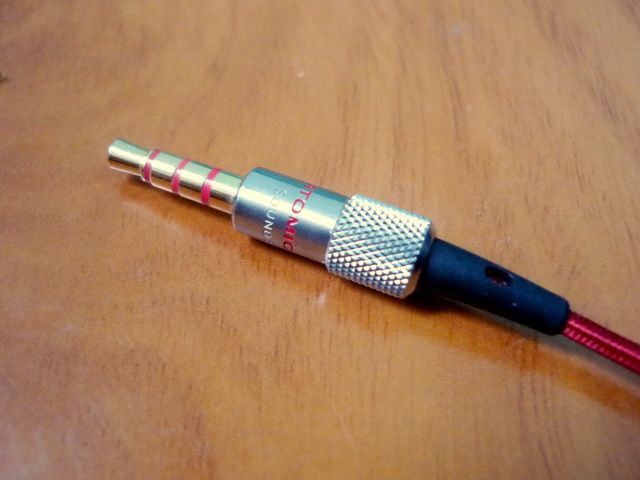 Even the Y-splitter looks great.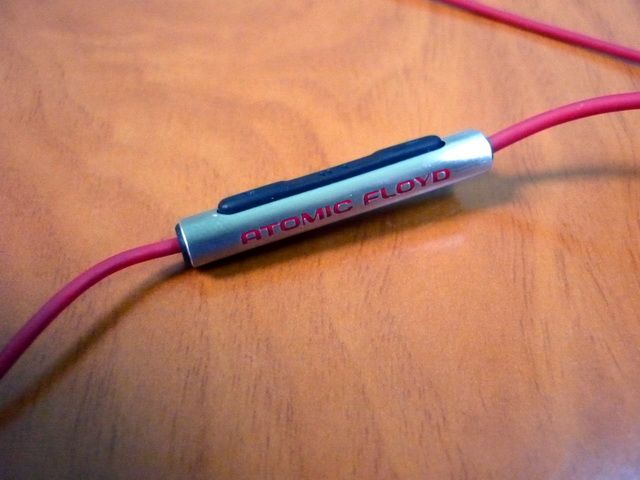 Build quality is where SuperDarts gets its first gold star from me. I love the design of the IEM, but it isn't the first IEM I have with a bullet style design and big bold red in color (Ortofon e-Q5, anyone?). However, the attention to detail and the manufacturing materials do set the SuperDarts apart from the competition. All the metal used is steel – from the housing, the iPod remote control, the Y-splitter to the 3.5mm plug. It is slightly heavier than the more common aluminum, but the finishing is beautiful to both the eyes and the touch. To make it better, all the marking isn't just simply lasered or a coat of paint. They are engraved with inlayed paint to ensure extra resistance to scratch. The lower half of the cable (under Y-splitter) has fabric sleeve - not just any fabric, but the super strong Kevlar. This makes it one of the best looking fabric sleeved cable I have ever seen. It doesn't even give off lint when I scratched it with my finger nail.
All and all, I really like the SuperDarts. The only thing I would add is probably a shirt clip as it is useful for bullet style IEM in general. Other than that, I just think the IEM is gorgeous – yes, I know I have repeated that a couple of times now, but there is no denying that SuperDarts is by far the classiest IEM I have ever seen.
Sound Quality
The IEM has been burnt-in for over 50 hours before the review. Bass becomes slightly tighter, but overall the change is relatively small.
The overall sound signature of SuperDarts is as bold as its design, a close to extreme V-shaped balanced sound with big boomy bass and bright sparkly treble. This is not the kind of 'reference sounding' IEM for the critical listener and Atomic Floyd certainly isn't shy on showing off its frequency response by printing it on the package. A piece of early advice: If you really like an intimate and forwarded vocal, then SuperDarts is not for you.
Have you ever wondered how bright and aggressive IEM like Brainwavz B2, Fischer Audio DBA-02, or EXS X20 would sound like if they have a lot of bass? The answer is SuperDarts no doubt. Treble is crisp, sparkly and extended – maybe a bit aggressive as well. But it is not to the same level as B2 or DBA-02, and perhaps even milder than the already milder X20. Still, it is bright and analytical for sure. Mid is, as said, a dip in the whole presentation. It is on the colder side that lacks warmness or sweetness, so it can be a bit less intimate than ideal of what vocal should be. However, it is not quite as recessed as one would think as it is still comparable to the vocal performance of B2, DBA-02 or X20. Ignoring the bass, there is certainly a high degree of similarity in sound signature between SuperDarts and the three mentioned Knowless TWFK based dual driver IEM, even though SuperDarts only has one BA driver for its mid and treble. Bass is where SuperDarts earns its second gold star from me. While it might not be quite as deep and textured as the best bass monster like the Atrio MG7 or DDM2, the overall quantity and quality of SuperDarts' bass performance is still commendable. In fact, I would think SuperDarts could easily be placed among the top bass IEM I have ever heard without any shame if we were only looking at the bass performance alone. It is slightly on the boomy side, but it remains clean and doesn't flush out the mid. This is likely an advantage of its dual drivers' setup. Soundstage, as you would expect from the V-shaped sound signature, is specious and very much opened. The only downside is that it doesn't quite have the depth to match its width.
The balanced sound signature has always been one of the rarest of all sound signatures among top IEM and the aging Triple.fi 10 is still the gold standard for other to measure up to – and for quite some time now, we haven't really seen another IEM that can come close enough to challenge TF10. But now we finally have the SuperDarts. While I won't say SuperDarts is beating down or on par with TF10, the level of performance is at least, in my opinion, very close. TF10 wins in offering a richer, more fun and dynamic sound with an enveloping soundstage, while SuperDarts is trailing very near behind with its open and clean presentation that is a unique blend of sharp analytical BA and big bassy dynamic. On occasion, SuperDarts is able to offer a level of clarity that is no found on TF10. This makes it a good alternative for those who love the balanced sound but willing to trade some lushness for better transparency and even more sparkly crispiness.
The fire red collection: e-Q5 (top), X20 (left), B2 (right), and SuperDarts (bottom)
Verdict
I really like the SuperDarts myself. It is a great combination of style, design, build and sound quality. But on the same time, I can see that the more extreme V-shaped frequency response is not for everyone. Originally announced in Japan for almost US$415, the price was rather high for a pair of dual drivers, even when it is the rarer hybrid design. But the actual MSRP of US$320 (or £199 to be precise) is certainly much more competitive, especially since the IEM is backed by a 2 years warranty. The only issue is that SuperDarts (and in fact the whole Atomic Floyd's line-up) isn't a common IEM that you will find on most headphone stores, and it is almost just as rare over the internet. That means you will most likely have to order it from Atomic Floyd themselves in most cases or the very few local dealers over the whole world. I sure hope Atomic Floyd can find more dealers as this is an IEM that needed to be admired in person and to be listened for true appreciation of the craftsmanship that marries style and sound into a beautiful package.
Check out
The List
for numeric ranking.
[UPDATE] Here a picture of SuperDarts in the ear.