FiiO has been quite successful with their X series of high resolution digital audio player. So much so that perhaps even they themselves didn't anticipate that the company will have to shift its focus away from their portable amp business in order to keep up with the DAP demand. But with Apple fading grip on the pure DAP market, a new niche of higher end DAP is born from music lovers seeking a better device to replace their aging iPod. Well, maybe 'new' isn't the right word here - the higher end DAP niche has been around since Hifiman HM801's invention late last decade, but now it is in a new era of growth and competition. The significant of X1 is not in its technology or sound quality, but rather being the first 24bit / 192kHz capable DAP that is priced just under US$100. Does the affordability mean HD music isn't just an expensive audiophiles' thing anymore but rather going mainstream? It is probably too early to say with just one DAP, but it certain is one of the sign that the music world is moving toward that direction – and FiiO is on the forefront trying to catch a piece of the action with their new X1.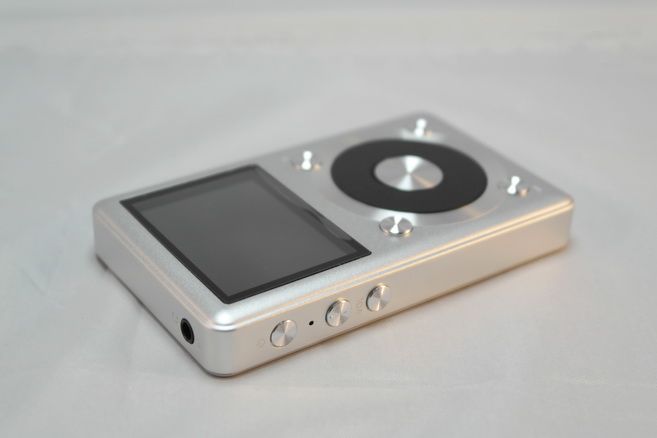 Spec
Recommended Headphone Impedance Range: 16~100 Ω
Dimensions: 96.7mm × 57.7mm × 14.1mm
Volume Control: Digital, 100 steps
Weight: 106g
Display Screen: TFT 320×240
Analog Output: 3.5 mm headphone jack
Left and right channel adjustment: 5 dB
Line-out Performance
THD+N: Less than 0.003% (1 kHz)
SNR: More than 110 dB (A-Weighted)
Frequency Response: 20Hz ~ 20kHz
Dynamic range: Over 110 dB
Crosstalk: Over 100 dB (10KΩ @ 1kHz)
Line output Level: Over 1.46 Vrms
Headphone-out Performance
Output Power: Over 100 mW (16Ω THD 1%)
Over 65 mW (32Ω THD 1%)
Over 8 mW (300Ω THD 1%)
Output Impedance: under 2Ω
Crosstalk: over 70 dB (1 KHz)
THD+N: under 0.004% (1 KHz)
Frequency Response: 20Hz~20kHz
MAX output voltage: over 4.2Vp-p
SNR: over 110 dB (A-Weighted)
MAX output current: over 46 mA
Battery Capacity: 1700 mAh
Battery Life: over 12hrs
Charging Time: under 4hrs (USB 5V, 1A)
Accessories and Build Quality
Accessories wise, it is pretty basic. You will get some screen protector, a silicone case, plus a USB cable. There are some optional accessories you can buy them yourself, namely a flipping case, an amp stacking kit as well as 3.5mm interconnecting cable.
Build quality wise, the X1 is very solid. As the company third DAP, FiiO has most the design recipe figured out. To put it short, it is a shrink down X5 with the same scroll wheel and 4 corner button design. The use of mechanical scroll wheel has been tested on X5 before so it shouldn't be a problem as far as durability is concerned. Since X1 is more compact, it feels easier to navigate without trying too hard to reach from one button to another with just one hand. To save cost and space, FiiO decides to build both headphone-out and line-out into the same 3.5mm jack. It won't be a problem for user who only uses one of the function, but you need to be extra careful if you are swapping the function form time to time. You really don't want to plug your headphone in when it is outputting line level signal. The front housing of X1 is made out of aluminium, where the back panel is plastic. Though the smallest of the X series, it is still fairly big in size if you were to compare it to a truly small DAP like iPod nano 7G. However, it is definitely still fairly pocket friendly and at most, feels like carrying a smartphone around, maybe even less. Last but not least, the DAP itself doesn't come with any user accessible memory. You will need a micro SD card to store files and playback music. The good news is that the current firmware does support up to 128GB, which is the biggest uSD card you can find at the moment.
The UI functions similar to that of X5.
Navigation
X1 has the power button, reset hole, and volume up and down buttons on one side, plus the scroll wheel, select and return, next and previous buttons on the top. The firmware UI itself is pretty similar to that of X5 and designed around the scroll wheel, but simplified. You will find most of the basic functions available on the X1 as well, but not the more advanced USB DAC function as well as the gain switch. Given that navigation is fairly intuitive, I don't want to spend much time explaining all the detail as you should be able to figure them out with just a few minutes of use (if not, read manual please). A few things that I'll like to mention are (again) the headphone-out / line-out selection as well as the library limitation – basically the current firmware only allows 5800 songs to be add to the library (no limitation if you use the file browser), but FiiO is working on firmware that will allow for a lot more. Not sure when it will be released though.
X1's headphone-out and line-out FR curve.
Sound Quality
As usual, let starts with some basic measurement. RMAA reveals no issue at all. The frequency response is flat from 20Hz to 20kHz in both headphone-out and line-out. THD+N, SNR and crosstalk are all normal. Output impedance is measured and calculated to be 2 ohm, which is what FiiO has listed in spec. Though not exactly under 1 ohm, it is low enough that you shouldn't have any problem with the majority of headphones out there. Current output is quite decent – not as powerful as its elder siblings but certainly among one of highest in the sub-$100 DAP market. Max voltage output on headphone-out is about 1.6Vrms and on line-out is about 1.5Vrms, which are not too far from the listed spec. All and all, the measurement indicates a fairly solid DAP.
Sound Signature wise, X1 can be classified as having a very classic FiiO house sound that is warm and smooth. It is obvious FiiO has decided that a warm sound will be more popular for the average consumer as opposite to a neutral and transparent sound signature (i.e. X5) that is more appreciated by audiophiles. As far as tuning goes, I'll think FiiO has gotten the X1 just right. Regardless of the difference in sound quality, X1 is probably the most mainstream sounding FiiO's DAP yet.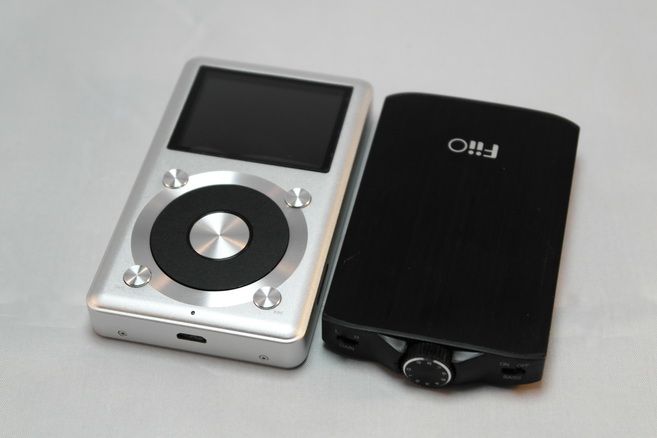 X1 next to E11K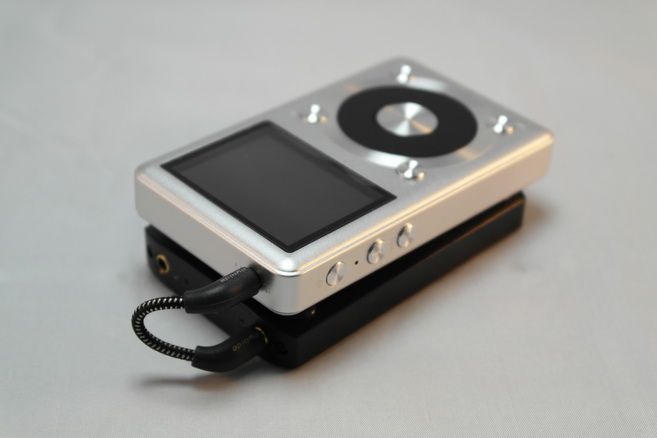 A match made in heaven
So how is the actual sound quality? Well, it is a solid upper entry DAP. Even though it is the latest of FiiO DAP, it is not going to be as good sounding as the mid level X3 or top level X5. Overall, you are looking at a DAP that is roughly on par to iPod nano 7G and Sandisk Clip+ / Fuze. The major difference are of course the high resolution support as well as a more powerful amp section, but neither of them instantly translate to class smashing performance. If you are not listening HD music or using a fairly demanding headphone, you might not be able to hear any distinctive quality difference between X1 and other solid DAP around the $100 mark.
One of X1 biggest competition, in my opinion, is ColorFly C3. Despite showing its age and can't match up to X1's many features, it is still one of the cleanest, most transparent sounding DAP in the same price range. The only downside to its sound is that it doesn't really have that great an amp section and therefore doesn't give a lot of control and tightness when driving a headphone directly. But what it does excel is when it is used as a source to feed a portable amp. The signal is so clean that it doesn't diminish its sound quality with double amping. Without an amp however, X1 still hold an edge. Even though C3 might be a better source, it is not to say X1 doesn't scale up noticeably with a portable amp. In fact, I find that X1 makes an excellent pairing with the new FiiO E11K, and arguably can be almost* on par with a standalone X3 (*I don't have a regular X3 anymore, so it is based on memory).
Size comparison (from left): iPod nano 7G, X1, X3, and X5

In Sum…
As I have said, you won't find anything revolutionary in the X1, either on hardware or software. Nor will you find a giant killer that is going to sound so good that it will shame all other DAP in its price range. No, those are not what X1 is about. What you will find is just a very solidly built DAP that has all the fundamentals covered and then priced very competitively, designed to fill in the breach between the cheap 'mp3 players' of old days and the expensive audiophiles players of today. That is where FiiO is breaking new ground with the X1.

A thanks to FiiO for the sample.