Over the recent months, Creative Labs has been bursting out some pretty nice portable gears aiming from the basic casual user all the way up to serious audiophiles. Most importantly, they are pricing them in a way that almost makes all other major brands look greedy. Usually that's the strategy reserved for new start-ups or lesser known companies, but I have no complaint. If anyway, I am glad to see Creative getting, well, creative again. Two of the major factors for any tech companies to success are innovation and addition of extra value to the user – that's what Creative is doing now, finally coming out of the shadow of other big tech brands and remaking a name of their own in era of the smart devices.
Spec
Analog Output: Stereo
SNR: 112dB
Headphone Out: 1 x 3.5mm jack
Headphone Out / Mic In: 1 x 3.5mm jack
Line In: 1 x 3.5mm jack (4-pole)
Headphone Impedance: Up to 600 Ohms
Audio Technologies Supported: SBX Pro Studio, CrystalVoice, Scout Mode
Max. Playback Quality
USB 2.0 (PC/Mac): Stereo - up to 24-bit / 96kHz
USB (mobile): Stereo - up to 24-bit / 48kHz
Max. Recording Quality: 24-bit / 48kHz
Battery Life
Bluetooth - Up to 8 hours
Analog Audio Playback - Up to 17 hours
Bluetooth Audio Codec: AAC, SBC and aptX
Bluetooth 2.1 EDR with Multipoint, A2DP and AVRCP, HFP support
NFC supported
Built-in Mono Microphone
Dimensions: 60.5 x 45 x 23 mm (2.38 x 1.77 x 0.90 inches)
Weight: 44 grams
MSRP: USD$130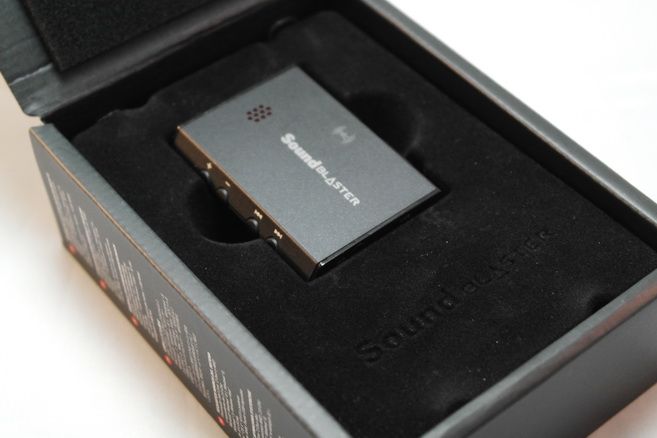 Accessories and Build Quality
Like
E1
I have reviewed, E3 is also packed in a pretty decent looking box. Accessories are similar as well – you will still get a USB cable for charging / connection to PC and a fairly long TRRS 3.5mm stereo cable to connect to your smartphone's headphone jack. The one extra accessory is a (male)microUSB-to-(female)USB OTG cable that will be required if you want to use E5 as an USB DAC with your smartphone (*plus another male-to-male USB OTG cable of your own supply that connects the smartphone to the E5's OTG cable).
Though the construction is all plastic, E3 doesn't feel cheaply made. For the purpose of being a clip-on portable devices, it is probably more sensible to use plastic anyway. The design is similar to E1, but with more bottom to support for digital volume and next/previous control. The extra features also make E3 a thicker device, and the non-removable back clip isn't helping. Besides having just about every features found on
E1
(i.e, built-in mic, dual headphone-out, line-in, software package for PC gamer, etc), E3 also spots USB OTG function that allows it to be used as USB DAC with some Apple and Android smart devices. Another welcoming features is Bluetooth with aptX support. All of these are making E3 one of the most versatile accessories for smartphone user that doesn't cost an arm or a leg.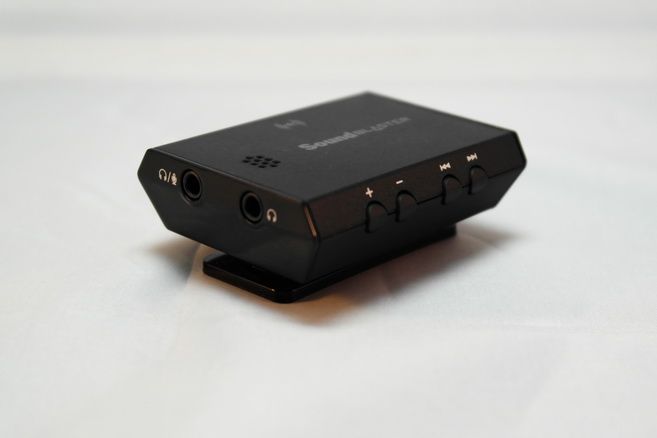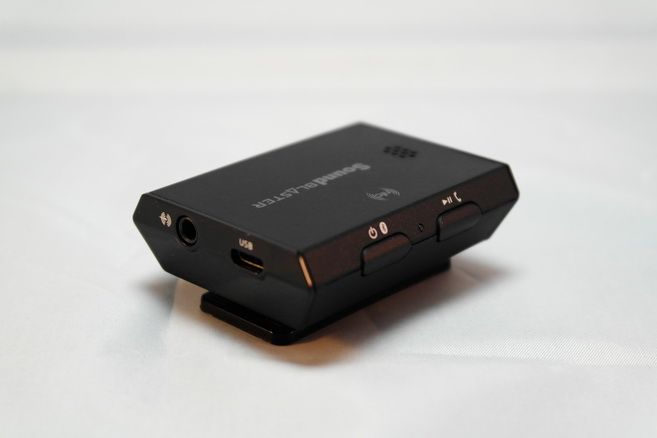 Gain, Hiss, EMI and Battery Life
As an USB DAC+amp, E3 can pump out a max voltage of roughly 2.1Vrms, which is pretty high. As a pure amp, it has a gain of about 10dB. In fact, the gain might be a bit too high for most fairly sensitive headphone in the market. I'll have to keep the Windows volume setting down to around and often under 10/100 to make sure I am not going to blast myself into early deafness. With very sensitive IEM, I even find 2/100 can be plenty loud – and this is not only just a simple volume issue. As E3 uses Windows internal digital volume control, it is definitely going to lose some bit depth when pushing the volume so low. The only consolation is that I didn't hear any obvious degradation of sound quality, likely thanks to its 24bit support. But truth being told, E3's gain is simply too high to be practical as a PC soundcard, though it might be just right for smartphones' weak output. This is probably my only real complaint about E3. It would have been great if it has a gain switch for a lower gain setting.
On the other hand, hiss performance is great when it is connected to PC via USB cable or a Bluetooth source as it is pretty much silence even with my most sensitive IEM. But once disconnected from PC and acting as a pure amp, there is some background hiss that is noticeable when no music is playing. EMI is basically a non-issue as E3 is dead silent even next to a cell phone receiving call.
Creative is quoting a battery life of 8 hours with Bluetooth and 17 hours as pure amp. Of course, the actual battery life does vary depend on how you are using it. I never really use E3 as a pure amp but as far as Bluetooth goes, Creative's number seems to be about right.
Sound Quality
RMAA measurement doesn't reveal any major problem when E3 is used as either a pure amp or as an USB DAC+amp. The only thing to take note is the bass roll-off under 100Hz. It drops down to -2.3dB when used as a pure amp, or -1dB when used as a USB DAC+amp. The bass roll-off has nothing to do with load so I'll guess there might be some coupling caps on the input of the amp section for DC protection. There is also very minor increase in treble, but small enough that it can be completely ignored. E3 uses the same headphone driver chip as E1, so the output impedance is very similar, just under 2.5ohm. Output current is similar as well, decent in amount and should be fine except for the more demanding load.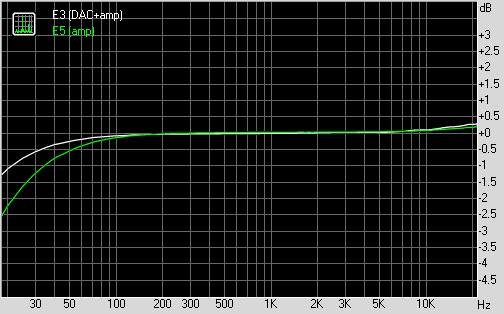 Judging from the measurement data as well as knowing both are using the same chip, I'll make a guess that the amp section of E3 should be quite similar to that of E1 in topology. So do they sound the same as pure amp? Well, not identically. For the most part, E3 carries the same warmish sound signature as E1. But the difference is that E3 doesn't have the problem of lacking air and depth. That makes E3 slightly less textured and sweet but more balanced with better perception of layer and detail. When used as USB DAC, the difference only makes clearer where E1 is more musical in presentation where E3 is more neutral. To put it short, E3 is 'E1 with clarity' with sound quality that is comparable to many sub-$100 portable amps.
While it is good that E3 is better than E1 overall, the killer feature that you are getting your money worthwhile is really on the aptX supported Bluetooth. Pairing with aptX capable smartphone, it is almost as good as wired, except you will be bypassing your smartphone internal DAC but instead using E3's DAC, the very decent TI's PCM5122, and a more powerful amp section. Of course, you can also opt for E3's USB OTG function as well, and E3 will actually also charge your smartphone at the same time (though I don't think it have enough juice to really replace a power bank). The sound quality actually isn't too far off on either Bluetooth with aptX or USB OTG, it is really down to your own preference. Both will cure a weak smartphone's headphone-out and gives you a mic and remote. Personally, I think this is more useful as a Bluetooth setup. Do however note that E3 only supports 16/44.1 on either connection, not the full 24/96 on PC.
Size comparison (from left): E3, iPod nano 7G, E1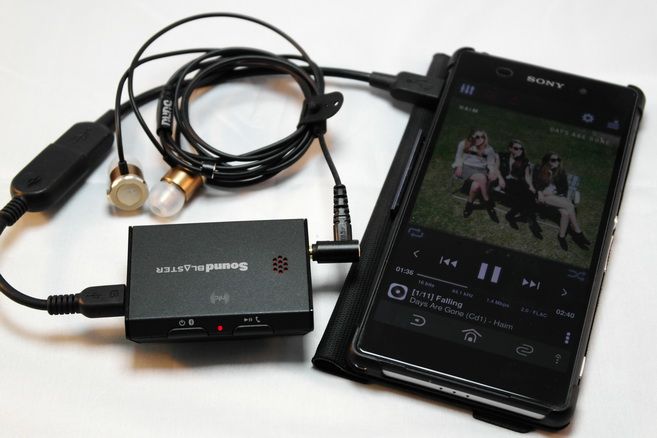 E3 in action, fed by a Sony Xperia Z2 via USB OTG.
In Sum
Built on the unique set of features found in E1, Creative further squeeze in almost every imaginable feature into E3. While you can find a USB DAC or a portable amp in the same price range that is better sounding than E3, you probably won't find another one like E3 that can do them all, yet do them well enough and doesn't shatter the bank account. It is a multi-tool of an audio accessory for the smart age, designed for those who demand better sound quality than their smartphone yet doesn't want to lump around a stack of gears.
A thank to Creative for the review sample.