I lived in Australia a few years back. If anything, it is not just a continent full of deserts, but also for barren land for audiophile. Good stores with great gears are few and far between, and only make worst by their usual higher-than-international price tag. Yet, it is this land that
AudioFly
is born and takes the world by surprise. Here we take a look at AF45, which is more of a lower end (*but not the lowest) model in their whole line-up.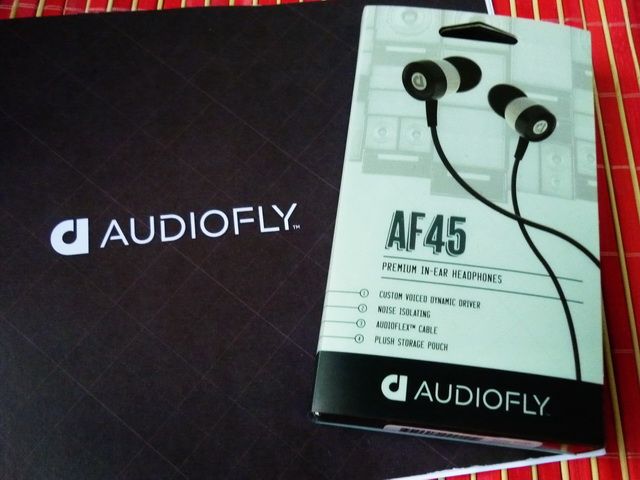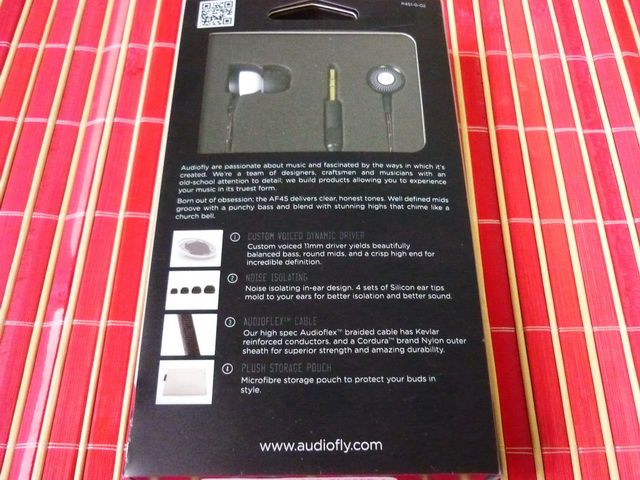 Spec
Driver: 11mm Dynamic Transducer
Frequency Response: 18Hz – 20kHz
Impedance: 16ohm
Sensitivity: 118dB @ 1kHz
Cable: 1.2m with 3.5mm stereo plug.
Packaging, Accessories and Build Quality
Packaging is plastic and a little bland. Fairly similar to what you would expect from some of the bigger brands. Accessories are quite good. The included eartips (S, M, L) are excellent in quality, and so is the soft pouch.
The IEM itself, like the accessories, is very well built. The earpieces as well as the stereo plug are both blend of hard plastic and engraved aluminum. The cable has Kevlar reinforced inner core and a fabric outer sleeve. But not just any fabric sleeve – it comes from Cordura, a company that specialize in making very durable fabric product. Overall, the IEM looks more expensive than its US$62 (or AU$60) price tag would have suggested.
As with any IEM with fabric sleeve, there is some microphonics issue though not terrible. Would be nice if a shirt clip is included, but the IEM can be wore over-the-ear if wanted. There are also very mild driver flex on both earpiece as well, again, noticeable but not terrible in any way. Isolation is about average. If I were to make one minor complain, it will be the lack of left / right marking. Instead, there are three small bumps on the right side that are easily missed and rather confusing since most bumps are found on IEM left side instead of right.
Sound Quality
The IEM has been given roughly 50+ hours of burn-in before auditioning.
The sound signature of AF45 is close to being bass dominant. It is 'close' because the bass is on the slightly boomy side. It reaches down deep but has more quantity on the upper bass region. It doesn't however overshadow the rest of the frequencies or comes out uninvited, and give the overall presentation a kind of fun and dynamic impression, boomy yet not totally out of control. Mid is slightly laid back compared to the stronger bass, not quite being recessed but not very forwarded either. While not totally bland, vocal is decent and doesn't have a very strong flavor. Treble has really good extension but follows a similar fashion as mid – smooth with sparkle but lacks just a tad more crispiness. If the upper treble stands out just a bit more, it could very become a V-shaped sound like ECCI PR401.
Warm, smooth and centering around the lower end of the frequency - AF45 has a rather inoffensive sound that doesn't excel or lacking in any particular genre. It kind of reminds me of HifiMan RE400 with its similar tuning, given that AF45 is not as good sounding. Still, it makes for a good all-arounder, competing against some for the better sub-$100 IEM such as Spider realvoice, Astrotec AM90 and almost the Brainwavz M5.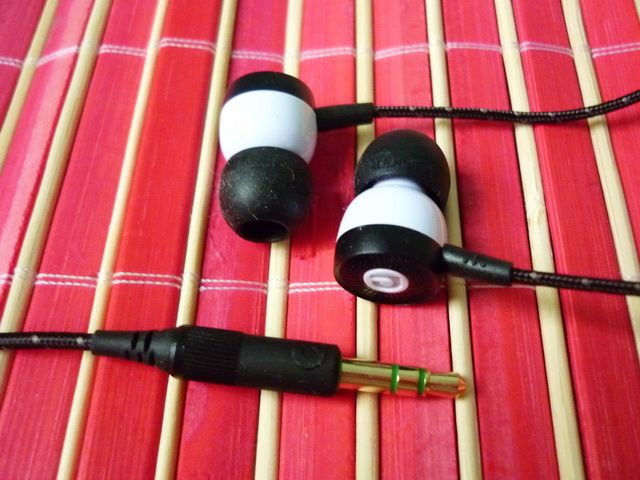 Verdict
Being at the lower end of AudioFly's line up, AF45 has a really good build quality and SQ to match its price tag. By no mean a giant killer or a sub-par offering, it is still a good buy in its own right.
A thank to AudioFly for the sample.
For numeric ranking, check out
The List
.