First, I want to thank
Phiaton
for the review sample.
About a year ago I reviewed the
Phiaton PS210
, which features the unique 'half in-ear' design that is meant to combine the openness of an earbud with the fit of an IEM. It works so well that PS210 is still one of my most beloved IEM in the sub-$100 category till these days. But now Phiaton has a different IEM with the same half in-ear design to offer to us, and they take a different approach this time when it comes to sound tuning – while PS210 strength is in its clarity, the new PS20 is aimed to impress people with its bass performance.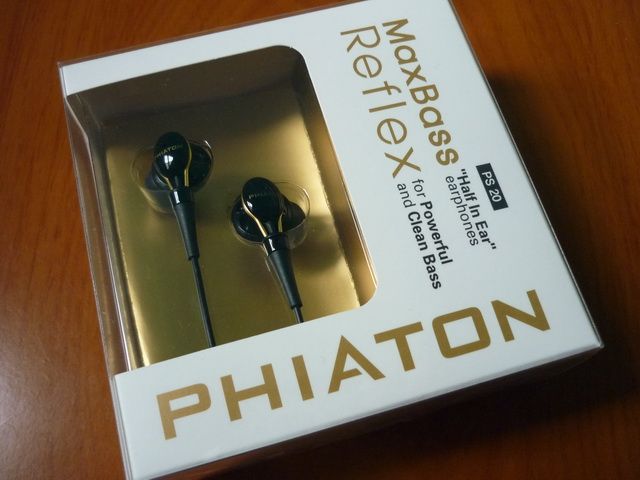 SPEC
Driver Type: Single dynamic transducer
Frequency range: 15 Hz ~ 22,000 Hz
Impedance @ 1kHz: 31 Ohms
Sensitivity: 101 dB / mW
THD: < 1% @ 1 kHz
Maximum input power: 30 mW
Cord Length: 4.5ft
Weight: 6.2 grams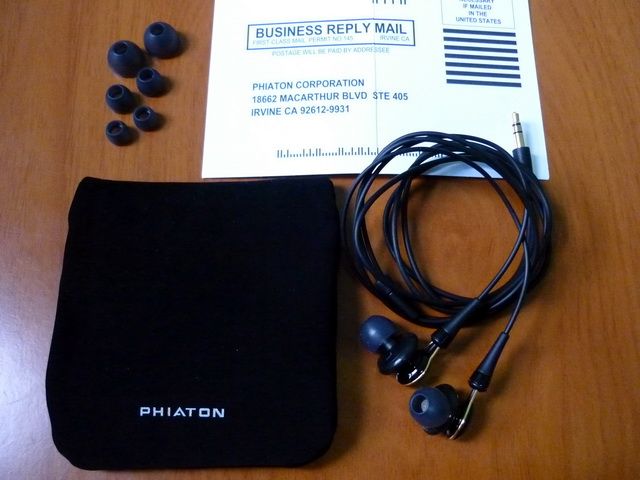 Packaging, Accessories and Build Quality
Not unlike the PS210, PS20 too comes in a transparent plastic box with a very small footprint. Though not as low key as the PS210's black/silver combo, the golden color scheme still remains very classy in its own right. Like the PS210, accessories are also on the thin side: there is a good looking soft pouch and four pair of eartips (XS, S, M, L). Unlike the PS210 however, is that PS20 doesn't need to be used with foam tips to sound as its best. The very good quality stock eartips are all you really need.
Build Quality has always been Phiaton's strong point and PS20 is no exception. The cable is almost identical to the PS210, which is quite tangle- and memory-free while not appears to be too springy or too soft. Drawing from the experience of using PS210 for almost a year, the cable is quite decent and durable. Like the last time, the only minor complain I have is the mini plug, which is a little too light for my taste and I would have preferred something slightly bigger. The earpiece housing, as you can see in the picture, is quite unique in its design. While the overall shape echoes that of PS210, the back half of the housing is separated internally to form a second acoustic chamber to build up a strong bass response. To give it enough space, Phiaton moves the strain relief away from the main housing and attaches it with a golden metal wire frame (which is quite strong, I might add). This of course also adds a little flare to the look. While PS20 does has nozzle like IEM, the main housing remains on the larger side, so if you have really small outer ears, you might not find it quite as comfortable as an small IEM. I guess the rule of thumb is, if you can use an iPod stock earbud, you probably won't have any issue with PS20's fit. Also, PS20 is designed to be worn straight down and not over the ear. While I don't detect much microphonics due to the openness of the half in-ear concept, the isolation is not really good – this is however a intentional design and the reason why Phiaton refers to it as 'half' in-ear.
In sum, PS20, like PS210 and other Phiaton's products I have seen or used, has achieved a very good blend of build quality and design element.
PS20 and PS210 (right)
Sound Quality
As always, a 50 hours minimum burn-in session was given to the IEM before review though nothing major was detected. Opposite to PS210, which I find to be best with foam tips, the PS20 sounds just about as good as it gets with the stock eartips. Having reviewed and listen to both PS210 and PS320 for a while has left me with the impression of Phiaton having a more analytical house sound for their PS series (though I was told the MS series is more on the bassy side). Naturally when I heard of Phiaton's release of PS20 with its 'MaxBass Reflex' design, I was assuming more of a slightly tuned down PS210 with a little more bass – well, I couldn't been more wrong as PS20 turns out to be almost the opposite of PS210, and that's not a bad thing in all consideration. While PS210 is analytical and open, it lacks the warmness that would appear to non-analytical / casual listener. While foam tips do give it a more balanced presentation, it is not a 180 degree change. I guess Phiaton realized the shortcoming of PS210 and wanted another IEM that will better 'cover' the other side of the consumer market who has a different listening preference – and thus comes the new PS20 and it sure can do bass like nobody's business.
The overall sound signature is warm, musical, bassy and relatively smooth at the top. Bass reaches low with very good quantity. While it does roll off gently below 60Hz and becomes slightly boomier on the upper bass region, it still maintains a very good degree of texture. Mid is on the sweet side with an upfront presentation, but not overdone or becomes overly thick. It is also well textured and doesn't get overpowered by the strong bass. Treble is a step behind the mid and bass. Not totally lacking but smooth overall, extends only up to about 15.5kHz and not quite reaching the standard 16kHz with enough presence. Soundstage is surprisingly decent. While not particularly wide, it is quite immersive and has a decent sense of space.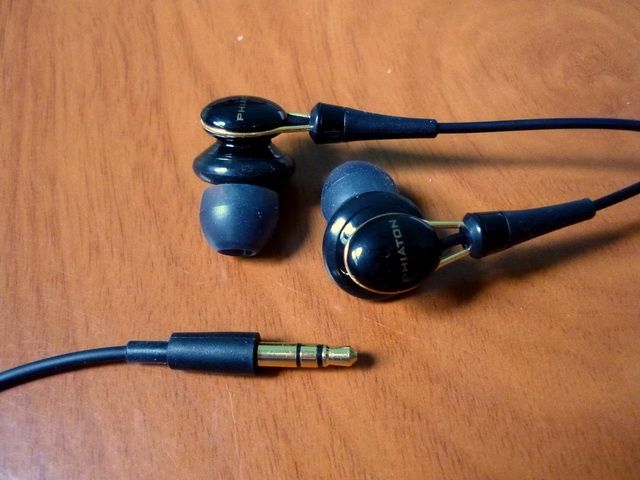 Verdict
With sound quality that rivals its elder sibling, the PS210, and a street price of only $79, PS20 is yet another strong entry for Phiaton to the sub-$100 market. It offers a sound that is suitable for those who are looking for a warm and punchy sound that is smooth and fun to listen. While the low isolation is a downside for noisy environment, those who need to be constantly aware of the surrounding would likely find it to be a really useful feature. All in all, PS20 is able to compensate for the PS210 and I am happy to see Phiaton finally being able to offer different IEM that will appear to the two ends of the listening spectrum.
This above rating is for Phiaton PS20 only and may change without notice. Please refer to the list for a complete listing