I'll like to thank
MEElec
for providing the sample. Ever since MEElec was introduced to the Head-fi community, it has become one of the names synonymous with bang-for-the-bucks factor. Sure, in many ways MEElec may not be quite the big hitter in sound quality. However, its strength lies in providing quality-made products that could easily cost several times more if they are from a big brand name. With almost one year of successful run with the M6/M9 series, MEElec is ready to strike again with a whole new series of products in 2011, and leading the way is the first portable headphone from the company, the HT-21.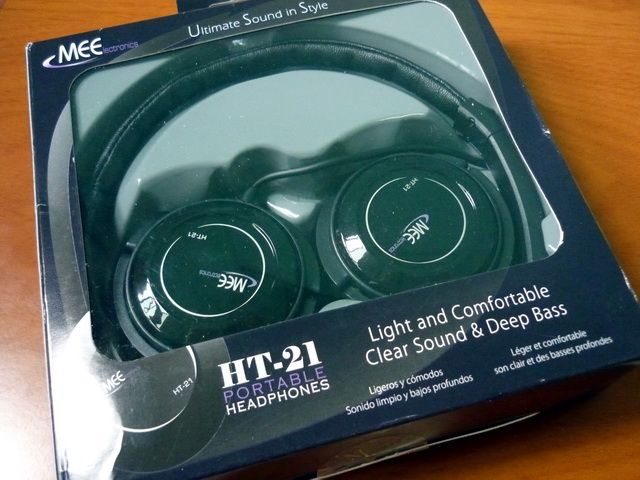 SPEC
Driver: 40mm dynamic transducer
Impedance: 32 ohm
Sensitivity: 114 dB
Frequency Response: 20Hz~20kHz
Cable length: 1.2m (Left sided)
Packaging, Accessories and Build Quality
Packaging is quite typical for MEElec products, nothing really special to speak of. The only accessory is the soft nylon pouch, which really is the only thing you will need for a foldable supra-aural headphone.
The overall build quality is great for the price. All the major components and joins seem to be slightly over-sized and add to the structural strength of the headphone itself. A flat piece of stainless steel is the backbone of the headband. It is quite flexible though still maintains a good degree of stiffness in so to give a relatively good, comfortable clamping force. It won't get loose in regular body movement and light workout, though it probably won't hold firm if you take it for a hard run. The synthetic leather on the pad and headband (which covers over the stainless steel band) is quite comfortable as well. While it won't 'disappear' in normal use, I was able to listen to the headphone for a few hours without being uncomfortable in any way. One thing about synthetic leather is that it never really get hot like a real leather, which is a good thing as far as me living in the equator is concerned. Another thing I like about the headphone is the cable – not only is it one sided (on the left), it is also a little thicker than your average portable headphone and has a very sturdy feel to it. The 3.5mm plug is iPhone/iPod compatible (a.k.a. with a slim shaft design) and has a well made 135 degree strain relief design.
In all, HT-21 really feels like somewhere between a slimmed down DJ style headphone and a muscled up foldable travel headphone. It has a bit more structure rigidity and strength while at the same time able to keep the overall weight down in a very reasonable and comfortable level. Despite being a close design, it is still only an on-ear design - so isolation is really not that great, especially since it doesn't quite have the tight clamp to reinforce the seal. Of course, it is still better than opened headphone.
Sound Quality
MEElec has offered quite a few decent sounding budgets product in the past, and HT-21 is continuing that tradition. For the price point, you shouldn't really expect it to outperform the expensive variants. But when it comes to sub$50 category, HT-21 is still able to give the king of budget headphone, the Koss KSC75, a good fight. While KSC75 probably still hold the best value headphone ever (I means, $15 and life warranty are really not easy to beat in any measure), HT-21 is able to stand up for the sound quality it offers.
The 'default' sound signature of HT-21 is clean, a little lean, and slightly aggressive. Bass is adequate but nowhere near being large or exceptionally deep. While the bass body is not enough to build up top quality low end rumbling as it has a slow roll off below 150Hz, it still maintains very good impact and texture. Mid is clean, crisp while slightly cold. Vocal felt slightly further away than the rest of the frequency, not recessed but rather give a good sense of space. Treble is a little on the aggressive side, sparkle and crispy but not sibilant. It has a very good extension but doesn't quite have the top end resolution to make it shine. Soundstage is very decent for a pair of closed headphone, though it does come out a bit more on the width than it is on the depth and make it slightly 2D.
So how do you get the non-default sound signature from HT-21? Get a pair of foam pad for headphone (i.e. KSC75's pad), fit it inside the synthetic leather cup (trim the excess foam if you like) and you will get a sound close to that of KSC75 – warm and musical, a bit more mid forward than KSC75 with almost the same level of detail. It takes away the aggressiveness of the original sound and makes it more euphonic. This is a really great combination for those of you who like KSC75 and want something sweeter for vocal. You can remove the foam at any time to restore the original sound signature so this is basically a two-in-one deal at the extra cost of one pair of foam pad, which it is well worth the effort if you asked me.
Verdict
Overall, HT-21 has performed very well for a pair of $40 headphone. It might not been a giant killer though it still has a very good balanced between build and sound quality. It is comfy to use, enjoyable to listen, and not expensive to buy, making it yet another great valued product to MEElec's list of bang-for-the-bucks offerings.