I'll like to thank
SoundMAGIC
for the sample. As far as I know, Sound MAGIC had been developing this little great looking gem for a while now and managed to keep it under the radar all these time. There is no doubt that the market of ultra portable amp is booming in past few years. It seems like just yesterday when FiiO E3 was being introduced to the community and everyone was excited about the wonder it does for such a low price. That was the time where even a typical DIY'ed cmoy with OPA2134 can easily be sold on eBay for $80+, but now you can get a decent one for less than half that price. No one really anticipated that there would have become such a big market back then, but now it is the 'hot' place where every manufacturer wants to be in. I guess SoundMAGIC also see the potential of the market and willing to give it a try. They are known for their budget and entry level headphone / IEM, but do A10 measure up to the job, even for a fairly low US$60 price tag? Let's find out.
Size reference: PL-50.
SPEC
Working voltage: 4.2 V
Working current: 100 mA
Continuous operating time: ≥10 hours
Charging voltage: 5 V
Charging current: 500mA
Input impedance: ≥10K ohm
Maximum input level: -6dBV (RMS)
Output load impedance: 16-300 ohm
Maximum output level: 1.6V (at 33ohm, RMS)
Maximum Output Power: 70mW (33Ω)
Frequency response: 0 ~ 1.5MHz
Stereo Balance: ≤1dB
Stereo Isolation: ≥100dB
Signal to Noise Ratio: ≥106dB
T.H.D: ≤ 0.01% (at 1KHz, 33ohm, 1MW)
Maximum gain: 8dB
Volume control range: -110 -- +8dB
XB switch: +4dB (at 50Hz)
Weight: 45g
Packaging, Accessories, and Build Quality
The A10 package looks gorgeous, to say the least. SoundMAGIC basically adapts the same style of package on their current line of IEM, and the box itself is surprisingly small even when it is packed with a good selection of very practical accessories. It is probably the best looking packaging for any ultra-portable amp I have seen.
Beside the good look, I have already mentioned that it comes with some very decent accessories as well. There is the amp itself, a short 3.5mm male-to-male interconnecting cable, an iPod line-out-dock (with 3.5mm socket), an USB cable for recharging, a 3.5mm male-to-dual-female splitter and an over-sized synthetic leather soft pouch that is big enough for both the A10 and an iPod / iPhone. While these accessories might not beat the $100 variety of their own kind, they are a good start for beginner and you won't hear me complaining on a $60 package.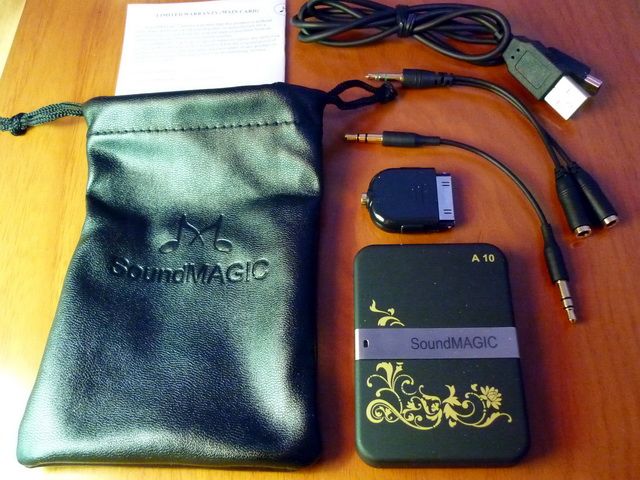 The amp itself is fully plastic in construction with rubberized outer finished and a metal strip for accent. The housing is glued shut or clipped very tightly together so there isn't any screw on the outside. The golden marking are some kind of paint and seems to resist scratching well, but I doubt it will last forever or if you scratch it intentionally. A few minor imperfections I would like to point out. First, the volume dial could be a bit more recessed. I like how the volume pot is incorporated into the curve of the body, but putting amp into the pocket without any case might result in accidental volume change, which is not so fun. Second, I would like the line-in jack to be slightly protruded from the case. The way they are now is designed to sit flat, but the line-in socket is just slightly recessed (like 1/5 mm or less, very tiny amount). While the 3.5mm plug still fit fine, it is not the most secure position and a hard twist on the plug can often result in a connection lost (as the plug slightly ejects out). This is really a very minor issue as I don't imagine anyone will twist a line-in plug for no reason. Strange enough the headphone jack seems to be more secured. Anyway, I am just being picky and difficult here.
Overall the amp looks great and functions excellently. Despite being a full plastic housing, the electromagnetic interference is on par with iBasso T3D when tested against cellphone signal (*begins to distort around 1 feet of an active cellphone), which is pretty good actually. SoundMAGIC must have used metal paint inside to reduce EMI.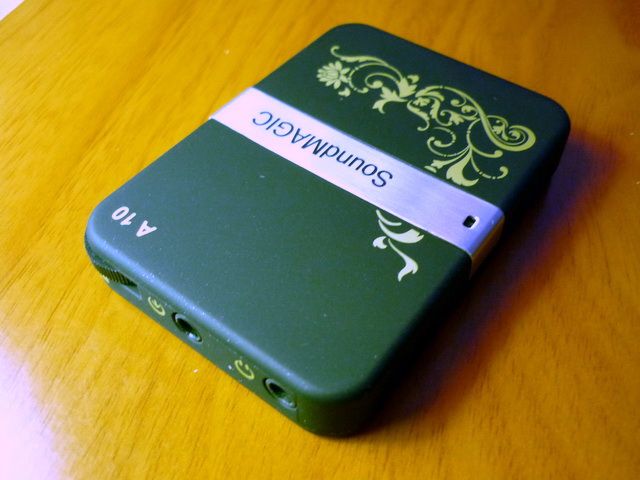 Battery Life and Basic Operation
The listed battery life is 10+ hours. I tested the amp and it did run for about 11 hours in continuous on my normal listening volume. It might not be the longest time for an ultra-portable but it should be enough for at least a single day use and probably some more. Well if you do listen to 10 hours of music daily via a headphone, I would be worry about your hearing first.
Operation is simple with the A10. Plugging in a headphone automatically turns on the amp and a green LED will light up on the little hole at the metal strip. Once the green color turns red in operation, it means the amp will need to be recharged. It shows a red+green / orange color when the amp is being charged and turns back to green once it is fully charged.
Size reference: Sansa Fuze and iPod Nano 4G.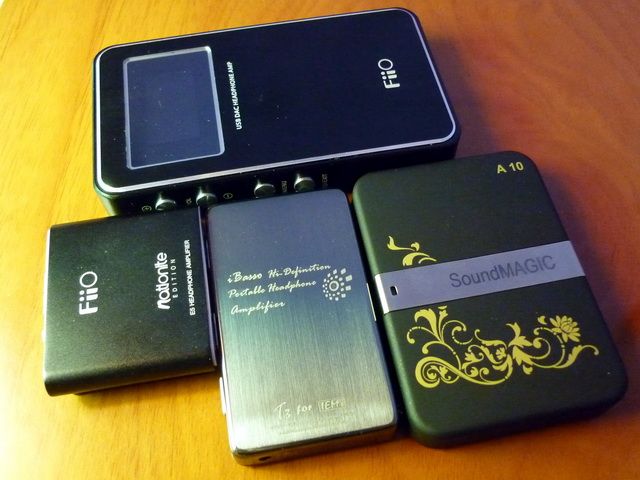 Size reference: FiiO E5, E7, and iBasso T3D
Sound Quality
Before any actual description of the sound, I did carry out a quick RMAA test using my lowly Sigma Tel onboard sound card on the A10 against a few other amp on the price range, mainly iBasso T3D, FiiO E5 and E7 (amp section only). The result is pretty much comparable to that of E7. In fact A10 measured slightly better except in one area, the frequency response. In short, A10's FR is slightly colored, well at least on measurement – it has a very small V shaped, +/-1.5dB curve (check out the FR graph). It is so small that I totally didn't notice it before seeing the measurement (*it takes close to 10dB for human to perceive a double/half in volume). The other thing I also noticed it that the amp is actually quite capable of handling heavy load. RMAA tests on both 12 ohm and 150 ohm load show almost no deviation in measurement (no roll off at all).
Frequency response graph - 150 ohm loaded.
Bass boost enable on A10 and E5 - 150 ohm loaded.
So how would I describe the sound of A10? It is actually quite like the iBasso T4, but better - It has the similar warm, full, and musical quality with the addition of better treble extension and soundstage. Bass impact is slightly bigger though it really isn't something very noticeable unless during serious A/Bing. Overall, it is a more transparent amp than the T4, but it is not totally neutral, especially compared to the slightly cold FiiO E7 and the really transparent T3D. Synergy wise, like T4, it pairs really well with neutral to colder sounding headphones, like Head-Direct RE0, Etymotic ER4P/S, Phiaton PS320 and PS210. Also, It can get very loud - to +8dB in max volume and more than enough to blast your eardrum out.
The 'XB' switch, or bass boost function, is both a hit and miss. While I really like what it does to low end rumble (around sub-bass, <100Hz region), it missed the mid-bass region at 250Hz (which has the most noticeable effect). I think it is more of a sub-bass boost rather than an overall bass boost. The good news is the bass boost is really clean and doesn't muddy up other frequencies, as all of what you get is the really low, deep end kick instead of a mid-bass bump. However, I personally won't mind if the bass boost can extend just a little higher, perhaps to around 200Hz region while maintains the same cleanness. Another note, the +4dB bass boost really isn't a big increase – technically it actually does double (and a little over) the volume, but you probably will perceive it as only a 1/3 increment or less.
Verdict
The A10 turns out to quite a decent amp for the US$60 price tag. It sounds better than my old iBasso T4 (which cost almost $50 more), comes with decent accessories and have a pretty good build quality. While it might not be perfect or be the biggest bang for bucks among all the ultra-portable amps, it is still well worth my recommendation to those who are looking for budget amp and demand really good value for money.