First, I will like to thanks Sunrise for the samples. Many of you might not hear the brand before, but Sunrise has been a fairly well known OEM in the China headphone business. After Yuin's success on the higher end earbuds market in 2005, Sunrise followed with its own SR-I and SR-II models later on. Though they never went as big as Yuin, the brand did get praised for having good price / performance ratio. After the initial success with their own brand, the company seems to take on a different direction and went full time on OEM business for the last few years. That's till just a year ago when they decided that it is time to come back to the market with not just headphone, but a new website and an array of products (which hopefully we shall see more of them in time). One thing they do intend to clarify with the re-launch of the company is their origin: They are actually a Vietnamese company though they have their factory in China. Regardless, it is the 4 earphone models in this review that we are going to focus on for now.
AS-Miss: 16 ohm | Sensitivity: 115 +/- 3dB | Cable Length: 1M | $20-$25 (depends on seller)
AS-Feeling: 32 ohm | Cable Length: 1M | $30-$40
AS-Charm: 150 ohm | Cable Length: 1M | $65-$85
SW-Xcape: 32 ohm | Cable Length: 1.2M | $70-$80

Packaging, Accessories and Build Quality
Packaging is pretty simple though the printing is quite beautiful. The box is about the same size as that of Yuin PK- or CrossRoads HR- series. Inside is plastic packaging sponge holding the hard case which has the earphone. The hard case is similar to that of SoundMAGIC but instead it has Sunrise logo sticker as different from SoundMAGIC's clamped in metal plate. The sticker does fall off from time to time but no biggie. Accessories are similar between the three earbuds which are mainly regular and donut foam pad. As the flagship, Charm comes with more foam pad as well as a 3.5mm to 6.5mm adapter. For Xcape, there are 3 pairs of single flanges (S, M, L) as well as two pairs of UE style bi-flanges. Build Quality wise, the 3 earbuds is decent though nothing spectacular to say about. The housing is similar to the Yuin PK- and HR- series. So if you own or have seen a Yuin before, Sunrise earbud will not be unfamiliar. The only real downside is the cable length at only 1m. It would have been better to be around 1.2m like the Xcape. In contrast, Xcape seems to have a better build over all. The housing is unique to Sunrise, the strain relief seems more properly designed and the cable just feels a little better than its earbud cousin. Isolation is about average, enough for daily commute.
One thing to note is that there is almost no real spec being listed on any of the 4 models. While spec can be misleading (especially for those who don't know what it means as well as for those who over-read it), I still think it needs to be included. Hopefully we will see some actual spec when Sunrise has their website up and going.
As usual, all the earphones have received no less than 50 hrs of burn-in before any serious audition. The whole series is said to have tune toward iPod / iPhone with a warmer, more mid centric sound to balance the colder sound of Apple's DAP. To make the review more relevant, the review gears are iPod Nano4 headphone-out as well as line-out fed to Meier Audio's Corda 3MOVE.

"Miss" is the entry model of the whole line-up that meant to be a decent budget choice replacing the stock earbuds on most DAP and over-priced big brand. One of those earbuds is the Apple iBud. I never do find iBud a bad stock earbuds, at least not the second (current) generation iBud, which is said to be a tuned version of the old Sennheiser MX500 by the same OEM (and they certainly sound quite close). iBud has a fairly clean and light sound with a pretty decent bass slam. In comparison, Miss is warm with a pretty full sounding mid. The vocal is much sweeter than iBud but it isn't quite as resolving on each note. The sharper sounding iBud might sound just a tad better at first, but in the long run the smoother, warmer and pretty much fatigue-free sounding Miss could be a good alternative for those who are looking for a more relaxing sound.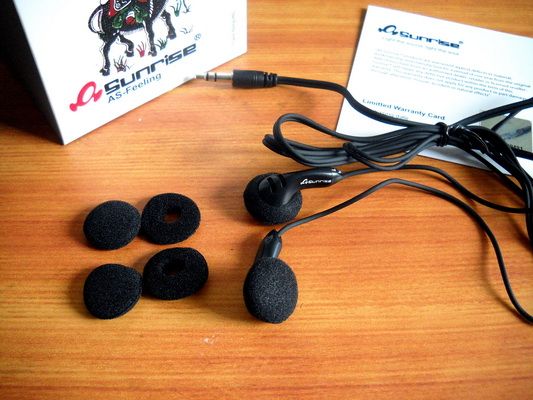 "Feeling" is the next step up and aims to challenge the pretty popular PK3. PK3 has a very lively and easy going sound signature which is great for casual listening but it can also be a little edgy and lose its bass body when it is used without foam pad. Feeling on the other hand is best with donut foam (in fact, all 3 models are best with donut foam). The overall sound is more balance than PK3, though also not quite as lively. It is smooth with a good body while retains a decent amount of detail. The strength of PK3 is in its treble and bass while the strength of Feeling is in its warm mid and an overall non-intrusive sound signature.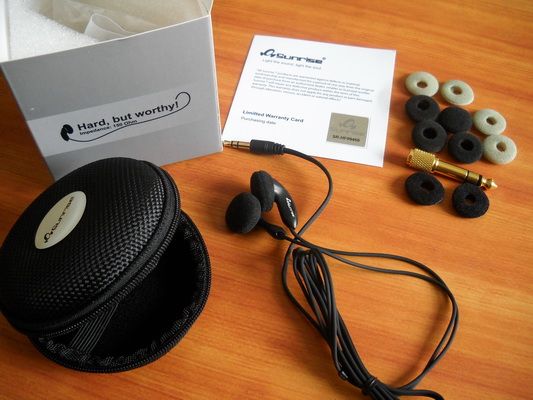 "Charm" is top of the line for Sunrise earbuds. With 150ohm of impedance, it is obviously meant to be driven by an amp and a challenger to PK1. To be frank at first, it is not an earbud that will best PK1, but it is good enough to be one of the best earbuds I have ever heard. Compared to the almost effortless PK1, the warm and smooth sounding Charm does sound a little bit 'boxed-in' and doesn't show quite enough air and soundstage to beat PK1. Though purely on mid alone, Charm's fuller body and better texture do give PK1 a good fight. The smooth and warm signature of Charm, which seems to be shared with in the whole line, is pretty much a double edge sword. It gives the series a very likeable, non-intrusive sound, but also limits air, soundstage and the overall detail. They are best with a cold sounding source such as the s:flo2 and iPod / iPhone to a great extent, where the warmness is more balanced out and the synergy is at its best.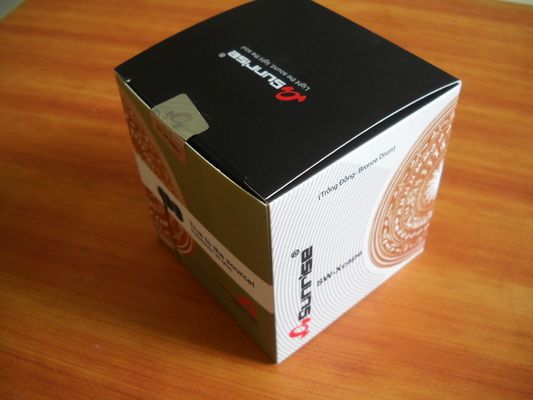 "Xcape" is perhaps the crown jewel of Sunrise. Originally being announced as the SRX a year ago, the newly tuned version is nothing you want to escape from, but lost into. The overall sound signature is neutral with slight warmness. Bass is not large, but shows present and impact when needed. Mid is slightly full and gives a slightly sweet and well texture vocal. Treble is well extended and smooth while retains a decent amount of sparkle. Soundstage is about average. While nothing seems to stand out, the quantity of each elements are well balanced to make this IEM neither overly exciting nor too boring; In other words, it does no wrong. It has a good portion of everything and blend them well, but excels on none – Don't get it wrong: Being good not for one particular reason isn't something that common in the IEM world, but that is what the Xcape is able to achieve.
It is hard to put a verdict on 4 different earphones that target at different level of users, though it is still very obvious that Sunrise does indeed have very good price / performance ratio with all of their products (and perhaps more true to those who reside in Vietnam since Sunrise is selling their products at cheaper price in their homeland). For the outstanding value, I will recommend Xcape with a
Sonic Diamond Award
to anyone who is looking for an IEM with nothing more than just plain good sound. For those who are interested in rating, check out my
earbuds round-up
page and
IEM list
.
Note: I am not sure where you can buy these earphones online now, but as I was told some should pop up on eBay soon.
Hopefully Sunrise will be able get more dealers outside of China soon as well.
[
UPDATE
] Apparently Xcape is already on Amazon UK. Also on eBay now.
This above rating is for Sunrise SW-Xcape only and may change without notice. Please refer to the list for a complete listing.