NuForce
started its business more into speaker than into headphone, but their involvement in the head-fi community perhaps help shaped a different path for the company. Regardless, they always struck me as a company aims for design simplicity and high price/performance ratio, and maybe this is how uDAC could be described.
Sidetracked
The untold story about audio hardware is that a great number of them don't actually cost a lot to make, may it be headphone or amp. But audio business is not exactly mass-produced-mass-consumed anyway; the high markup is just the way it is for these businesses to grow in a niche market. I recently saw a guy on Youtube claimed that IEM s a rip-off – technically perhaps he isn't wrong. It is in fact relatively low cost to make some of the most expensive IEM around. The 'expensive part' is in the hidden cost of running a business. You can't expect a company to sell product on its cost, without factor in the R&D, marketing, customer service, and most importantly, the profit that maintains the company's growth.
Unlike Apple which can sell tens of thousands of iPhone each month and has its customer come back each year for a new model, there are not that many portable amp makers capable of selling upward to hundreds monthly (and that is assuming a good month). The problem these days is people generally are more aware on the stuff they are buying / planned to buy, so questions arise on whether they are paying 'too much'. It is a tricky question to answer and in many cases there is no one fixed answer. For a DIY'er, a $65 cMoy portable amp from eBay is overpriced, but the same amp to an electronic noob can be a great investment. I have saw people who claims a $25 FiiO E5 is a cheap toy, but I really doubt those who make such a statement ever have any idea of electronic manufacturing in such scale.
Just a few years ago, I have seen cheaply build cMoy asking for $80 (and sometime more) on eBay and a $25 E5 is more like daydreaming. But nowadays many people are spoiled and really believe they deserve more than what they have. This is perhaps the side-effect of the audio industry trying to bring more bangs for the bucks to the consumer – which ends up getting ransom by the same group of consumer who demands for ever cheaper-yet-better products. Now I am not particularly interested in defending dirty business that overprices products just to maximize profit; my worry is on the legit businesses that get screwed by the negative cycle. As a consumer myself, I do like to pay-less-for-more – but hopefully not on the cost of someone else. So how would this apply to this review? Not much actually. I just thought I will take the chance to write about something I want to say.
Spec
Input: USB 1.1, 2.0 compatible. USB native bit rate: 32~48kHz, 16-bit.
Output:
Analog RCA Output = 2Vrms
Dynamic Range: 110dB
THD+N= -95 dB
S/N Ratio: 98dB
Digital Output: coaxial RCA 75-ohm
Headphone output jack
Power output: 80mW x 2 @ 16-Ohm
THD+N 0.05%
Power: USB Bus Powered
Dimensions: 68x38x21mm
Packaging, Accessories and Build Quality
Packaging, as you can see in the picture, is pretty simple. This probably reflects what the uDAC is marketed toward: the mass. The typical 'audiophile' grade DAC is usually size of three brick and cost up to thousands. While selling a small DAC not bigger than a DAP while still labeled as 'audiophile' equipment is actually more of a tough sell. The tendency of consumer to value a larger object / price tag over a small one is just part of the human nature. However, the recent popularization of small USB DAC over external soundcard has clearly indicated that the rising demand of better sound quality among computer users. In which case, the uDAC fits the market just right. It is small and easy to install and use. All you need to do is plug in the USB cable (which is the only accessory) to both PC and the uDAC, the computer should take care of the software by itself.
The uDAC looks a lot like its bigger brother, the NuForce Icon – intentionally no doubt. On the front, there are a volume knob (which control both the headphone-out as well as the RCA-out), a blue LED, and the headphone-out. On the back, there are the USB-in, coaxial digital-out (S/PDIF), and RCA-out. The whole body is made out of aluminum with a good solid feel to it. It a surprise that NuForce has managed to fit everything inside the small casing.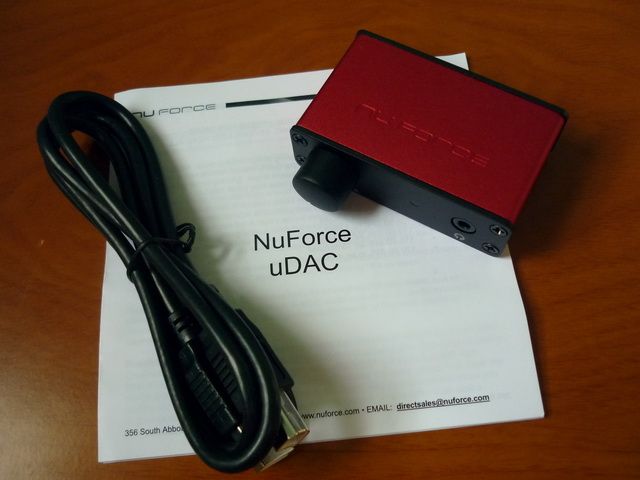 Sound Quality
"Performance equals or exceeds that of a great many audiophile CD players" is how NuForce describes uDAC. I can't personally verify how true this statement is, but overall I do feel uDAC is quite a performer in the sub$100 price range. There are three outputs on the uDAC: S/PDIF via coaxial, line-out (of sort) via RCA and headphone-out.
With coaxial, uDAC essentially is nothing more than an USB-to-S/PDIF convertor. It doesn't actually do the digital-to-analog conversion, but a digital-to-digital conversion which then needed to feed into another DAC. This is designed to serve as an intermediator between PC and perhaps another DAC or receiver that lacks USB-input.
The headphone-out on uDAC is very decent, pretty much beating all the sub $100 amps I currently own (which fed by uDAC's line-out in the comparison). It is capable of rivaling iBasso T4 with less driving power but better extension in overall performance but come short compared to the newer T3D, which is simply more dynamic, extended, and has plenty more raw driving power. Meier Audio Corda 3MOVE, which has been my main portable amp for a while now, is even better sounding than T3D, so naturally it is better sounding than uDAC headphone-out as well. What this means is that uDAC is quite a good choice for small setup (like pair with notebook feeding headphone), but you might want to consider a dedicated amp for more serious listening.
RCA-out is where uDAC shines. The 2Vrms output gives a particularly good dynamic range compared to the typical 1.4Vrms of common DAP's line-out. While compared to the previously reviewed
HeadStage USB DAC cable
, uDAC's line-out is more expended on both ends, more transparent and neutral (though some might find the mid a little too flat), has a crispier treble with better soundstage and instrument separation.
There are a few issues about uDAC as well. First, some people find the uDAC headphone-out to be a little imbalance on low volume. This is actually a very common problem on potentiometer (the volume pot) when it comes to high sensitive headphone, though so far I have no such problem on mine. Second, the RCA-out is only true line-out when it is turned to max and acts more like a pre-amp when it is not on max volume. The problem is the same volume knob also controls the headphone-out's volume, so you must be careful not to plug in the headphone when you have it on max to feed the line-out to another amp. Some people might argue uDAC doesn't output true line-out since it has a variable control, but that is really just an argument on semantics. As long as it is outputting line-level signal when you keep the volume fixed on max, it is a line-out.
uDAC's line-out feeding FireStone's Little Country Hybrid OTL headphone amp.
Verdict
For US$99, uDAC is quite a bargain for what it does and something I would recommend for a semi-desktop, space saving setup. Unfortunately before this review is finished, NuForce has already decided to address the weakness of uDAC by releasing a new version, the uDAC2, and it will cost US$30 more. The new uDAC2 is said to have a better potentiometer which is less likely to have any imbalance issue. The new uDAC also supports a higher bitrates, from the original 48kHz, 16bits to the new 96kHz, 24bits – for most user the upgrade of bitrates will not be apparent unless you already have a lot of 24bits music. The more noticeable updates perhaps are the line-out and headphone-out, which are both said to have been improved.
Because of such a short products cycle (the original uDAC was released later last year / early this year), existing uDAC user is offered a discounted price (US$65) to upgrade to uDAC2, so check out NuForce's website if you do own an uDAC. Also, if you bought yours in July, you might even get a bigger discount. I am not really sure if I want to take the offer and spend the extra $65 at this point just to find out whether uDAC2 is indeed better since I am relatively happy with the uDAC right now. Well, we just have to wait and see.