You probably already know OPPO as a smartphone brand, but the company called
OPPO Digital
isn't exactly the same. It is the American sister company of the Chinese smartphone company, and its main business is Blu-ray player. Recent years however, the company also begins to develop a series of personal audio products including desktop headphone amp and a few planar magnetic headphones, which are very well received by the audiophiles' community. The HA-2 we are going to look at is the company's first portable amp + DAC and as the title of this article already suggested – quite an outstanding piece of kit.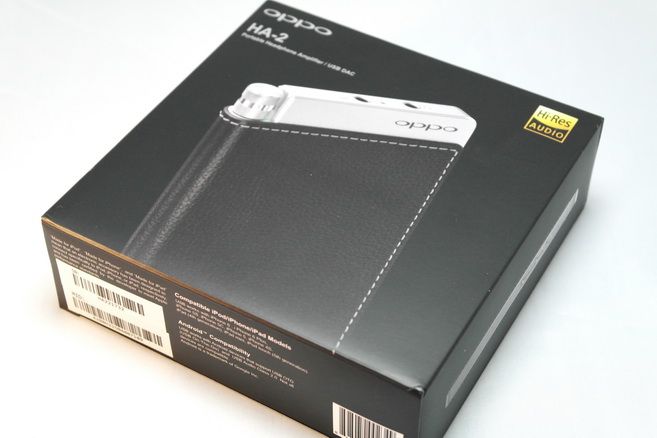 Spec
Frequency Response: 20 Hz - 200 kHz
Audio-in Level: 1Vrms
Line-out Level: 1Vrms
Recommended Headphone Impedance: 16 Ohm - 300 Ohm
Maximum Output Power: 300mW @ 16 Ohm, 220mW @ 32 Ohm, 30mW @ 300 Ohm
Headphone-out Output Impedance: 0.5 Ohm
Output: 3.5mm Headphone-out, 3.5mm Line-out
Input:
Analog: 3.5 mm stereo audio-in
Digital:
USB A for iPod / iPhone / iPad;
USB micro-B for smartphones with USB OTG feature and computers.
DAC Chip: ESS Sabre32 Reference ES9018-K2M
Input Format: Stereo PCM, Stereo DSD (DoP v1.1 or native)
PCM Sampling Frequencies: 44.1 kHz - 384 kHz, 16 / 24 / 32-bit
DSD Sampling Frequencies: 2.8224 MHz (DSD64), 5.6448 MHz (DSD128), 11.2896 MHz (DSD256, native mode only)
Battery type: 3000mAh Li-Po Rechargeable
Battery Life: Approx. 13 hours (Audio-in) or 7 hours (Digital-in)
Dimensions (W x H x D): 2.7 x 5.375 x 0.5 inches, 68 x 137 x 12 mm
Weight: 6.2 oz, 175 grams
Build Quality
Right off the bat, the packaging of HA-2 already screams premier quality. It almost feels like you just got a top-of-the-line smartphone rather than a portable amp+DAC. The actual build quality is of course just as good as what the packaging has suggested. While I already told you that OPPO smartphone and OPPO Digital isn't the same company, the HA-2 sure looks like it shared some of the smartphone's gene on how well it is designed and put together. There is no rough corner anywhere and most of the housing is covered in real leather. I have seen and owned some great portable amp and DAC in my life, but HA-2 has the best build quality so far. It is the portable amp+DAC that won't make you look geeky when it sits next to your smartphone / iPod / iPhone.
As far as accessories go, HA-2 comes with just about everything you need to enjoy your music. All you need is to supply the compatible source and a pair of headphone. In the box, you will find the OPPO's VOOC Flash charger (which is similar but not identical to Qualcomm Quick Charge on how it functions), the VOOC compatible USB cable, two rubber bands, a 3.5mm-to-3.5mm interconnecting cable, a Lightning-to-USB-A OTG cable for Apple devices and a micro-to-micro USB OTG cable for Android device.
ABC switch for input: A for iDevice, B for PC and Android, C for analog audio-in.
Gain switch, bass boost, and battery button.
The 3.5mm analog audio-in socket also double as line-out when used with digital source.
Battery Life
The actually battery life is pretty close to the quoted number by OPPO, which is roughly 13 hours as amp only or 7 hours as amp+DAC, gives or takes an hour or so depends on the volume and headphone you used. Battery capacity can be checked by a single quick press to the battery button on the side.
A few things to note: First, if you are using an Android smartphone as source and not planning to use the stock micro-to-micro USB cable, you need to find a compatible cable in order to stop HA-2 from draining your smartphone battery. What you want is a bi-directional micro-to-micro USB OTG cable, not a one-way OTG cable (which is an older standard and rarer these days, but you can still find it). Secondly, HA-2 can be used as a power bank to charge your digital source, mainly smartphone and iDevices, by pressing and holding the battery button until the battery LED lights up. You can use this even when you are listening to music on HA-2, which will keep your digital source's battery top up as much as it can, but also shorten HA-2 battery life noticeably.
Gain, Hiss and EMI
There are two gain setting on the side of HA-2. The lower gain setting is actually a negative gain of about -2dB, where the high gain setting is about +8dB. We will discuss further on this in the SQ section.
Hiss performance is quite excellent. Even with my hiss prone Shure SE530, there is no noticeable hiss to speak of with maxed out volume on both high and low gain. Same can be said to click and pop performance, which is barely noticeable. EMI performance is also great. The black ground stays pretty much pitch black with no interference from a smartphone receiving call sitting next to it.
Size comparison (from left): Sony Xperia Z2, HA-2, FiiO E12A.
Sony A10 digitally feeding the HA-2
Sound Quality
As usual, we begin with a look into HA-2's measurement. RMAA shows an impressive result that just about rival my reference iFi iDAC + O2 setup. Frequency response is pretty much flat, as you can see on the FR graph below. While intermodulation distortion is slightly higher in comparison, it is still well within the inaudible range and doesn't pose any concern. Used as amp+DAC, line-out is about 0.98Vrms, pretty close to the official number of 1Vrms. Headphone-out on the other hand is about 0.77Vrms max in low gain and 2.52Vrms max in high gain. That's plenty for IEM and sensitive headphone, but might not push enough volume to really demanding big can. Current output is quite good as well. Not the biggest I have ever measured but it is definitely some of the best.
As far as I can tell, the gain factor (-2dB and +8dB) doesn't change when HA-2 is used as amp only, but it might run out of voltage swing and start clipping if the input is too high. For example, with FiiO X5II's line-out (~1.55Vrms) as well as iFi iDAC (~2Vrms), HA-2's max headphone-out on high gain can only push to around 3Vrms, or about +6dB. But interesting enough is that even with such a hot input, the headphone-out doesn't seems to sound distorted when used in lower volume with IEM. That suggests the clipping isn't happened on the input but on the output stage. So although OPPO only recommend the audio-in to be used with 1Vrms source (Apple?), it seems okay with other higher voltage input as well. Just don't expect it to pump out a lot of volume.
Output impedance is a bit tricky to measure on HA-2 as it seems to automatically mute the headphone-out when there is no load (*which is needed for the procedure). But judging simply from the tiny voltage drop of two different resistance load, it is obvious the output impedance must be very small and indirectly confirm the OPPO number of 0.5ohm.
Subjectively, HA-2 also sounds great. The line-out the characteristic high level of transparency that the ESS Sabre DAC is famous for, but without being too dry or 'digital sounding'. The headphone amp section itself is also very transparent and neutral. As a standalone amp, HA-2 is very comparable to my FiiO E12DIY, which has been specifically tuned for maximum transparency. I'll say E12DIY might has better rendering of 3D space, but HA-2 does have an airier presentation. Beyond those, I'll say HA-2 stands shoulder to shoulder with E12DIY as one of the best sounding portable amps I have heard, regardless of price. One option to spice thing up just a little bit is the bass boost - which really is more of a mild sub-bass boost rather than a full-on rock-your-socks-off bass boost. It gives a bit more substance to the lower range but I doubt it will be enough for any hardcore bass lover.
Needless to say, the transparency of the amp section goes quite well with the transparency of the ESS Sabre DAC. Together they create one of the cleanest sounding portable amp+DAC I have ever heard. While I still prefer iFi Audio micro iDSD as a whole when it comes to amp+DAC because of the extra tuning feature on micro iDSD as well as the more musical Burr-Brown DAC's sound, I think HA-2 does come very close as the 2
nd
best. In some ways, especially if you are just looking for a clean sound, HA-2 might even be considered better. Same can be said if you are looking for a smaller devices or with wider / simpler smartphone compatibility. Even as a pure portable amp, HA-2 might have an edge over the slightly drier micro iDSD's amp section. Metaphorically speaking, micro iDSD is more like a big cannon that can level everything you want while HA-2 is more like a sniper rifle that is better on a specific target. One thing they are equally good is their huge value for money factor, where the choice is really down to how you like to use your rig – as more of a generalist or a specialist.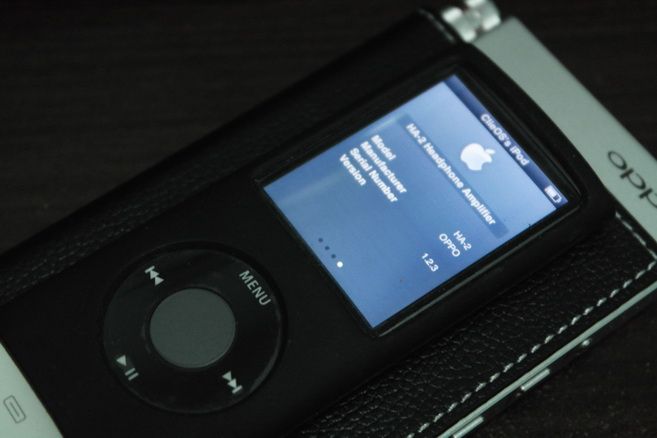 iPod nano 5G feeding HA-2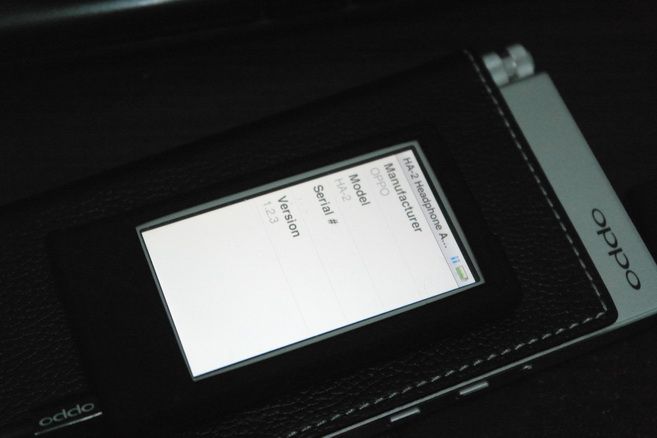 iPod nano 7G feeding HA-2
Extra
Here are some extra notes that don't fit in elsewhere:
DSD playback is pretty good on the HA-2, but with a small limitation that it can only do DSD256 in 'native mode', which means it is Windows and ASIO driver only and you can't playback DSD256 on Android, even with app such as USB Audio Player Pro or Onkyo HF Player. In contrast, micro iDSD has no such issue. While I am not actually much of a DSD listener, I think it will still be great if there is a way to solve this.
OTG compatibility is really one of HA-2's greatest feature. Besides being able to be used as a pure portable amp as well as an amp/DAC for PC (*requires software driver), HA-2 can also be used with most Apple devices with its MFi certification and many Android smartphone that supports USB OTG. On the iDevices's side of things, I have not only paired HA-2 with iPod nano 7G successfully, but also the much older iPod nano 5G, which is not on the official HA-2's support list. It is not hard to imagine how HA-2 can breathe some new life into older iPod and really transform them to audiophile grade player. On the Android's side of things is, as usual, a bit hit or miss depends on whether your particular smartphone model will work for HA-2 or not. Based on my own experience, I know Sony Xperia Z series is probably one of the best bet for getting the best sound quality over an amp/DAC because Sony has implemented really good USB DAC driver in their version of Android and they support 24/192 by default. Even without a native USB DAC driver, apps such as USB Audio Player Pro or Onkyo HF Player might still work, though you'll have to try them out personally to find out. Last but not least is the surprise OTG compatibility of Sony A10 series digital Walkman with HA-2, though the right cable is needed in order for them to work together. That however can be buy from Taobao or Amazon. With A10 as the digital source and HA-2 as the amp+DAC, the A10 really goes from just a decent sounding DAP to one of the best portable 'audio stack' around. This setup will really worthwhile if you are like me which usually doesn't like to use smartphone as digital source, but doesn't mind carrying around a 'stack' – not a big one at that.
Those of you who prefer to build your own HA-2 cable for Sony A10 can find a DIY guide
here
.
Sum-up
I remember that the first MFi certified DAC for iPod I have ever read about had a price tag higher than the iPod itself, and it didn't even have an amp section. Now we have the HA-2 - MFi certified with a quality amp section and Android smartphone compatible, priced only at US$299. While time does usually lower the price of tech, HA-2 still presents some incredible value - especially since most of the competition are still much higher priced. It is a gem, and no two way about it.
A thanks for OPPO Digital for the review loaner.