The Korean company really needs no introduction at this point. They have proven themselves as a capable IEM maker with a series of top of the line hybrid as well as some good sound yet budget friendly dynamic IEM. The new Altone 200 is the continuation of the company's hybrid line of IEM, with a never-heard-of price point nonetheless. The best part? You are not getting lesser of SQ just because you are paying a cheap price.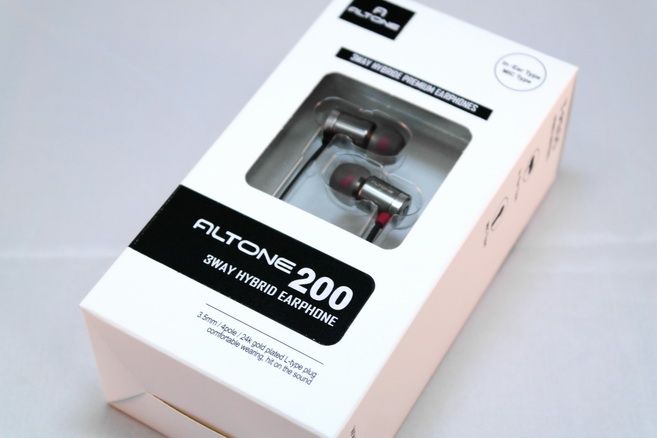 Spec
Driver Units: Knowles' TWFK Double Balanced Armature + 8.0mm Single Dynamic Unit
Impedance: 22 ohm @ 1 kHz
Sensitivity: 105 dB @ 1 kHz
Power: 100 mW (Max)
Frequency Response: 20 Hz ~ 20 kHz
Connector: 3.5 mm / 24 K Gold coated L-Type Plug
Cord: PVC Round 1.2 M / Y-Type
Weight: 24 g
MSRP: USD$145 + USD$20 EMS Shipping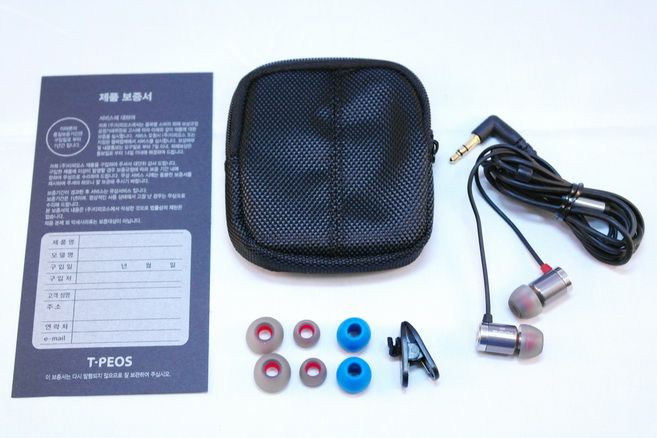 Packaging, Accessories and Build Quality
Since you are not getting lesser of a SQ, something else will have to give. In this case, the packaging is definitely not quite matching what the IEM can do. Same can be said to the accessories department as well. All you'll get are the fairly basic silicone eartips of various size, a soft case, a pair of foam and a shirt clip. Not nearly as elaborate as the previous top model we have seen from T-PEOS, but I won't really complain at this kind of price. The overall design is also simplified, where the removable cable design is, well, removed. But the overall build quality is still very solid, considered that the housing is still mainly made out of stainless steel like much of T-PEOS's line-up. The good thing about the simplified design is that the earpieces are probably one of the smallest among all triple driver hybrid IEM, which is definitely not a bad thing comfort wise.
Sound Quality
The sound signature of Altone 200 is warm and slightly sweet with very mild U-shaped frequency response. Bass reaches down deep, with just a small touch of rumble and quantity enough for most except for the most hardcore of basshead. Mid range is just a tab recessed compared to bass, though still retains quite a good amount of sweetness and texture while at the same time places the vocal just far enough to give good spaciousness but not enough to distance it from the listener. Treble reaches up quite well, but the upper extension is just a tab smooth and some of the top-end sparkle is missing. However, it still retains enough detail that you will almost never notice any missing of detail unless you are just switching from a bright and analytical set of headphone. Soundstage is fair. If its older brother the H-200 has a 3
rd
row seat in a theatre, I reckon Altone 200 is more like a 2
nd
row seat. It is not right in the face but you can certainly still feel the intimacy.
For the most part, the new Altone 200 is different from the older model (i.e. H-100 and H-200) in the sense that it exhibits the least 'grand and open' of a presentation, but not in a bad way. It is more upfront and intimate, and you probably won't notice it as a 3 ways hybrid if you were not told. Those who don't like the T-PEOS' more V-shaped and opened sound in the past will more likely going to find Altone 200 enjoyable while those who do like the old sound signature shouldn't feel abandoned either. While Altone 200 does have a more versatile sound signature that should better suited for different listening style and genre of music, the difference however doesn't make Altone 200 a vastly better or worst sounding IEM when compared to the older flagship H-200. As with most IEM of this high calibre, you are really just looking (or listening, to be more precise) for the minute difference in presentation and how it fits to your taste rather than flaws in pure technical sense. It is more of an evolution of tuning, as opposed to a revolution of sound quality.
Sum-up
T-PEOS has made top quality IEM in the past, and continues so with the new Altone 200 – no surprise there. The true smasher here is however on the price. With a fraction of its competitors' price, you are getting a tremendous amount of bang-for-the-bucks with an IEM that can compete in the top-tiers' category. That's, in every sense of the word, budget Hi-Fi at its best.
A thanks to T-PEOS for the review sample.
Here is how you can order the Altone 200:
Link
.
For numeric ranking, check out
The List
.