BBK Electronics
might not be a household name in the West, but they do share some blood line with another more well know brand, OPPO. Late last year, the company released a rather interesting Android smartphone called the X1, and debuted as the first true audiophile level smartphone in the market (it has since been superseded by BBK Vivo X1S and Xplay). The MSRP is around US$400.
Spec
OS: Android 4.1.1
CPU: MediaTek MT6577T (1.2GHz, dual cores Cortex-A9)
GPU: PowerVR SGX 531
RAM: 1GB
Memory: Built in 16GB, no expansion slot.
Screen: 4.7 inches IPS TFT, 540 x 960 pixels, Multi-touch Capacitive.
GSM: 3G supported
WiFi, Bluetooth, NFC supported
Camera: 8MP main camera with HD recording support; 1.3MP front camera
Sensors: Orientation Sensor, Accelerometer, Proximity, Compass, Ambient Light
Battery: 380hrs Stand-by, 11hrs talk time, 2000mAh Li-ion non-replaceable
Dimensions: 136.3 x 68 x 6.55 mm
Weight: 145g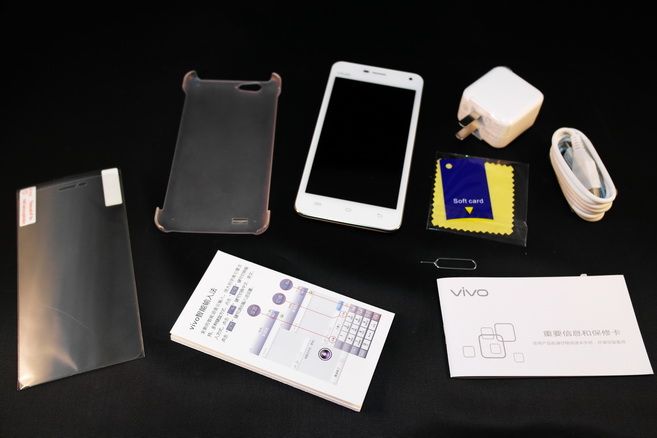 Accessories and Build Quality
Accessories wise, you will get an USB power adapter, an USB cable, manual, an microSIM pin to open up the SIM slot, screen protector, and a simple hard plastic back case. A pair of beyerdynamic MMX 71iE is also included as stock headset, which is very nice. However, I didn't get the beyerdynamic inside the review set. Not a big deal since I already have a good collection of IEM myself. There are also two other models of headphones to choose from if you order the smartphone directly from BBK, but that option is for their mainland Chinese market only, I presumed. Oh, the back case is a nice touch and more manufactures should learn from BBK. It isn't something premier in quality but at least you don't have to worry about getting a case when you just receive the smartphone.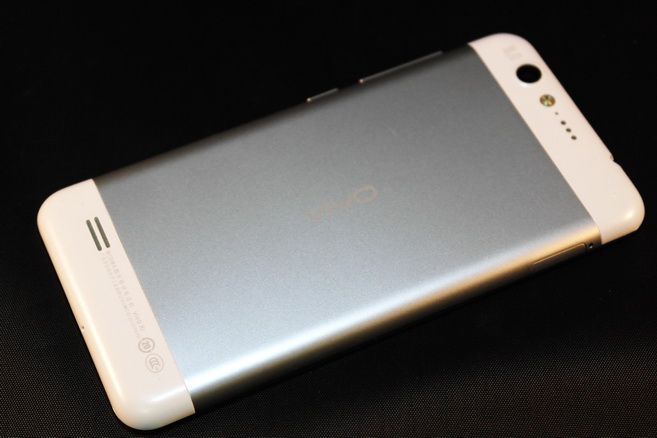 Build quality is excellent. The body is slim and flat - actually a bit too slim for my taste as it doesn't give you the feeling of a good grip. Chinese smartphones have come a long way since the day of imitation and now they actually look as good as any Korean smartphone in overall finishing, X1 is a good example of it. The screen looks vivid though the color is slightly on the colder side of thing some time, and the viewing angle is not as good as my Samsung or Sony Android-phone, though it is not bad per se. Truth being told, I might have been spoiled by the Bravia Engine on my Xperia TX. One thing I do like about the X1 over the TX is that BBK puts three capacitive buttons on the bottom instead of using navigation bar that takes away precious screen space. The front and back camera are decent in quality – nothing special to write about but they will get snap a decent photo when asked to.
One area I do want to complain about is the lack of memory expansion. With the internal 16GB being not fully available to the user (*as some has to be reserved to the system), you would think a TF slot should be a must on a music oriented smartphone. Yet BBK has chosen not to include one, severely limiting the number of songs you can load onto the smartphone itself. At the least, I think they could have given it 32GB onboard memory. 16GB is simply not up to par.
Navigation
A major different between Android and iOS's UI is that you get widget and home screen on Android. On the X1 however, BBK has blended the home screen into the app folder so you are getting a hybrid like interface between Android and iOS, where widget and app are placed together in a single interface / folder, and there is no separated home screen and app folder anymore. I am not sure if that's a smart choice but obviously BBK is trying to bring some iOS like visual into their smartphone. Personally, I rather have them separated as normal Android.
The system runs on a MediaTek dual cores 1.2GHz processor, which isn't particularly fast by today standard. However, the overall system UI does run really smooth – smoother than my Galaxy Tab 7 Plus (*also a dual cores 1.2GHz) on ICS and Jelly Bean to say the least. It will play music just fine, but don't expect it to run the latest 3D games. Navigation can be slightly tricky as the internal setting and interface have been modified by BBK to look different than stock Android. Though the functions are identical, finding them out can take some getting used to. Also, services that rely on Google server (such as Play Store, Maps, etc) are mostly removed from the OS. You can install them back on your own of course, but I guess this is norm for most Chinese Android smartphone since Google servers have been mostly blocked in China and therefore Google related services are useless in the mainland anyway.
Start-up screen
Lock screen
Sound Quality
Measurement wise, RMAA doesn't reveal any problem. In normal mode, the frequency response is flat up to 16kHz and dip slightly (less than 0.3dB) to 20kHz. In HiFi mode, the treble roll-off becomes a little more significant but still able to keep it within -0.5dB, less than what is considered audible so it shouldn't be any problem there. SNR, noise, crosstalk are all decent. They should hold up well even against iPhone. Now, here comes the bad news: First, the output impedance is measured to be a scary 52 ohm. Second, while voltage maxes out at 0.865Vrms with a 1kHz test tone is decent enough to get normal headphone to rather loud volume, the current output is very low. I looked at some pictures of X1 inner working, and didn't find any dedicated amp section. If I have to guess, I think BBK might have taken the same route as how iriver does with the AK100 – tap into the DAC digital volume control for loudness control, then uses buffer and resistors for the output stage instead of a proper amp stage. The result will be an extremely clean sound that offers little to no control / tightness over the headphone driver – which is what I have observed on both devices. It is also interesting that BBK has since putted OPA2604 opamp onto the newer X1s and Xplay output, suggesting that they might have learned from the mistake on X1 – that is, you can't make a portable HiFi player if it doesn't drive the headphone well.
So what is this 'normal' mode and 'HiFi' mode on X1? According to what I have read about the X1, normal mode uses the MediaTek internal audio hardware to render audio signal; while in HiFi mode, X1 will switch to using Cirrus Logic CS4398 DAC + CS4288 SRC (sampling rate converter) for audio. BBK has been trying to tackle the Android software sampling issue on their previous smartphone. On X1 however, they stepped it up a notch with a hardware solution with Cirrus Logic flagship DAC in combination of a SRC chip (*the newer Xplay uses the same combination with an opamp while the X1s uses a lower end DAC with the same SRC and opamp). But the extra hardware comes with the cost of battery life (lower from the 11hrs to less than 10hrs), so BBK also implements a software switch to allow the user to choose whether to enable the DAC + SRC for maximum SQ or the original audio hardware for better battery life. However, the switch is built into the stock BBK music player and not on the Android, so the only way to get the HiFi mode is to use the stock music player.
The problem is, the BBK player really lacks a crucial feature – it knows how to real ID3 tag, but can't sort them according to track number. Instead, it only sorts track in alphabetical order using the track name inside the ID3 tag. This is by far the silliest implementation I have seen on any Android music player. On the upside, the BBK player does come with SRS and BBE EQ if you choose to use them. At the end, I think BBK should really spend more time on perfectly the stock player since it is the only way to get to the HiFi mode. On the other hand, they could have just separated the HiFi mode out as an independent feature of the system. Another issue is the lack of support for HD music. While I am not a big fan on HD music myself, but I don't want to see the HD capable CS4398 wasting its talent either. It will be a first in the smartphone market if BBK can get HD decoding to work.
So how is the subjective listening? Well, I am quite impressed with the overall clarity in HiFi mode. It easily surpasses any smartphone I have listened before and can rival some of the better DAP in the market. But as I have said before, the headphone-out really lacks power and authority. The quick solution is of course to amp the headphone-out, which also helps to avoid the issue of high output impedance. With an amp, X1 sounds incredibility good. I'll no problem place it among DAP like FiiO X3, HifiMan HM602 or an amped iriver AK100.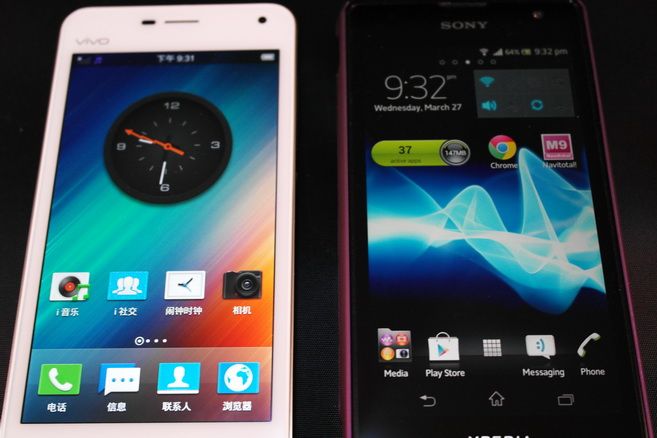 X1, next to Xperia TX.
In Sum…
I am impressed – for a smartphone, X1 has some of the best clarity around. What it lacks are an expansion slot, more power and low output impedance. If BBK can also implement an independent HiFi mode complete with standalone SRS and BBE, it would have been a real audiophile level music player, smartphone or not. If it supports HD, all the better! But for now, it gives me the same impression I have on AK100 – a cut above the rest, but not on the top yet. As their first smartphone, BBK did a great job on the X1. I hope they can address all these issues in the future and they will have no problem dethroning Apple for being recognized as the top quality audio smartphone maker.
A thank to BBK for the sample.