My very first pair of IEM is Shure E3c and I actually still own it (and in perfect working condition too). It was a short tech news section on CNN back in 2004 that introduced me to the E3c and the world of IEM. For a poor colleague student back then, it is quite a leap forward in sonic experience for me. Throughout all these years, Shure has never lost its market dominating status as one of the big three IEM power houses (alongside UE and Westone), continue to evolve with the market yet still holds true to their own house sound. SE215 is the latest and lowest addition to the company new removable cable (SExx5) series, but don't lets that fools you – this could very well be the best valued IEM Shure has ever made.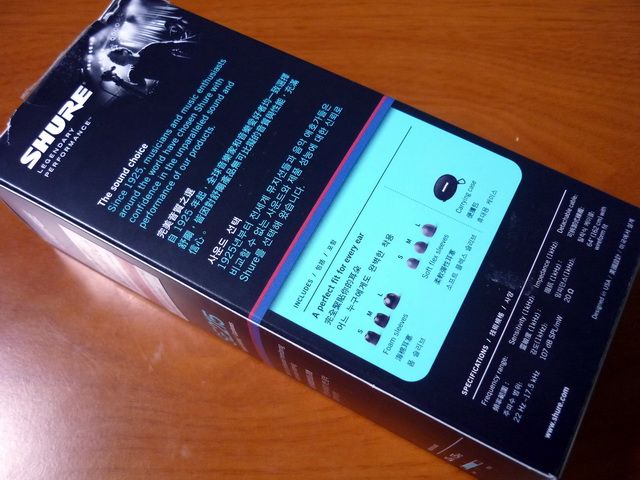 SPEC
Transducer: Single Dynamic MicroDriver
Sensitivity (1kHz): 107 dB SPL/mW
Impedance (1kHz): 20 Ω
Noise Attenuation: Up to 37 dB
Frequency Range: 22Hz – 17.5kHz
Input Connector: Gold-plated 3.5 mm (1/8")
Cable: 64" Detachable (at ear) with wireform fit
Packaging, Accessories, and Build Quality
Packaging is fairly decent and consistent with other models of the new removable cable series. A transparent window to showcase the IEM itself (which is damn attractive when up close) and everything else are stuffed to the back. If anything it is a little tight inside for all the included accessories, including 3 pairs (S,M, L) of black foam eartips (a.k.a. olive), 3 pairs (S, M, L) of grey single flange silicone eartips, a nozzle cleaning tool, the manual and a zippered soft case. All of these are of very good quality, which of coursed is expected. The same conclusion can also be extended to the construction of earpiece and cable. The earpiece is translucent so the inner structure is beautifully presented in front of the user's eyes. Fit is also comfortable for me, but people wiht very small outer ears might want to think twice. Another warning here - for those who wish to switch the eartips for the first time, do be careful and slow on taking the foam tips off as it can be a little tight, or else you might accidentally break the nozzle. The cable is actually quite similar to the cable on the older Shure– thick and feels fairly durable. There are memory wire on the earpiece's end of the cable which is good at both holding the over-the-ear shape and providing extra protection to the cable against skin oil. The cable is a bit long, but it is always better to having longer cable then no enough. Microphonics is close to none as it is designed to be wore over-the-ear only. Isolation is great and among the best. All and all the SE215 sounds pretty perfect, right? Unfortunately it is not totally the case. Just read on.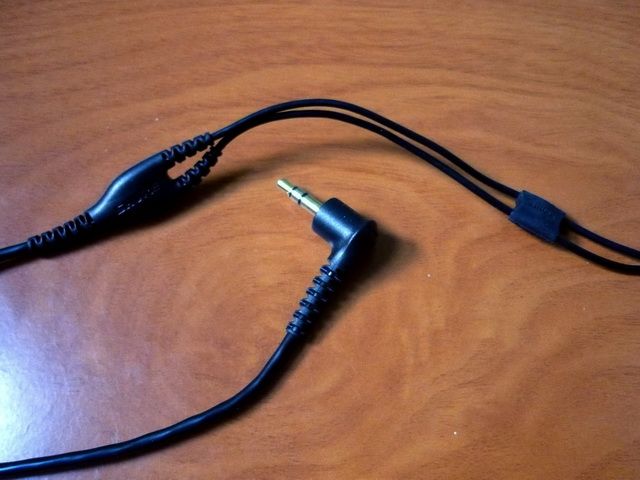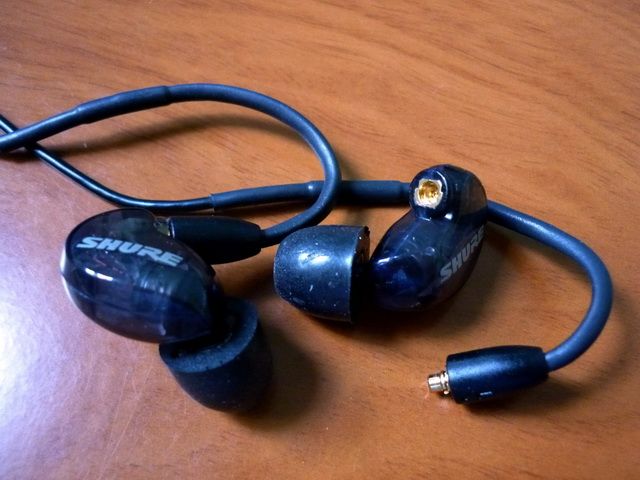 Shure was plagued by cable cracking issue on their early batch of SE530. Though the formula and material were improved after they acknowledged the issue, the complaints never really did go away. For my own opinion, the adaptation of the new removable cable system could very well be Shure's attempt to fix any cable issue once and for all. With the new system, any faulty cable or crack (even caused by normal wear and tear) can be easily fixed by a replacement cable. Unfortunately it might not be as simple as Shure has hope for. The new cable uses an uncommon free swirling rounded socket that connect the earpiece to the cable instead of the more common two pins socket. The problem with the new socket is that pin on the cable side is actually quite small and it must fit into the tiny tube on the earpiece perfectly or there might be static when the pin is rotating and even worst, cut out at certain angle. The left side of my SE215 has the cut off problem when the cable is swirled close to 180 degree (cable going down instead of over-the-ear) while the right side has no problem at all. Further testing by swapping the cable confirms my theory that it is not an issue of bad cable, but rather bad / loose socket on the earpiece that fails to stay in full contact with the pin at all-time. A bit of google'ing also suggested that the issue seems to be a little more common than what one would expect from simple bad luck and can be found not just on SE215, but also the rest of the series. One must question whether the decision to use a higher-precision-required socket backfires by creating another issue of its own.
While the whole situation might not be as bad as it looks since plenty of users also reported perfectly fine SE215, it is not doubt something to take notice to if you are planning to pick up a SE215 (or actually, any of the new series). My suggestion is to buy the SE215 from a store where you can test it out immediately (or somewhere with a good return policy). If the cable can rotate without causing any issue at first, the chance of a loose socket down the road should be quite small, if any at all. For those of you who already own a SE215 with a loose socket, Shure customer service is known to be very good and you can put the two years warranty to good use.
Overall SE215 is a well made IEM with a small possibility of imperfection. Not enough to get a non-recommendation from me but it is something a buyer needs to be aware of.
Sound Quality
A standard 50 hours of burn-in was given before the review. No significant change was detected. Shure has always had the most consistent house sound among all the IEM makers. It is a sound that is on the warm, rich and generally good in vocal. The SE215 doesn't deviate much from it, but comes with more dynamic and energy that could punch well above most of its competitor of the same price range.
The sound signature is warm, slightly rich but not obviously full, with good dynamic and soundstage. Bass is well bodied and above decent in quantity. Not enough to call a basshead IEM but more than enough to show good presence / impression. The downsides are that it isn't a particularly fast or the deepest of bass, nor has the best impact around. It is more about listening to the bass rather than feeling the bass. Mid is the strength of the whole sound. Vocal is well textured, a little warm and sweet but not overly thick, slightly upfront but not in-the-face, keeping in line with Shure vocal centric house sound but not to become overly mid dominance that could drown out the bass and treble as older Shure tends to be. Treble is decently extended to almost 16kHz before rolling off and missing the very tip. Like the bass, it is not quantitatively abundance enough to stand up on its own but still enough presence not to feel lacking. There are some graininess on the upper vocal and around 12kHz~13kHz. Not something annoying or uncommon at this price range but it reduces the overall refinement of sound. Soundstage is actually quite good and it is yet another strengths of SE215. Not the widest or most separated, but still above average and particularly good for its sound signature.
One of the things I like about SE215 is what it has kept and improved upon Shure classic vocal centric sound. It is noticeably less thick and more dynamic, making it much less boring to listen to. It is this 'fun' element that injects a new life into the conservative and somewhat dull sounding Shure. In a sense, I guess SE215 is closer to what I would call a consumer friendly 'popular sound' that any other Shure that I have listened before, and I don't consider that a bad thing at all. It reminds me of UM2 - not quite as refined, but livelier and less thick, perfectly fine for fun and casual listening yet doesn't appear to be incompetent in anyway.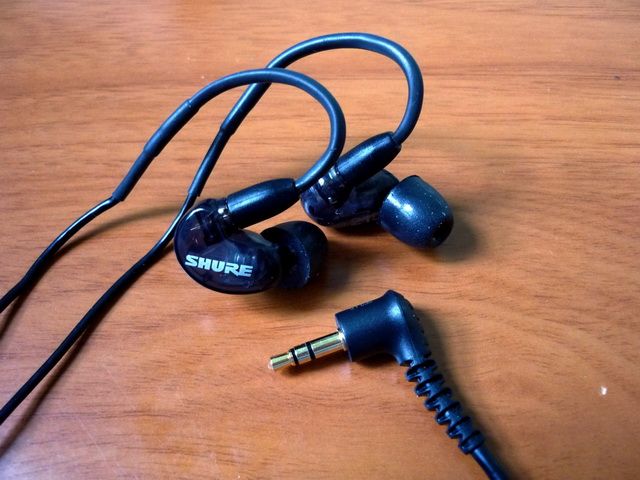 Verdict
I am fairly impressed by SE215 for its price / performance ratio, and that is not something I thought could easily happen with any of the three IEM power houses. When it comes to big brands, I would expect a higher price just for the brand name alone. But for $99, I couldn't have asked for a better Shure than the SE215. In fact, I would have wholeheartedly given it a Sonic Diamond recommendation for anyone who is looking for a good sounding Shure at a killer price, if not for the hidden concern over some tiny cable sockets. Whether it will worth the trouble of possible return / exchange is a question I will leave for you to answer for your own.
Check out
The List
for a quick sum-up.