First, I'll like to thanks
MEElectronics
for the samples. A little over two weeks ago I reviewed the new MEElec M series including the
M16, M21 and M31, plus the user tunable SP51
. Now it is the time to review the new Clarity series as well as MEElec first balanced armature IEM, the A151.
Spec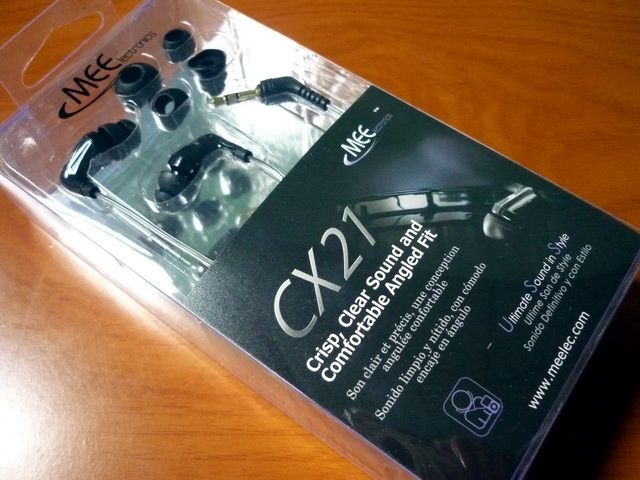 CX21
Driver: 9.0 mm dynamic drivers
Housing: High impact plastic housing with angled fit
Frequency Response: 15Hz – 20KHz
Sensitivity: 101 dB
Impedance: 16 ohms
Maximum Power Input: 30 mW
Connector: 4 pin 3.5mm gold plated 45° plug
Cable: Designer black 135 cm cable (53 in) with attached shirt clip
Accessories: 5 sets of eartips (small/medium/large/double-flange silicon; small triple-flange), round zipper case
CW31
Driver: 9.0 mm dynamic drivers
Housing: Wooden housing with angled nozzle
Frequency Response: 20Hz – 20KHz
Sensitivity: 99 dB
Impedance: 16 ohms
Maximum Power Input: 30 mW
Connector: 3 pin stereo 3.5mm gold plated 45° plug
Cable: Designer black 135 cm cable (53 in) with attached shirt clip
Accessories: 5 sets of silicone ear tips (small/medium/large; double-flange; small triple-flange), round zipper case
CC51
Driver: 6.0 mm micro-drivers
Housing: Ceramic housing with aluminum nozzle
Frequency Response: 18Hz – 20KHz
Sensitivity: 98 dB
Impedance: 16 ohms
Maximum Power Input: 5 mW
Connector: 3 pin stereo 3.5mm gold plated 90° plug
Cable: solid color 130 cm cord (51 in) with attached shirt clip
Accessories: 4 sets of silicone ear tips (small/medium/large; bi-flange), clamshell zipper case
A151
Driver: Single micro balanced armature
Housing: High impact deco housing with angled fit
Frequency Response: 15Hz – 20KHz
Sensitivity: 111 dB
Impedance: 27 ohms
Maximum Power Input: 25 mW
Connector: 3 pin stereo 3.5mm gold plated straight plug
Cable: Twisted black 120 cm cable (47 in)
Accessories: 5 sets of silicone ear tips (small/medium/large; double-flange; large triple flange), clamshell zipper case
*All models also features a "P" model with mic support.
Packaging, Accessories and Build Quality
With so many MEElec models being reviewed in the past, it has almost became redundant on trying to reaffirm the overall decency of the packaging , accessories, and build quality on MEElectronic products – so I am not going to. Instead let's focus on the differences on each model.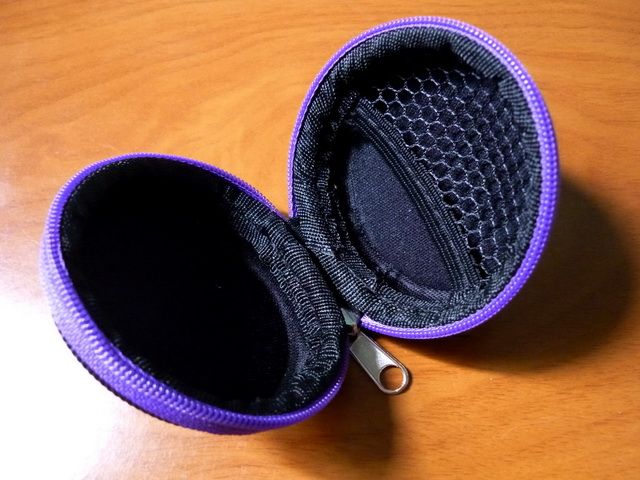 The first thing of note is the new case for CX21 (and also CW31). It is a hard nylon case much like the one you will find on with some old Shure model, except this is smaller. While I do think the old flat case on the CC51 and A151 is fine, the new case is just as decent. CX21 housing looks a bit like the old Ultimate Ears Super.fi 3 Pro. But being as light as it is, you can wear it both over-the-ear or straight down without too much trouble.
The second thing of note is CW31 housing, which is wood. It looks more like compressed / processed wood material rather than whole block cutting (or maybe it is because of the grain?). Regardless, it does have a better finish than MEElec R1. CX31 also has an oval nozzle which forces the eartips to take an oval shape. It is more comfortable in the ear but at the same time it is not meant to be wore over-the-ear.
The third thing of note is that CC51 comes with a regular black cable instead of the typical transparent 'designer' cable. Not sure why MEElec chooses not to use the transparent cable (perhaps more to do with the thickness?), but there are report of damage caused by the removal of shirt clip. So don't try it unless you know what you are doing. Since we are taking about CC51 here – yes, the housing is ceramic. It is actually quite small and almost has a metallic feel to it (and very cool to the touch as well!). The transducer used is a micro-driver. If you have followed my review on the pass, you won't feel surprised about it since this is not the first micro-driver we have seen. From pass experience, I know that bi-flange generally sound the best and that's what I'll recommend to you to try, especially if you like more bass. Do note though, those with very small ear canal might not find the CC51 comfortable since the whole micro-driver is part of the nozzle and needed to be inserted into the ear canal.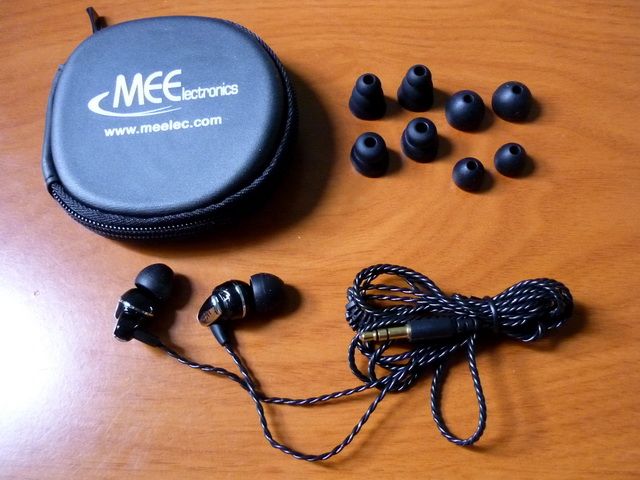 The last thing of note is the twist cable on A151. Similar to Westone UM series cable, it is a great cable for over-the-ear wearing style because of its softness. Overall A151 also has the best design and build of all the current MEElec, and possibly of any single balanced armature IEM that utilizes the rounded BA driver (which I presume to be Knowles Siren series).
Microphonics is decent on CX21 and CW31, slightly worst on the CC51 but still better than average. Since A151 is meant to be worn over the ear, thus this is not an issue for it. Isolation is average on CX21 and CW31, decent on A151 and quite good on CC51.
All and all, MEElec has maintained the same high quality of build across their new IEM models. The only glitch I can find is on the CC51, where one of the bi-flange is misplaced by a big single flange (meaning I have only one bi-flange and three big single flange). Not a big deal for me since I have plenty of bi-flange to spare. But in the rare occasion if this also happens to you as well, try contacting MEElec as their customer service are always very helpful.
Sound Quality
As usual, each IEM has been given no less than 50 hours of burn-in before the review. No significant sonic change is detected during the process. Different from the more main stream sounding M series which has a taste suitable for all lever of listener, the Clarity series is tailored toward a more demanding audience. As the name suggested, presenting detail and clarity is what the series is all about. But at the same time, MEElec is trying to make sure they can still maintain an overall balance in order not to only appeal to a very niche market of listener.
The lowest model in the series is the CX21 at $45. The over sound signature is warm, neutral while leaning toward balanced. Bass is above neutral but not quantitatively abundant, begins to gently roll off after 100Hz. It does however have a decent speed and impact and allows its presence to be felt. Mid is slightly warm, but not particularly forward or recessed. It doesn't get overshadowed by other frequency but at the same time lacks a sense of sweet and fullness to distinguish itself, and thus may comes out slightly on the dry side. Treble extends excellently, good sparkle and air but slightly peaky on the lower end. Not sibilant, just lacks a sense of refinement to make it really good. Soundstage is not a particular strong point for CX21 as it tends to sound more 2D than 3D. Overall, CX21 is able to stand up to some of the best IEM in its price bucket. Compared to PR200 or Brainwavz M1 however, CX21 does sound a bit more neutral and less emotional -technical proficient but at the same time just a little too polite to my liking.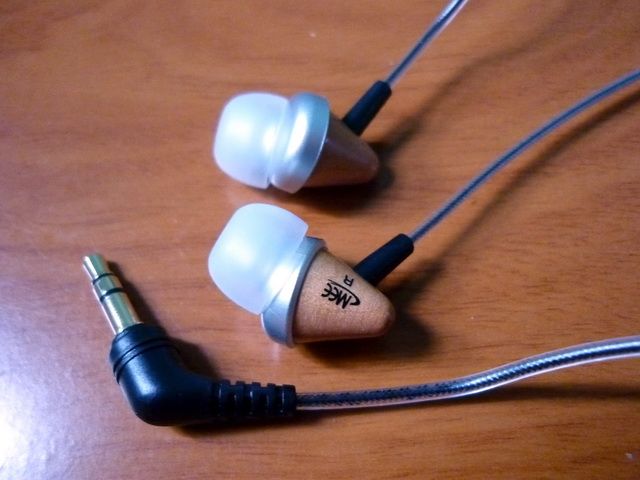 With only $5 more in price tag, the wooden housing CW31 really complements for what is missing from CX21 but at the same time retains most of the same sound characteristic. Gone is the more polite and neutral presentation. Instead, CW31 opts for a smoother, more musical experience with a warmer and sweeter sound. Bass extends slightly further than CX21 but features a slower speed and softer impact. It is however better on the decay and body. Mid is about the same as CX21, neither too forward nor too far away. The difference is in the slight sweet and lushness that makes CW31 a tad better at portraying a singer. Treble is smooth and rolls off gently. Sparkle takes a back seat but not overly lacking. Soundstage is slightly intimate and decent, though nothing to write home about. In all fairness, CX21 and CW31 compare really well with each other. The difference in presentation is much more obvious than the difference in sound quality. In the end, it is the 'personality' of CW31 that makes it a slightly better sounding IEM than CX21.
CC51 is the crown jewel of the Clarity series at $80. The overall sound signature is warm and sweet with a slightly crispy treble, perhaps a blend of all the good parts from CX21 and CX31. Bass is decent in both quality and quantity, with a balance of speed, impact, decay and body. If any, it can be slightly boomy at the 250Hz region, but nothing offensive. Mid is warm, sweet and slightly on the full side. Slight distanced but not recessed. It has a good sense of space in the presentation thus doesn't become overly thick because of the fullness. Treble is a tiny step behind in the whole presentation but still provides a very good amount of sparkle and crispiness. It helps to accentuate rather than try to dominate, giving detail but in a gentler fashion. Soundstage is also intimate and decent, though more in height than in width or depth. All in all, CC51 comes out strong for the asking price of $80. It might not offer the best sound of the price bucket, but it is the good blend of everything that makes it a particular good choice as an all arounder and value for money.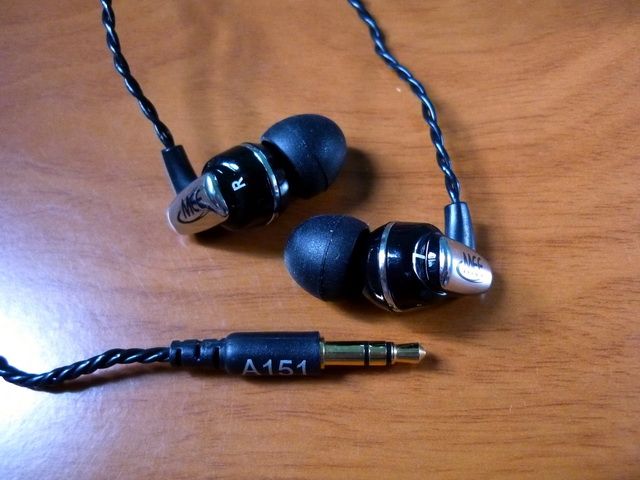 A151 is the first balanced armature IEM from MEElec. Priced at $75, it features the fairly well known Siren driver from Knowles. Over the past few years I have came across quite a few Siren based IEM myself: from the first Siren based IEM, the s-JAYS, to the cheapest MSRP of any BA based IEM, the SoundMAGIC PL-50, then there is the lower end of Fischer Audio BA based IEM, the SBA-01, as well as the best sounding of them all, the discontinued
Sherwood SE-777
. How does A151 compare? In short, it is great. In fact, it is to my surprise that A151 is very similar to SE-777 in overall sound - so similar that I can only tell them apart in very serious A/B'ing and it is debatable whether it is enough to call a difference. The interesting bit is however that they don't actually use the same Siren driver, as evidence in the different in impedance and sensitivity difference on the two drivers (*SE-777 is slightly less efficient). The overall sound signature is, same as SE-777, very warm and fairly musical, with a full sounding mid and bass. Treble is clean, very well extended but smooth, capable of showing a good degree of fine detail yet it is not the highlight of the sound. Mid is warm and full, slightly forward with a sweet vocal. Bass is also warm and bigger than average body, but slightly slower than expected and do not have a very strong impact, not quite a bass monster and roll off at near 20Hz yet a very good performance (both quality and quantity wise) as far as BA based IEM is concerned. Soundstage is average due to the slightly forward mid, but there is still a good sense of airiness in it. With SE-777 slowly faints away in the market, I would imagine A151 will take its spot as one of the best sounding Siren based IEM and continues to offer what Siren driver is known for, the unique balanced armature with a touch of dynamic characteristic in its sound.
Verdict
Again, it has become really redundant on trying to reaffirm MEElec as a company that offers top value-for-money products. That's what they do and what they are good at – end of story. The only extra point I want to make is on A151. While the overall sound is almost the same between SE-777 and A151, what really separates them apart is the approach of design. While SE-777 is very well built, it is not small ears friendly. In this case A151 simply takes the same sound and married it with a better design and material. That alone is worth a recommendation of 4.85/5 Sonic Diamond Award.
For numeric rating, check out
The List
.