I got the C30 last week to compare to
Hippo Gumstick
, though it is not the main reason why I want it in the first place. The idea is to get a small but powerful DAP to serve as my burn-in rig. As a standard procedure, I usually burn-in IEM for at least 50 hrs before review and want to use a decent, but small enough source for it. Gumstick actually meets my need perfectly, except I do use it regularly and I can't use it when it is used for burn-in. So I thought I'll get the C30 as well and compared it to the Gumstick where the lesser of the two will be used for burn-in while the other will be part of my portable rig.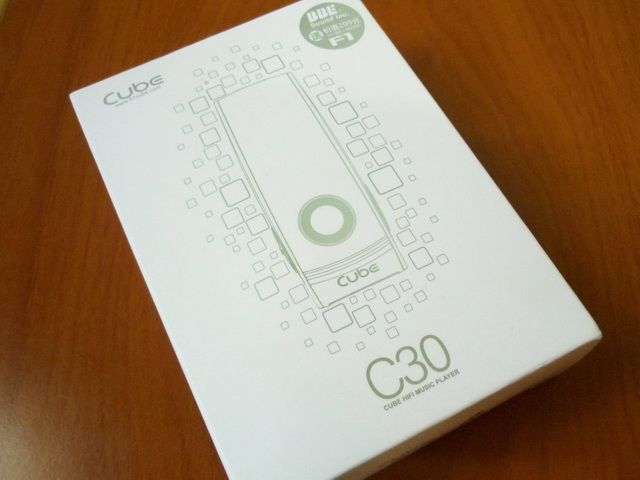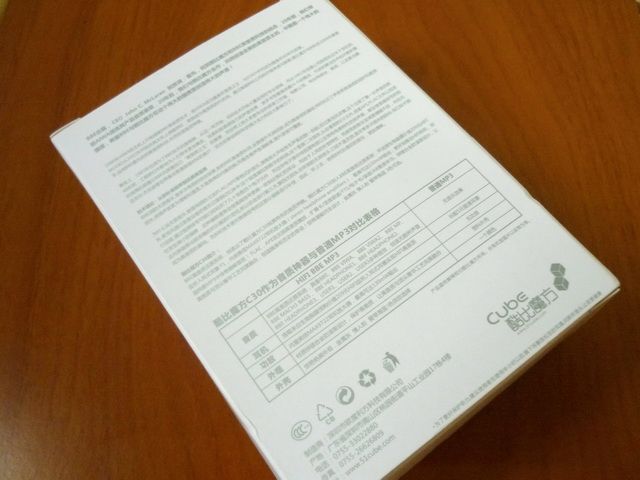 SPEC and Features
OLED screen w/ 3 line of text
Chinese and English language support
Mass Storage Class device, USB2.0
4GB internal memory with MicroSD slot
MAX9722 opamp
FM radio, Voice Reading, E-book (txt reader)
MP3, WMA, WAV, APE, and FLAC supported
4 Playback Modes: Normal, Repeat One, Repeat All, Shuffle.
EQ Preset: Normal, Rock, Jazz, Classical, Pop, Bass, User (5 bands: 80, 250, 1k, 4k and 12kHz +/-12dB).
BBE Preset: BBE, ViVA, ViVA 2, MP, Headphone 1, Headphone 2, Headphone 3, User 1, User 2, User 3.
Dimensions: 75x27x15 mm
Weight: 36.9g
Battery Life: 20 hours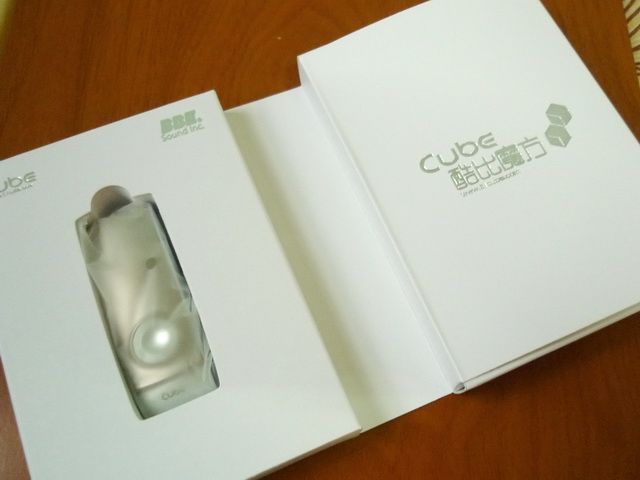 * note: the red case is a free gift from the website I ordered the C30. Not part of the regular C30 package.
Packaging, Accessories and Build Quality
Packaging is actually decent with the C30, and much better than Gumstick. There is almost no complete spec and features listed on anywhere, including Cube's own website. There also seems to be some internal reversion as well as firmware update that are not fully disclosed. The one I have is probably the latest, but there is no way to confirm it. Accessories include an USB cable, a pair of Cube's own F1 IEM, a decent manual In Chinese, and a soft pouch (free from ownta.com where I ordered the C30). The F1 IEM actually sounds pretty good, but not great in build quality. The paper filter on one side of the earpiece doesn't glue well enough and caused the bass to drop, which I have to seal the leak off myself and get it to sound balanced again. Fortunately the build quality of the player itself is pretty good, pretty much the same as Gumstick, which is not surprising since I believe Cube is actually the OEM of both Gumstick and Rocoo-A from HiSound.
Navigation
Basic navigation is simple and almost identical to that of Gumstick. Though C30 has better manual to explain various operations, it is in Chinese so it won't help those of you who can't read it. But there really is nothing complicated in the player that you can't figure out by spending a little time with it. Like the Gumstick, the firmware isn't perfect but it is more refined in operation, but it does freeze randomly at shutdown occasionally (required reset). In a sense I guess one can say Gumstick simple, rougher firmware is a little more stable than C30 more rounded version. One of the big differences between Gumstick and C30 is that C30 has BBE EQ on it, which is more useful than the original EQ preset to say the least. One thing worth mentioning is that Cube is very active when it comes to firmware development (the most current C30 firmware is V007.020). In contrast, I have yet to see any official firmware update for Gumstick even though the latest batch actually comes with a newer firmware.
Hiss
Again, there is a very low level hiss like that in Gumstick and only SE530 is able to pick it up when no music is playing. Otherwise I did notice any hiss in my other IEM.
Battery Life
C30 has a fairly long quoted battery life of 20 hours, but the truth is I can't be sure it can actually go that long. I think it is safe to say it can go above 15hrs and generally last longer than Gumstick in one full charge.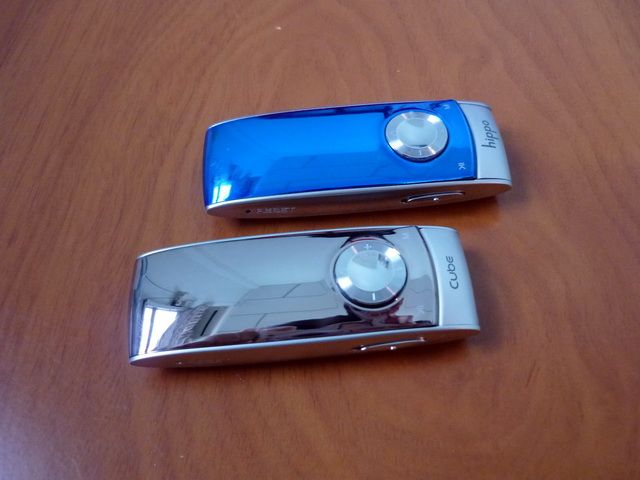 Front: Cube C30 vs. Hippo Gumstick
Back: Cube C30 vs. Hippo Gumstick
Sound Quality
When volume matched, I would say C30 sounds very similar to Gumstick. This leads me to believe they at least share a good degree of similarity in hardware, if not just tweaked around in hardware or even just in software. But there is difference in practice: Gumstick sounds just a tad louder in the same volume setting. For example, 20/31 on Gumstick is about the same as 23~24/31 in C30. This could still very well be a result of Cube using BBE in C30 as they did say they modified the original C30 firmware to compensate for BBE, but again there is no way for me to confirm it. The good news is of course that C30 is getting all the good sound as Gumstick, just minus a little volume. If you are interested in how C30 compares to Fuze or s:flo2, just read my previous
Gumstick review
. The difference between Gumstick and C30 is so subtle that I don't think there is more that I need to add.
So how well does BBE work on C30? I will say it is better than the build in EQ preset and I actually won't mind having the default BBE setting turns on all the time. The rest of the BBE settings (ViVA, ViVA 2, MP, etc) are really a hit or miss with different headphones, though the three user changeable BBE settings (User 1, 2, and 3) are quite a lot of fun to play around. Whether you will find BBE useful depends mainly on your own preference, but there is nothing wrong to have more options in the player.
Cube F1
This is possibly one of the best sound stock earphones I have ever heard. Cube does a great job on fine tuning the sound to appear to the Chinese local market (which is a bit biased toward the Audio Technica house sound from my own observation).
The overall sound signature is balanced and biased toward treble. Bass is decent in amount and impact. Not quite really bass heavy but still more than being totally lean. Mid is a little grainy and recessed, but not vastly. Treble is a little on the aggressive side to almost a little sibilant. Crispy and fairly sparkly. Soundstage is quite good and airy, with a decent sense of openness. Isolation is a bit below average, but microphonics is actually decent with the J-cord design.
While the housing is more or less copied from Sony MDR-EX85, as I mentioned before, the build quality is only so-so. Being newly venture into the headphone market, I guess Cube definitely needs to improve the quality control of their headphone as high as their DAP. Also, the nozzle of F1 is just a tad too short and the stock eartips are not particularly great. I have to use Sony Hybrid clone to get a decent seal. F1 is supposed to be about $30 as a standalone product. Though there are better sounding $30 IEM out there (i.e. Brainwavz M1 on pre-order), you won't hear me complaint about it since it is free with C30 purchase. Actually even for a standalone product, F1 is still not that bad a buy as long as Cube can make sure the IEM is well build. Please refer to
the list
for a complete list of IEM rating.
Verdict
Overall I am quite happy with the C30. The original price was actually just around $45, but Cube has lowered the price to $30 in recent promotion. Unfortunately that only limits to the Chinese market. For a few Hong Kong based exporters that do carry the C30, the listed price remains higher at around $55. Still it is quite a bargain to get such a good sounding DAP with a half decent sounding IEM. I think this goes without saying: If you already own either Gumstick or C30, there is no need to buy the other one. For now, my Gumstick is getting the burn-in duty.
By the way, the next generation of Cube C series is almost ready for the market. It is called the C60 and it comes with (as claimed by Cube) faster processor for improve decoding, especially on BBE and lossless, bigger screen, better sound quality by employing a dual mono opamp design. If it is indeed better sounding than C30, that will be something to look forward into.