Yes, you know this is the model for those who are unashamed to call themselves basshead - but not just any basshead. This is for the most hardcore of them all, the SOLID BASShead, the kind of people who pump massive SPL and vibration into their ears just to cure hangover. If you are not that kind of people, be warned of what you will get yourself into.
Spec
Transducer: 12.5mm dynamic
Sensitivity: 106dB/mW
Freq. Response: 5Hz ~ 24kHz
Max input: 100mW
Impedance: 16ohm
Weight: 8g
Connector: 3.5mm gold plated L-shaped mini plug
Cable length: 1.2m
Two position nozzle
Packaging, Build Quality, and Accessories
The packaging is simple but nice. It looks like typical heat sealed blister pack at first, but it is actually not sealed at all. The blister pack has bend / clip on both sides to hold the package together tightly, but still able to open up with minimum effort.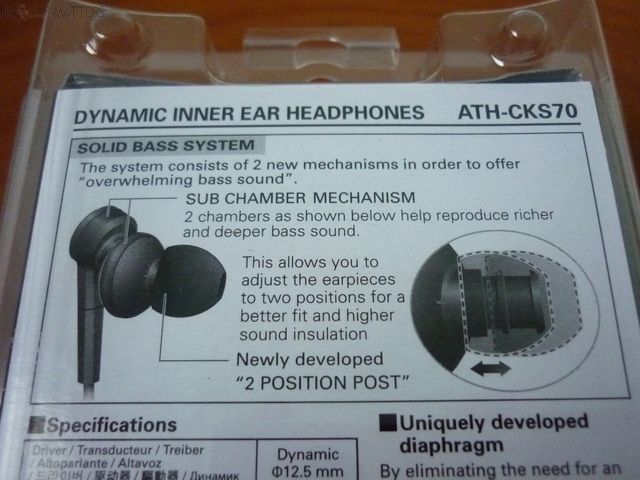 At first look, build quality is decent. The cable is fairly soft yet tangles free. The earpiece is mainly made out of plastic but the cover of the bass chamber (where the logo is) is aluminum. The L-shaped mini jack is a bit on the small side, but the strain relief is soft, bendable and does its job well. It seems well at first, but I did have problem with the build quality. As I spent some time with it, I noticed there was a slight bass imbalance between the two channels. The left side seems to have just a tad less bass than the right. Well I could send it back or even exchange one with the dealer, but at the end of my investigation into the problem I ended up fixing the problem myself. There is a hidden vent under the aluminum cover for bass reflex, and apparently some glue that used to attach the cover to the bass chamber overflow into the vent and sealed it off, causing the imbalance. Overall it is a small problem and relatively easy to fix. But given this is Audio Technica, I think I am expecting better.
Functional design wise, CKS70 is not something of special. It is similar to Sony old EX85/90 by marrying an earbud size dynamic transducer with a nozzle. What AT has done better is further refined the overall shape and make it even more comfortable than other similar design. AT also claims that the secondary bass chamber helps deepen the bass. As I mentioned above, there is a hidden vent in the bass chamber which basically makes it a
bass reflex system
. It does help build up the bass quantity and widen the soundstage, but it also makes it much less isolated and more prone to wind noise. CKS70 also feature a two positional nozzle that allow the user to select whether (s)he want the eartip to mount more upfront or recessed on the nozzle. The recessed position gives a tad more isolation, but still not quite enough. It also tends to kill off more treble, detail and soundstage by giving a warmer sound. The little increment in isolation doesn't really justify the cost of SQ, so the upfront position is what I choose in the end. Microphonics isn't too bad, but either really good as well. Because of the design, wearing the earpieces over-the-ear is pretty much out of question.
Accessories wise, there are four pair of silicone single flange eartips (XS, S, M, L), user manual, and a small soft pouch. Overall I am happy with the package. Lemon does happen sometime and I do believe it is just a a stroke of bad luck. At least it is nothing major enough for me to worry about the over quality of the product.
Sound Quality
As always, the IEM has been given a standard 50hrs burn-in before the audition. No noticeable change had been detected. As mentioned before, CKS70 utilizes the bass reflex design to deepen its bass. I can hear as low as 5~10Hz in frequency swept so the quantitative improvement is there. However, bass flex also known to be not quite as good as a fully sealed system on bass speed, decay and resolution, which it is also true to a certain degree in CKS70 when you compared it to other bass heavy IEM with sealed design, such as Atrio and SE-777.
The overall sound signature is very warm and fairly musical toward the fun side, with a full sounding mid and bass. Treble is decent and smooth, but lacks sparkle and roll off a little early. Mid is warm, forward with a thick, slightly rough vocal. Bass is also warm, big, slow, impactful, ever present and full of resonance at the lower end. Soundstage is fairly wide but lacks a sense of airiness. The ever present of strong bass can be considered a weak point if you are not a very dedicated basshead.
Mod
A simple mod can be done to tune down the lower end bass resonance for a slightly more balanced sound. Simple use a tiny bit of blu-tack to seal of the vent and turns the bass reflex to sealed system. You will lose a bit of soundstage as well. Since this mod is easily reversible, no harm for trying out.
Conclusion
As I have warned you before, CKS70 is really a basshead IEM in its very core. It is a fun IEM to listen to with a unique outer look, but lacks the best resolution and detail in its price category, even for a bass heavy IEM. For those who are looking for a more balanced yet still bass strong performance with good detail and resolution, the similar priced Sherwood SE-777 might better fit your need. A lesser and cheaper, yet still very good choice will be the upcoming Brainwavz M2 (a.k.a. ViSang R03). As for CKS70, it is reserved for those who need an air pump to squeeze the last drop of brain juice out of their eyes - and rock on!!!
A quick sum up can be found
here
.
This rating is for Audio Technica ATH-CKS70 only and may change without notice. Please refer to the list for a complete listing.