Before the review, I want to thank
Ortofon Japan
for loaning a pair of e-Q7 to me.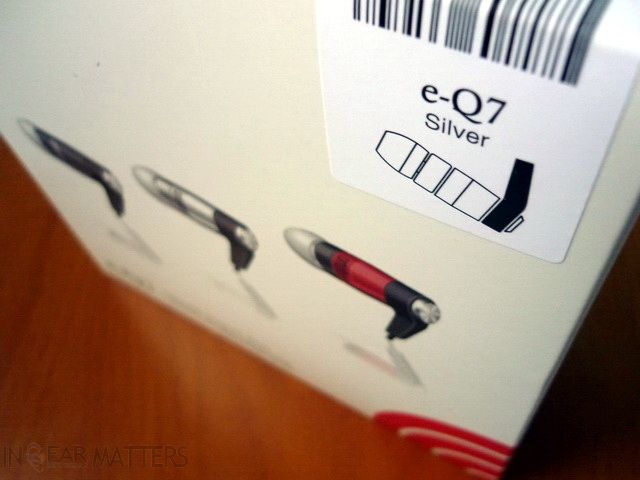 Spec
Driver: Single Balanced Armature
Frequency Response: 10Hz – 20kHz (+/- 3dB)
Sensitivity: 120dB SPL/mW
Impedance: 40 ohms
Maximum Rated Input Power: 5.0mW
Weight: 16.9g
Cable: 1.2m, Silver Plated 4N OFC.
Technical Prelude
When Ortofon first announced the e-Q7, the earphone is advertised as having a newly developed single magnetic pole, armature based large size transducer. In most other balanced armature (BA) transducer, the 'arm' where the miniature coil is resting on is placed between two magnets (this is the 'balanced armature' part). When electrical signal is applied the coil, the arm flexes back and forth according to the change of magnetic field and push an rod at the end of the arm. The rod transmits the motion to the miniature diaphragm and creates the sound. In contrast to BA, dynamic (moving coil) transducer's coil is placed inside a single larger magnetic field (a rounded magnet). The motion of the coil is directly transmitted to the diaphragm since they are attached to each other. The different in construction reflects the differences in sonic characteristic: BA is often better at detail, speed and resolution, while dynamic is often better at mass and low frequency performance.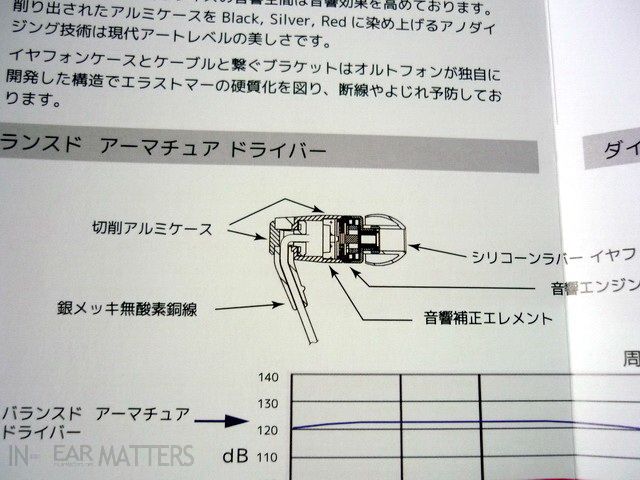 The new armature transducer in e-Q7 is, however, a different beast. If I have to sum it up in one word, I'll call it a 'hybrid', or perhaps Grado has described it in a better term as "moving armature" (on their GR8, which features the same family of transducer). Imagine a dynamic transducer without the moving coil. Instead, the diaphragm is connected to a large armature placed in a single large magnetic field. Now you'll have the best of both world – speed and resolution of balanced armature with the massive low-end found on dynamic transducer. Too good to be true? Perhaps not.

After over 20 years of trying to improve on old technologies in the field of IEM design, now we finally enter in a new era, with a new type of transducer.

A very detailed user manual (with both Japanese and English) is included. Only a small handful of IEM makers have well printed manual. A real shame actually.
Packaging, Accessories, and Build Quality
I am not sure whether it is because the e-Q7 is from Ortofon, or maybe because it is made in Japan (likely the combination of both), the packaging is just great. It just so happens that out of top three IEM packaging I have ever seen (Shure SE530, Sony MDR-EX700 and Ortofon e-Q7), two of them share the same Japanese origin.

Inside the box, you'll find a hard paper box with velvet lining inside (the sort of box jeweler will use). Open the hard paper box up, the shiny metal 'ortofon' is almost too pretty to look at. The IEM itself is sitting at the bottom, just below the real leather hard case. It is elegant.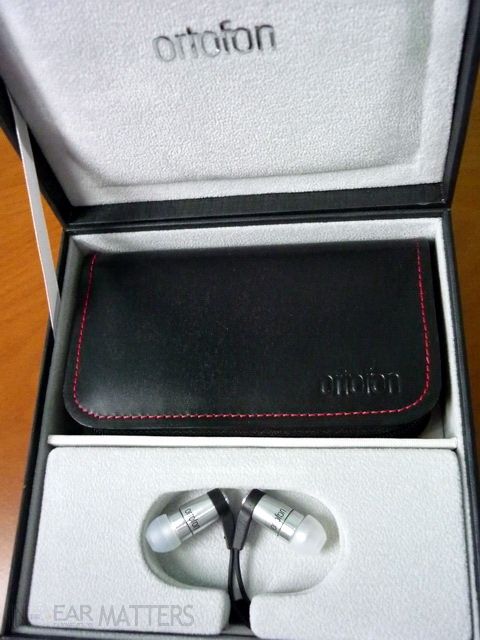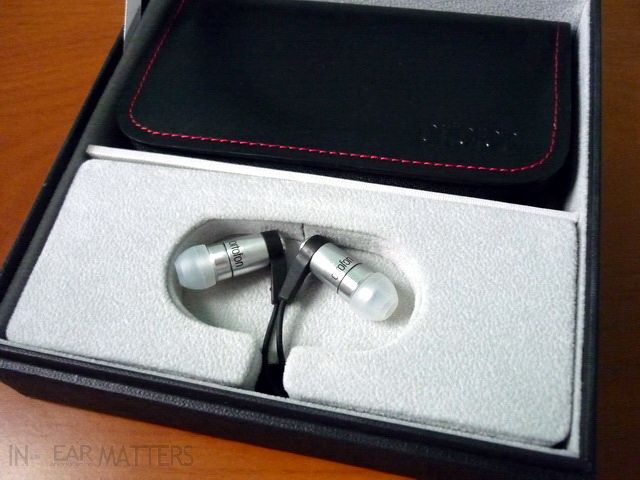 The other accessories are, three pair of eartips (S, M, L), 3 pairs of replacement filters, a filter removing tool, a pair of replacement filter locking rings, a pair of mid size Comply T400 foam tip. The nozzle size is that of typical UE style, which means finding after market eartips shouldn't be a problem at all – not that you will need them as I find the included eartips to be soft and comfy, but isolation is slightly below average.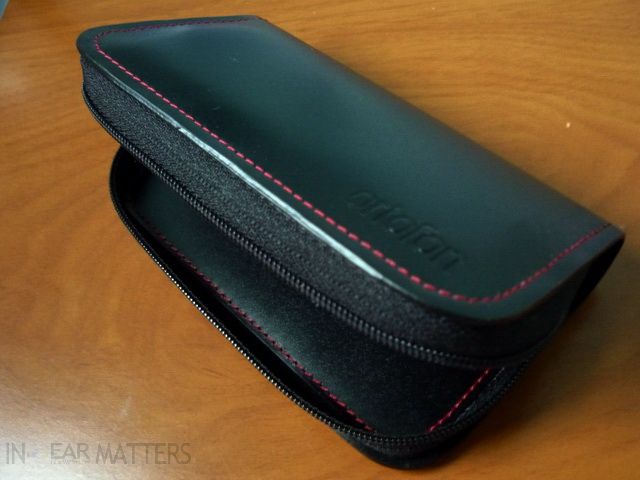 This is real leather case.
The earpieces are made out of aluminum, with an elongated design to serve as an acoustic chamber. Due to the length and weight, the earpiece will tend to lose its seal from time to time, especially if you wear it in hanging style and move a lot. However, it really doesn't happen often enough to reach the level of annoyance. You can also wear it over-the-ear to avoid the issue once and for all.

The strain relief on the earpiece is semi-hard rubber, which retains a small degree of plasticity but it doesn't flex much. The cable is ultra pure silver plated OFC. Interestingly, the cable has a two parts design. For the earpieces to the Y-splitter, it is your typical rubber wrapped wire. But from Y-splitter downward, it has an extra fabric sheath to reduce microphonics (and a side effect of extra rigidity). The design actually works really well. If there is one part I don't like about the cable, it will be the strain relief on the mini plug. It is quite hard and doesn't do much to relief stress. Unfortunately Ortofon doesn't include a wire guide up from the Y-splitter, so there is nothing to hold the cable firmly if you want to wear the e-Q7 over-the-ear. The good news is the upper portion of the cable (without the fabric) is soft enough that you don't need a wire guide to make the cable stays in place. But I would imagine a wire guide could be even better.

In sum, e-Q7 build quality is top notch, but there are still some minor areas that can be improved upon.

There is not obvious left and right marking, but there is an extra bump / dot on the left strain relief.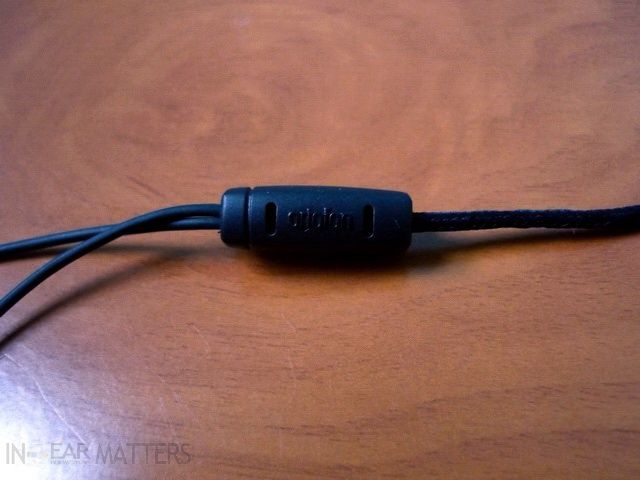 The two parts cable design, with fabric sheath on the lower end.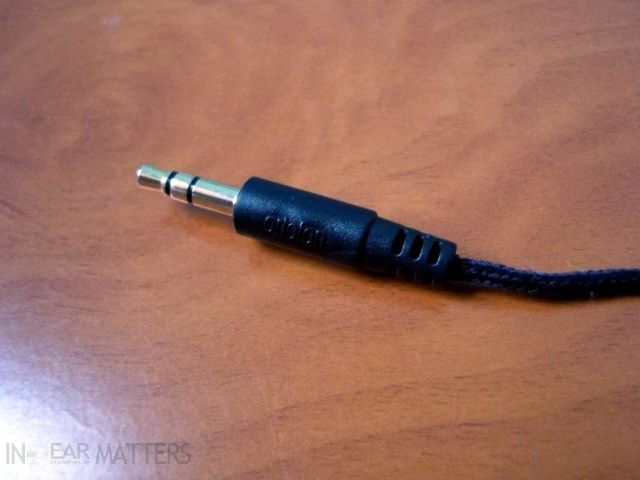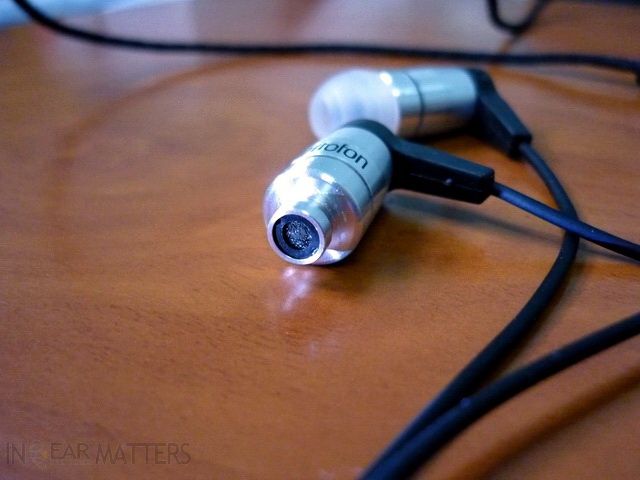 The filter is hold by a plastic ring.
Sound Quality
As always, the e-Q7 has been given a 50hrs+ burn-in before the review. Self-contained BA transducer often does not benefit much from the housing, as everything is sealed inside a tiny metal case. On the other hand, dynamic transducer is easily affected by both the design and material of the housing, which give more 'tuning space'. Since the diaphragm of the e-Q7's armature transducer has a closer resemblance to that of a dynamic transducer, an elongated housing is designed to be the acoustic chamber to help deepening the mid and bass body.

The overall sound signature is warm and mid focus, well suited for vocal lover. Treble is clean and smooth, though does roll off on the top end, but not more so than SE530 or UM2. Mid is full, focus and sweet, but not overpowering nor sibilant. Bass has good impact, body and extension, but no rumbling big bass. Soundstage is only average.

In many ways e-Q7 sounds like the midway of SE530 and UM2. It has a better mid performance than SE530 as it is totally sibilance-free yet retains most of the mid goodness of SE530 (which still has a tiny bit of sibilance), but it is not quite warm as UM2 (which is probably too warm from a neutral prospective). It also does not have quite as good a soundstage as SE530 because it doesn't separate each layer as cleanly, yet it is still better than UM2.

What surprised me most are how much e-Q7 sounds like a dynamic transducer based IEM, yet has speed and resolution closer to that of a BA based IEM. One interesting thing to note is, like most dynamic transducer based IEM, e-Q7 needs a bit more volume to sound as its best – but remember not to crank the volume too high.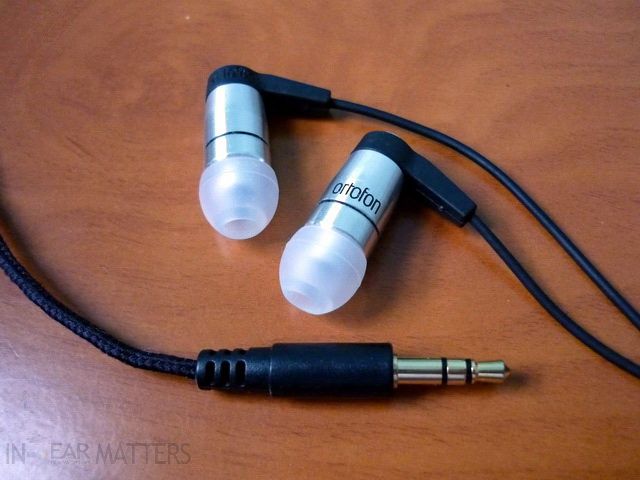 Conclusion
Ortofon e-Q7 is by far the best single BA based IEM I have ever heard, placing it alongside with some of the best multi-ways universal IEM in the market. This proves again that more transducer is not the only answer to the question of better sound quality, even in the world of balanced armature.

Multi-ways IEM beware: This is only just the beginning. With e-Q7 doing so well, I would imagine the future generation of this new BA will be even better.

Ortofon e-Q7 can be acquired in Japan for about ¥24100 (roughly US$270) from reputable dealer, but unfortunately international price is often higher.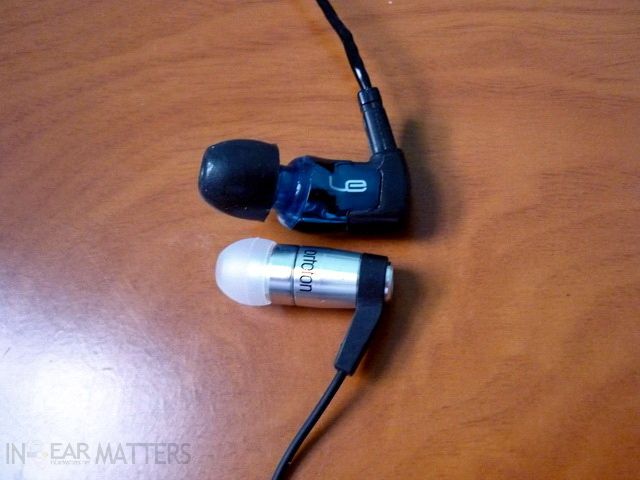 Last but not least, a pictorial comparison between e-Q7 and TF10 (with shure olive).
A quick sum up can be found
here
.