Q
uite some time ago Fang @
Head-Direct
asked me if I would like to review the RE3 (RE252's prototype's name), naturally my answer was 'yes'. I have reviewed RE2, RE1 and one of my most favorable IEM, the RE0, and I have witnessed a chapter in the evolution of dynamic transducer based IEM. Back in 2007, the market for top-end dynamic IEM seems to be all dried up. No doubt Atrio is as much a great dynamic IEM as it was back then, but it does seems a bit lacking compared to the big boy with their fancy three drivers. The next year we saw the EX700 and IE8, each with pros and cons of their own. During all these time, Head-Direct has made their way up with dynamic IEM of their own. Small might each step be, they were still very much noticeable in the Head-fi's realm.
For those of you who keep track of things, you might notice that dynamic and balanced armature based universal IEM often seems to appear to two different group of IEM user as if they are two different kind of headphone all together. Dynamic has the bass and the soundstage, BA gets the resolution and isolation - at a time, we all seems to assume that are how things suppose to be. In many way, I consider the entry of RE series marked a change of tide in the dynamic IEM market that is more significant than that of IE8 or EX700. It isn't really about the IEM themselves, but rather how the user respond to these IEM. Suddenly we start to find dynamic transducer good enough to challenge BA for its resolution and the number of transducers in each IEM becomes lesser an issue for choosing an universal IEM. Smaller and mostly unknown brands start to get more attention because of their solid performance rather than rely on many bigger company's fancy-design-strategy.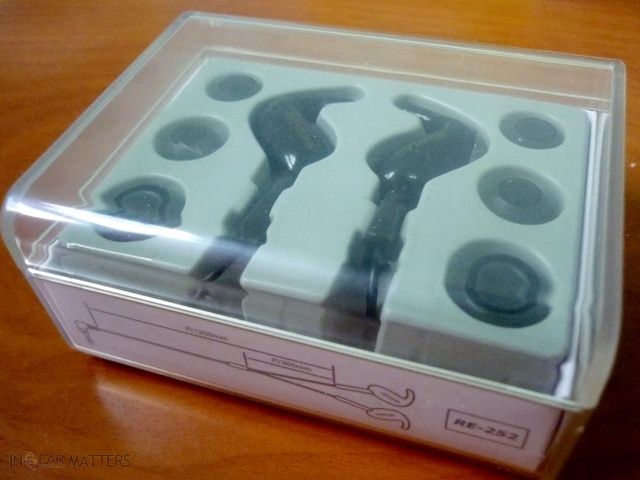 Spec
Driver: 9mm dynamic with silver coil
Frequency Response: 16 Hz to 22kHz
Impedance: 16 Ohm
Sensitivity: 103 db / mW
Rate Input: 2mW
Maximum Input: 15mW
iPhone compatible 3.5mm miniplug
Soft silicone semi-custom fit earpeices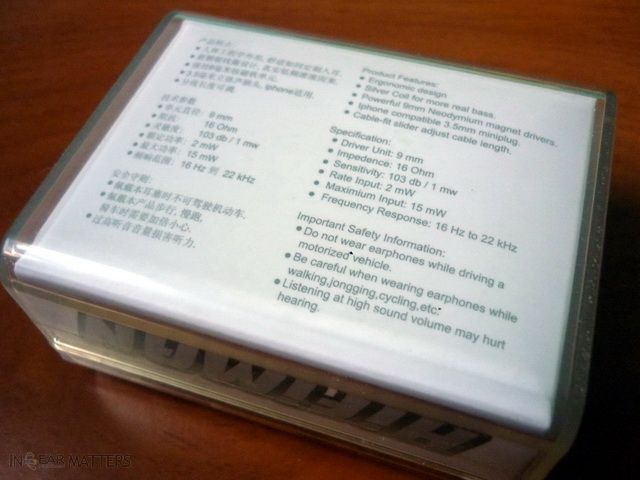 Package & Build Quality
RE252 comes in a transparent hard plastic case. Next to the earpieces, you will find three pair of different sized single flange silicone eartips. On the earpeice itself is the big bi-flanges. Under the paper container, there is a small plastic bag holding 5 pair of replacement filters, UE style bi-flanges and a shirt clip.

The mini plug is L-shaped and gold plated with fairly light but sturdy build that suitable for iPhone jack. The cable used is PPE based, which is an improvement over the 1st generation PVC cable found on RE0 and I prefer it over the fabric based 2nd generation cable on RE2 and RE0. One of the main feature about the PPE cable is how well it deals with stress and bend as it is much rubbery and flexible than the old cable. While I have had no problem with my 1st generation RE0 cable at all, the cable is stiffer than I like and I always make sure that it won't be wrapped too tightly. Though how well PPE cable will hold up in time remains to be seen, at least at this point I can safely say it is much easier to store RE252 than RE0. Like the old RE series, the Y-splitter and the cable guide are still made of metal, but with gunmetal color and lasered marking instead of the old shiny nickel plated surface and silkscreen painting.

The earpeice housing is mainly a combination of hard plastic (for housing the transducer and forming the nozzle) and soft silicone (for the buffalo-horn like structure which fits into the concha region of your outer ear and the cable strain relief). Since fit is almost always the most important point of getting the best possible sound out of any IEM, we will discuss how well the silicone shell actually performs in the next section. Microphonics wise, the problem mostly restricts to the cable above Y-splitter. Not quite as quiet as I like but not really too bothersome to me.

Overall I think the build quality is more than decent and has shown improvement since RE0, especially on the detail. I haven't been too careful with the soft silicone housing over the weeks of testing yet it seems to hold up fairly well, which is definitely a good sign since it is most likely the first place to show if there is any weakness.

Fit and Isolation
While fit is important to all IEM, it is more so on RE252 as you not only need to get a good seal in the ear canal, but also a good fit on your ear's concha. I have a pair pretty easy going ears that usually don't give me any trouble on seal with a mid size eartips of all sort. In the case of RE252, I tried both the bi-flanges and the mid single flange without problem but ended up using the single flange for reason of SQ (more later).

On first few listening session (usually one hours each), I had no problem on my left ear. It did however get a bit sore on my right ear's concha due to fatigue from the pushing of the 'horn' part of the silicone shell. It is not terribly uncomfortable but I did want to stop for a short moment every now and then to catch a break. For those of you who ever tried Sennheiser Twist-and-Fit earbuds, the feeling is very similar to that. After almost a week of use (around than 10~15 hours, I assume), the situation charged dramatically. Now I actually actually feel pretty good wearing RE252 for long hours without any sore or fatigue. The reason is, the silicone shell gets softer with human contact, as in the case of silicone eartips. So if you have the same problem as I did, do get it more time to 'break in' before calling it quits.

Isolation wise, I find RE252 to be close to average on the single flange. Fine for daily commute but won't be enough against really loud noise. There is a small hole on top of the hard plastic housing but it does have any audible effect when sealed so I assume it is not for venting. On that reason, RE252 probably has a fully closed design.

Sound Quality
As always, my main reviewing rig consists of: Dell XPS420 – Foobar2K - ASIO – 3MOVE. The music of choice is my regular reviewing CD (see
this
) and a few ripped albums on my computer. Being the new flagship IEM, I pick back TF10 and SE530 along with RE0 for A/B'ing.
For treble, I still prefer RE0 high extension and above all, its transparency. RE252 has a close performance to that of TF10, but (only very) slightly better in the sense that it is capable of a little more sparkle without any sibilance. On the other hand, SE530 doesn't have the extension needed to compete with the other three.

For mid range, SE530 is well known for having a full and rather sweet vocal presentation. TF10 has been criticized fro a V-shape frequency response but I personally find it to be very well placed in the overall sound signature. Not its strength perhaps, but neither is it a weakness. RE0's mid is very neutral in comparison, though has really great resolution. RE252's mid is between RE0 and TF10, but more toward RE0. It is not neutral, but it isn't upfront. It gives an impression of being the dominance of its sound signature yet it is not by itself a powerful or emotional factor.

On bass performance, SE530 has the upper hand of warmness and control, TF10 has more mid-bass that has the impact but lack the depth. RE0 is a bit bass light (or in more correct term, slightly more sloppy) when unamped but if you give it enough power, it will return with good speed and decent impact. RE252, unamped, can easily match and ever excess the bass performance of RE0 on a good amp, but it is far from bass heavy. It is more in the 'neutral' zone.

RE252 soundstage is only about average. It does have a pretty good width and resolution / instrument separation, but lacking in depth (airiness), which makes the overall soundstage a bit more 2D like and not engaging enough. Perhaps it is due to the lack of good reverberation. Reverberation can be a double edged sword. Too much and the sound will get muddy up, too little and the sound becomes too clean for enjoyment (lack of musicality). Like RE0, RE252 does appear to have a rather fast speed which is not the best for building up the body of the sound - on that regard, a warm source or a warm amp will have better synergy with RE252. On the topic on amping: I don't find amping necessary for RE252 at all. The improvement from amping is much more evidence on RE0 than on RE252.

As mentioned earlier, I use single flange eartips on my RE252. To me, it shows the best part of RE252, which is its mid and vocal performance. One of the reason I don't find RE252's soundstage to be that good is probably due to my eartips choice. Big bi-flange does sound more specious to me, but nonetheless I think I am getting more from the mid centric single flange.

The overall sound signature is balance, yet neither totally neutral nor colored. Very good treble and detail, rather dominate yet not very upfront mid and vocal, and decent while still remains mostly neutral bass performance. Decent soundstage but lacks real depth. Pairing with a warm source or amp is recommended while not a requirement.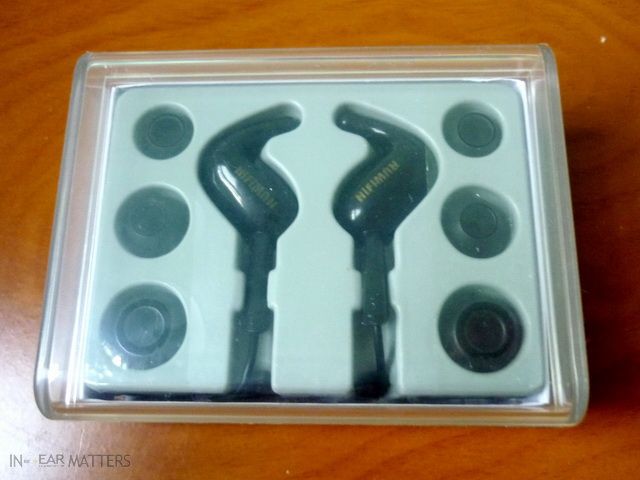 Conclusion
My first impression of RE252 resembled that of UM3X (in a brief audition, I might add) - not that they sound alike but that I find them both to be lacking of personal characteristic. It is not always a bad thing for an IEM to not have a strong characteristic. It means the IEM is less picky about the genre of the music and be more of a Jack-of-all-trades (the downside is of course 'master-of-none'). In the end, I think RE252 really redefines what I would call as a 'balance' sounding IEM in its own terms as I can hardly say if there is any major flaw in its sound. Perfect it might not be, I think RE252 does earn to be crowned the new flagship of the RE series.

RE252 is retailed for $199,
but for now you can grab one from Head-Direct for $99 during its Black Friday 48hrs sale.
A quick sum up can be found
here
.